Swab Summer has Happy Ending for 278 at Academy
By Jennifer McDermott
The Day
August 16, 2011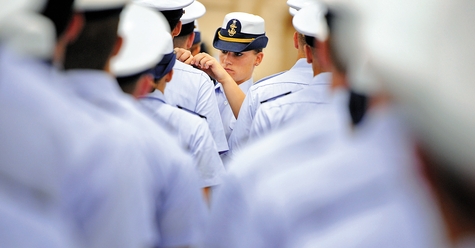 Cadet Second Class Catherine Walker attaches shoulder boards
onto a member of
the U.S. Coast Guard Academy class of 2015
Monday, Aug. 15, 2011, officially
marking
their move from
"swab"
status to "cadet" during a Regimental Change
of
Command
ceremony marking the official start of the 2011-12
academic
year at the academy.
New students officially join the Corps of Cadets
New London - At the start of the summer, Drew Ferraro and the other new students in his company at the U.S. Coast Guard Academy were told to make their beds.

It wasn't the task itself that was difficult. It was the time limit.

"All 38 beds in four minutes," Ferraro, 19, of Mission Viejo, Calif., recalled Monday.

The first time, they took way too long, Ferraro said. Then they realized they had to work together.

Teamwork is "essential to everything in the Coast Guard," said First Class Cadet Peter Imbriale, which is why much of the seven-week training program, known as swab summer, is built on teaching that lesson to the new students.

"The quicker they learn it, the easier everything becomes," said Imbriale, the summer regimental commander. "And those lessons will continue into the school year."

Monday was the end of swab summer, the program designed to transform civilian students into military recruits. Ferraro and his classmates, who persevered through the series of physical and mental tests, were rewarded with fourth-class cadet shoulder boards, the navy-blue pads without stripes that show their standing at the academy.

Of the 297 students who reported in at the start of the summer, 278 participated in the ceremony Monday, which was held indoors instead of on Washington Parade Field due to the rain. Eleven had left for medical reasons, and the rest voluntarily withdrew.

Six international students are in the Class of 2015, the most diverse in the school's history.

Rear Adm. Sandra L. Stosz, academy superintendent, and Capt. John C. O'Connor, commandant of cadets, congratulated the new cadets. The summer regimental staff also turned over the leadership of the corps to the fall regimental staff.

"Essentially, this is our boot camp," said Jalle Merritt, 18, of El Paso, Texas. "It was tough, but it's a great accomplishment."

Merritt said she was motivated to attend the academy after watching the Coast Guard come to the rescue after Hurricane Katrina, and again after the earthquake in Haiti.

"I didn't want to be the one sitting in front of the TV," she said. "I wanted to be involved."

After donning the shoulder boards, Andrew Marino, 19, of Albany, N.Y., said, "It feels great to be able to say I'm no longer a swab.

"I'm part of the corps."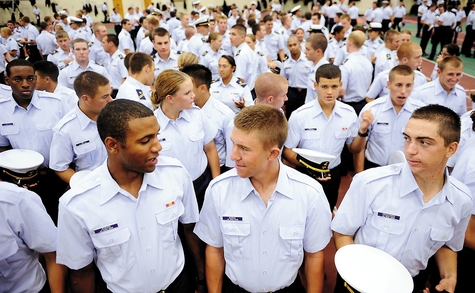 From left, Aaron Jenkins, Richard Burns and Samuel Krakower wait for the start of
Monday's ceremony, Aug. 15, 2011.