Now They Are Citizens Of The Nation They Serve
By Jennifer McDermott
The Day
05/17/2011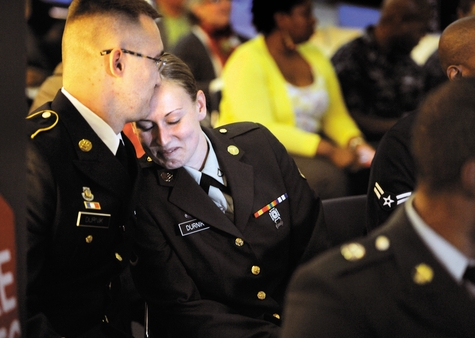 Tim Martin/The Day
Pfc. Tina Durnik of the Connecticut National Guard gets a kiss from her husband, Sgt. Tomasz Durnik, after Tina became an American citizen during a ceremony Monday at the Submarine Force Museum in Groton.
Naturalization ceremony held at sub museum for members of the military
Groton - Wearing an Army uniform and a broad smile, Tina Durnik recited the Pledge of Allegiance Monday.
It was the first time she had said the pledge as a U.S. citizen.
"I was shaking, I was happy, I was nervous," said Durnik, 25, who is from Germany. "Now it's final. Now I'm an American."
The Naval Submarine Base hosted a naturalization ceremony Monday for 15 local service members and relatives of service members at the Submarine Force Museum, commemorating this month as the national Military Appreciation Month and Saturday as Armed Forces Day. The new citizens are from 12 countries.
The base hosted a similar ceremony the day before Armed Forces Day last year at which 12 current and former service members became American citizens. It was the first U.S. Citizen and Immigration Services ceremony to take place at a military installation in Connecticut.
Monday, Capt. Marc W. Denno, commanding officer of the Naval Submarine Base, reminded the audience that Adm. Hyman G. Rickover, known as the "father of the nuclear Navy," came to the United States from Russia at the age of 6. Denno called Rickover's decades of service to his adopted country "awe-inspiring" and said "tens of thousands of immigrants are making similar commitments, serving in our U.S. military."
"They're on the front lines in Iraq, in Afghanistan and other front lines around the world. And they're right here," Denno said, referring to the sailors from other countries currently serving at the base.
One such sailor, Kelvin Sealy, led the pledge after U.S. District Court of Connecticut Senior Judge Warren Eginton administered the Oath of Allegiance. Originally from Barbados, Sealy came to the United States at the age of 5 and joined the Navy in 1998. He applied to become a citizen last year.
"I wish I would've done it earlier," he said after the ceremony. "I feel like it's overdue since I was serving."
Sealy, a logistics specialist who lives in Groton with his wife and two daughters, said he was honored to lead the pledge after becoming a citizen.
Bob Ross, executive director of the state's Office of Military Affairs, said he was proud at the end of the ceremony to say, "Welcome, fellow Americans." And U.S. Rep. Joe Courtney, D-2nd District and the keynote speaker, said the event underscored the strong connection between citizenship and military service.
Durnik now lives in Willimantic and serves as a private first class and combat medic in the Connecticut Army National Guard. She met her husband, Tomasz Durnik, while visiting Willimantic as a high school exchange student and moved to the United States before they married five and a half years ago. Tomasz Durnik also serves in the state's National Guard as a sergeant.
Tina Durnik said the naturalization ceremony "means a lot, especially being in the military."
Garfield Brown, 35, said he came to the United States from Jamaica in 2004 for educational opportunities and "a better life." A senior airman in the U.S. Air Force, Brown lives in New Haven and is scheduled to deploy to Afghanistan for eight months in January.
"I always wanted to be a citizen so as soon as I got a chance, I jumped at it," Brown said.
With his certificate of citizenship in hand, Brown said, "I feel good. No, I feel great."