'It Was A Long Time Coming'
By Jennifer McDermott

The Day
November 5, 2011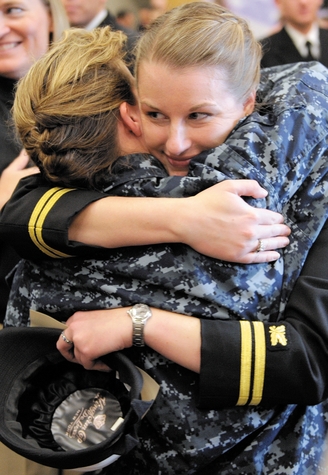 U.S. Navy Lt. Krysten Pelstring, right, gets a hug from
Lt.
Cmdr.
Emori Moore, division medical officer for the
Submarine
School,
following graduation at the Naval
Submarine Base on Friday.
19 women ready to take places on subs following historic graduation

Groton - The women who are about to break through a longstanding gender barrier by joining the crews of U.S. Navy submarines finished their training Friday in a historic ceremony at the Naval Submarine School.
Nineteen women and 73 men completed the 10-week officer basic course, the last step after more than a year of training.
The first daughter to follow in her submariner father's footsteps graduated, along with the first women to receive awards in the course for superior performance. Some of the women report to their submarines as early as next week.
"It was a long time coming. I've been trying to do this since I was a little girl," said Lt. Krysten Pelstring, whose father, retired submarine Capt. Jimmy L. Ellis, was the guest speaker.
Ellis, who served for 30 years, said he always taught his daughter to "reach for the stars, nothing was beyond her reach." Ellis said he thought the Navy would eventually lift its ban, but he wasn't sure if it would happen in time for his daughter to be a submarine officer.
"I could not be prouder," said Ellis, of Huntsville, Ala.
The Navy officially lifted its ban last year and began preparing to bring female officers aboard ballistic-missile and guided-missile submarines - the USS Wyoming (SSBN 742) and USS Georgia (SSGN 729), both in Kings Bay, Ga., and the USS Maine (SSBN 741) and USS Ohio (SSGN 726), both in Bangor, Wash.
"I'm nervous, excited and ready to work," said Pelstring, 31, who will be a supply officer on the Georgia.
Ten of the 19 women are new officers. The rest are higher-ranking officers trained to lead the supply departments on the submarines and serve as mentors. Only eight supply officers are needed for the four submarines that have two crews assigned to each; one woman is an alternate and another began the training but was medically disqualified.
Eight women graduated from the officer basic course in July and went on to further training. They finish in February and report to their submarines by March.
Friday's graduates of "Class 11060" have finished the six months of Nuclear Power School, six months of Naval Nuclear Prototype Training and the officer course.
"We've been with our male counterparts for so long, it doesn't really feel any different," said Ensign Amber Cowan, 23, of Colorado Springs, Col. "We've been going through all the same training, we're all part of the same team, we have the same mission."
Ensign Michael Adcock, 24, a graduate from Maumelle, Ark., said, "We all know this is a pretty big change, but we've been working with them the entire time we've been in the Navy."
"We all have a lot of confidence in each other's abilities at this point," he added.
The Navy is studying how it could bring enlisted women onto submarines, as well as how it could integrate women onto fast-attack boats. Women were allowed to serve on the Navy's surface combatant ships in 1994, but at that time it was deemed too expensive to bring them aboard submarines.
Ensign Brandon Zoss, 27, a graduate from Lufkin, Texas, who previously served as an enlisted sailor, said some worry that women will not be able to perform the hands-on, physical tasks required of enlisted members.
But, Zoss said, "There's no reason to think there's any doubt" that a woman can perform the same job as a male submarine officer. The women in the class have shown a "dedication to professionalism and excellence" that is the same as the majority of the men, if not better, he added.
Ensigns Megan Bittner and Marquette Ried received awards for excelling in the course. Ensign John Underhill was also recognized for his understanding of submarine tactics.
Lt. Kelly Chufo, 35, of Brighton, Mich., said the school was tough, but fair, and "there's no difference between genders."
"It's no big deal," said Chufo, who is assigned to the Wyoming.
And, she said, gender will continue to be a non-issue for the next group of women in training if they focus and do their job. Chufo has served on surface ships, worked in intelligence and flown surveillance aircraft in 16 years in the Navy.
"Submarine sailors are the top 2 percent of the Navy," Chufo said. "They're very professional and they just want to make sure you can pull your weight. As long as you can be part of that crew, an effective member of that crew, the rest doesn't matter."