Blumenthal Holds Manufacturing Forum
By Eileen McNamara
Groton Patch
August 18, 2011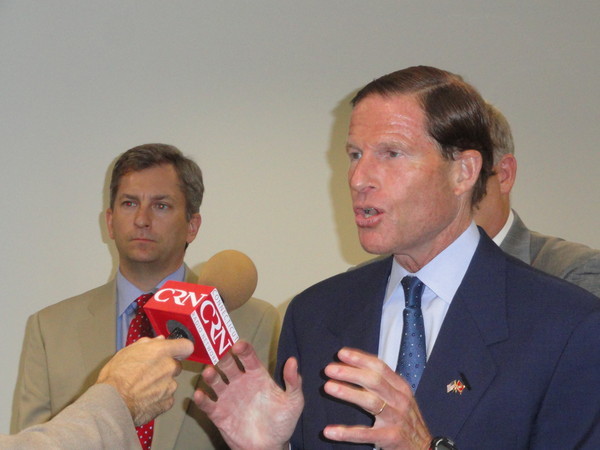 U.S. Sen. Richard Blumenthal talks about the forum
with defense
contractors in Middletown on Wednesday.

The U.S. senator from Connecticut met with leaders of defense contractors and subcontractors.

U.S. Senator Richard Blumenthal, D-Conn., met Wednesday in Middletown with leaders of several of the state's major defense contractors, including Electric Boat shipyard in Groton and Pratt & Whitney in East Hartford and Middletown, to discuss ways federal officials can help them continue to thrive in Connecticut.
Blumenthal held a closed-door session with about 75 executives, including the chief officials of large defense contractors, as well as the leaders of many of the region's smaller subcontractors.
The manufacturing forum, Blumenthal said after the event, was arranged by his office as a way of reaching out to the defense community and assuring them that the Connecticut congressional delegation is on its side. He also said lawmakers from the state want to make sure jobs and national security remain in the forefront of the debate over federal defense spending.
"Our concern is about jobs and national security," Blumenthal said during a press briefing after the closed-door forum. "This was an extraordinary discussion on the future of the defense industry in this country. We produce some of the best defense products in the world. I am fighting hard as a member of the Connecticut delegation to make sure Congress and the nation are aware that we need to stay the course."
Scott Bates, vice president of the Center for National Policy in Washington D.C., said the forum focused on how defense manufacturers and Connecticut's congressional delegation can continue to work together to keep defense jobs here.
He and others who attended the forum said they are optimistic and confident that Blumenthal and others in Congress will work hard to help do that.
"This has been a great meeting today, Team Connecticut is back."
William J. Begert, a vice president for Pratt & Whitney, said the strong communications between defense contractors like his and the Connecticut delegation is what helped Pratt & Whitney become the sole builder of the engine for the U.S. Air Force's F-35 fighter jet.
"We could not have asked for better support from the Connecticut delegation," he said.
John Casey, president of Electric Boat, said the forum is part of a proactive effort by defense contractors and Blumenthal's office to help Connecticut contractors continue to secure government defense contracts.
Casey said he was impressed with the commitment Blumenthal expressed on behalf of Connecticut's delegation.
"We've been very successful as a team in the past and I'm sure we'll continue to be," he said.