Coast Guard Cutter Morro Bay Draws Great Lakes Duty
The Day
November 29, 2010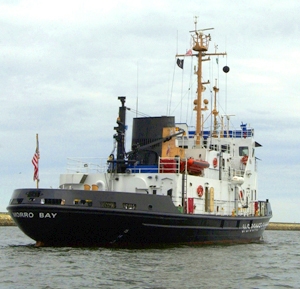 New London - The crew of the Coast Guard Cutter Morro Bay, a 140-foot icebreaking tug, will arrive in the Great Lakes region in a few weeks, after it departs its homeport of New London Nov. 29.
The cutter is going to the Great Lakes to assist in the service's icebreaking mission there throughout the winter months.
The crew and other Coast Guard icebreakers will participate in "Operations Coal Shovel and Taconite," the largest domestic icebreaking operations in the country. The Coast Guard conducts domestic ice breaking to aid in search and rescue and other emergency operations, mitigate flooding and to meet the demands of commerce.
Large quantities of steel, coal, heating oil and grain ships throughout the Great Lakes region.
"Icebreaking in the Great Lakes region is a tremendously important annual mission for the Coast Guard, and we'll do all we can to keep the public safe and facilitate the flow of commerce," said Rear Adm. Michael N. Parks, commander of the Ninth Coast Guard District. "We appreciate the Morro Bay's assistance, and look forward to working side by side with them and our Canadian counterparts."
While the crew of the Morro Bay is deployed to the Great Lakes, other cutter crews will cover their traditional area of responsibility if the need for icebreaking there arises.