If you already have received a Connecticut Tax Registration Number and are ready to file your return or to register for additional taxes (most taxes can be added through the online application) log into the
Taxpayer Service Center (TSC-BUS)
. You should NOT complete another registration application.
If you do

not

have a Connecticut Tax Registration Number click the logo below.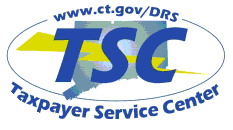 ***IMPORTANT NOTES***
Do not use the BACK or FORWARD buttons on your browser's toolbar. Use the navigation buttons on the application pages.
If your computer is idle for 20 minutes or more, your session will "time-out" and you will lose all of your information.
Note: Your web browser must be configured to enable "per-session cookies." For information on enabling the "per-session cookies," please check your browser's documentation/help.