Lyme Disease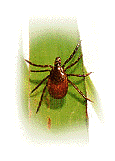 Lyme disease is an important health concern in Connecticut. Since it was first recognized in the Lyme, Connecticut area in 1975, the Department of Public Health (DPH) has contributed to the understanding of this complex disease, as well as other tick-borne diseases. 
On average since 1998, the DPH has reported about 3,000 cases annually to the Centers for Disease Control and Prevention (CDC). Recently, the CDC estimated that there are approximately 10 times more people diagnosed with Lyme disease than the yearly reported number. Using the CDC estimate, approximately 30,000 people are diagnosed with Lyme disease each year in Connecticut.
The reported incidence, which sets the trend for Lyme disease over time, is due to many changing factors that include:
Weather
Tick abundance, habitat, and infectivity rates 
Deer population and habitat 
Recognition of the disease by those infected and health care practitioners
Living in a wooded area
Potential for contact with ticks, including recreational activities 
Disease reporting by the healthcare provider
Learn More About Lyme Disease
Quick Links
Connecticut's Lyme disease history
How to establish a local health tick-borne diseases community intervention program (2008)
Other tick-borne diseases in Connecticut
Publications
Additional Resources
Notice: You are about to leave the Connecticut Department of Public Health (DPH)website. We have provided links to these sites because they have information that may be of interest to you. The DPH does not necessarily endorse the views or information presented on these sites. Furthermore, the DPH does not endorse any commercial products or information that may be presented or advertised on the site that is about to be displayed.
Finding Good Health Information on the Internet
Northeast Regional Center for Excellence in Vector-Borne Diseases
To contact the Epidemiology and Emerging Infections Program, please call 860-509-7994.