Reporting of Diseases, Emergency Illnesses, Health Conditions, and Laboratory Findings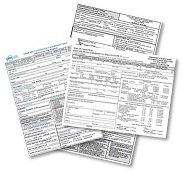 Disease reporting is an important function to monitor the status of the public's health. This surveillance allows the Connecticut Department of Public Health (DPH) to determine the epidemiology of diseases, see trends, and establish preventive measures. The DPH and an advisory committee consisting of public health officials, clinicians, and laboratorians, contribute to the process of selecting diseases for surveillance.
In accordance with Sections 19a-36-A3 and 19a-36-A4 of the Public Health Code and Sections 19a-2a and 19a-215 of the Connecticut General Statutes, diseases on the lists of reportable diseases, emergency illnesses and health conditions, and laboratory reportable significant findings are required to be reported to the DPH and the Local Health Director of the town in which the patient resides. These lists are reviewed annually and revised when necessary. They are outlined in the January issue of the Connecticut Epidemiologist newsletter.
Laboratory reports in electronic format require special arrangements to assure accurate transfer of information and protect patient confidentiality. The DPH is transitioning to electronic laboratory reporting (ELR) to our new ELR system. For additional information about the CT ELR, please visit http://www.portal.ct.gov/DPH/Infectious-Diseases/Electronic-Laboratory-Reporting/Electronic-Laboratory-Reporting.  
Use the on-line forms or order printed copies of the PD-23 or OL-15C forms by contacting the Epidemiology and Emerging Infections Program at 860-509-7994. For other forms, please select from the list below and contact the specific program with any questions concerning reporting that disease or completing the disease specific form.  
 * NHSN, the National Healthcare Safety Network, is an online disease surveillance system for healthcare facilities and public health Healthcare Associated Infections (HAI) programs developed and maintained by the Centers for Disease Control and Prevention. The DPH HAI Program uses NHSN for Connecticut mandated public health reporting of HAI.
Contact Information for the Infectious Diseases Division
When appropriate, completed reporting forms can be mailed in envelopes marked "Confidential" or faxed to the location below.
Connecticut Department of Public Health
410 Capitol Avenue, MS#11FDS
PO Box 340308
Hartford, CT 06134-0308
Phone:      860-509-7994
Fax:           860-509-7910