Be sure to report all power outages to your utility company.
FOOD SAFETY
Food in your refrigerator and freezer may be unsafe to eat if: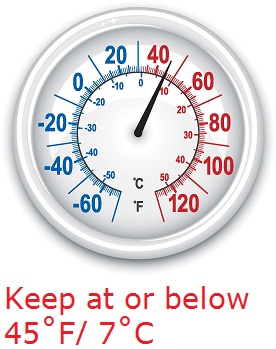 The power is off for four hours or more.
The temperature inside your refrigerator is at or above

45°F/ 7°C

for more than two hours.
Keep the refrigerator and freezer closed to help keep food safe
longer:
Keep the refrigerator/freezer door closed during a power outage to keep it cold.
Refrigerated food will be safe for no more than four hours.
Freezer full of frozen food will be safe for no more than 48 hours (24 hours if half full).
Clean your refrigerator and freezer after a power outage:
When the power comes back on, clean out your refrigerator and freezer BEFORE you put new food in it.
Wash the inside of the refrigerator and freezer with soap and warm water. next, wipe the inside down with a mild solution of 1/2 tablespoon of bleach in a gallon of water. Keep the refrigerator and freezer doors open to air dry.
Once dry, close the doors and let it get cold inside the freezer and refrigerator before you fill it with food.
BREAST MILK
For breast milk stored in your freezer, if you can see ice crystals, it is safe to re-freeze.

If the breast milk has defrosted (no ice crystals), use within 48 hours for healthy babies and

within 24 hours for premature or sick babies.
For a list of foods that should be thrown away after a long power outage, go
Resources in various languages
Carbon monoxide poisoning can kill you. It is a silent and odorless gas.
To prevent CO poisoning: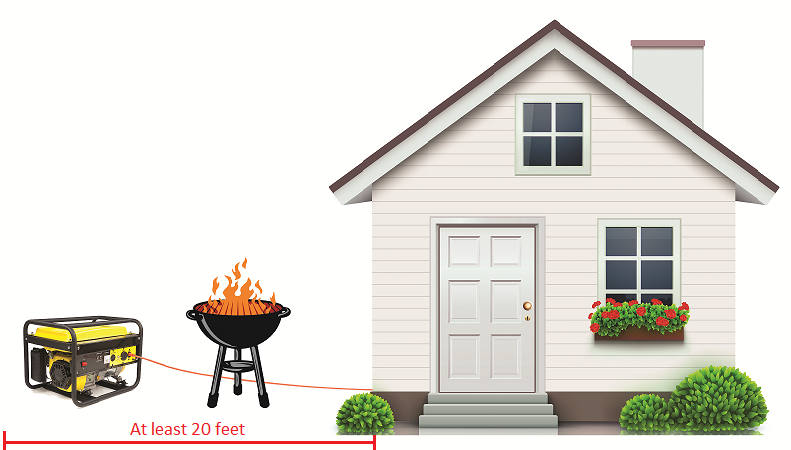 DO NOT use portable generators inside your home, garage, carport, basement or other enclosed space, like a covered porch. Only use portable generators outside and at least 20 feet from you and your neighbors' homes. Keep your generator away from doors, windows or air intake vents.

DO NOT use charcoal grills, gas grills or camping stoves inside your home.

DO NOT use propane or kerosene heaters inside your home.

DO NOT use your gas oven or stove top to heat your home.

Check to make sure that you have CO detectors installed on each level of your home and outside sleeping areas. Change the batteries every six months and replace your CO detector every five years.
IMPORTANT:
Opening windows and doors, and using fans is NOT enough to stop a deadly buildup of CO in your
home.
The signs of CO poisoning are like the flu: headache, tiredness, dizziness, nausea, vomiting, or loss
of consciousness. These signs may be your only warning because you cannot see or smell CO. If
you or a family member has signs of CO poisoning, get outside and dial 9-1-1 from a mobile phone
or from a neighbor's home.
For more information on CARBON MONOXIDE POISONING