Work zones can present unfamiliar situations to all roadway users, including pedestrians and bicyclists. Hazards can appear suddenly and unexpectedly that can endanger both motorists and roadway workers. The Connecticut Department of Transportation strives to make all travel in the state safe and efficient. The Work Zone Safety Awareness Working Group strives to reduce crashes in work zones down to zero!
We invite you to use the information offered here to help you get involved in helping us all get where we want to go safely.
2021 National Work Zone Awareness Week –
April 26-30, 2021
CT Work Zone Safety Awareness Press Conference
This year, due to the COVID-19 pandemic and subsequent health and safety measures in place, the annual Press Conference will not be held. We encourage everyone to use the links provided to educate about Work Zone Awareness and join in the Work Zone Safety Awareness campaign during this week.
Please post the NWZAW posters in common rooms, include the talking points in your briefings and safety tailgate talks, and educate our communities' children about Slowing Down for Work Zones, Roadway and Pedestrian Safety where you can!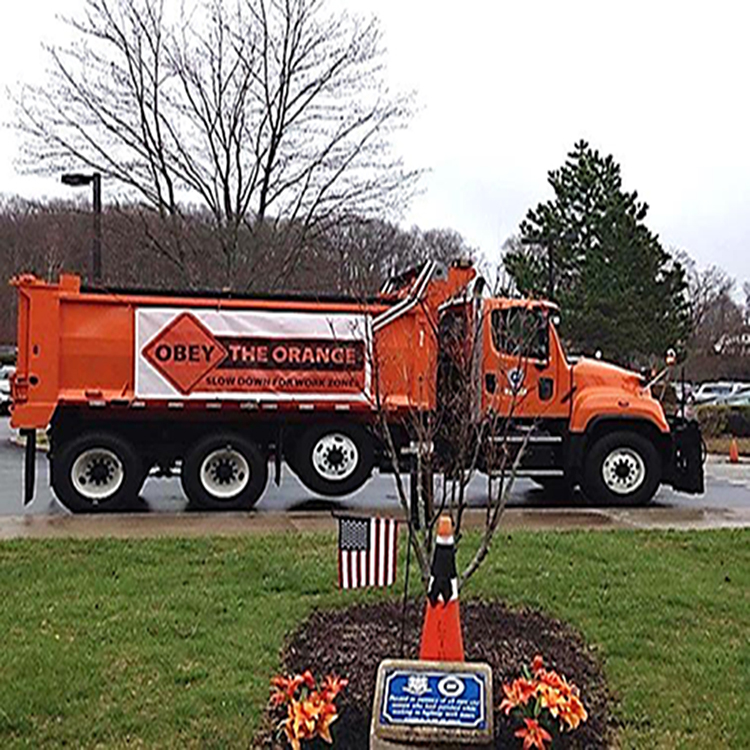 DOT Vehicle present behind the fallen highway worker memorial present
at CT DOT Headquarters in Newington.
UCONN T2's Annual "Roadway Safety Poster Contest"
Is in full swing and they will announce the winners!
The CT Training and Technical Assistance Center is hosting their annual "Roadway Safety Poster Contest" to spread the word on Roadway Safety to all of CT's K-6 children. Check out the UCONN T2 Center's Poster Contest for more information, and to sign up to be on their email list!
We want to make roadway safety a priority and asked the children of Connecticut to help promote roadway safety through art. The children were asked to submit creative posters illustrating roadway safety concepts from a child's point of view. This year's theme is Pedestrian Safety for Everybody!
Connecticut Crash Statistics
UCONN CT Crash Data Repository*
1,079 Crashes in Work Zones 1/1/2019 – 12/31/2019
6 Fatalities in Work Zones 1/1/2019 – 12/31/2019
878 Crashes in Work Zones 1/1/2020 – 12/31/2020
4 Fatalities in Work Zones 1/1/2020 – 12/31/2020
Even a pandemic with extremely lowered traffic and commuting numbers, doesn't eliminate work zone crashes and tragic fatalities!

"Drive Safe. Work Safe. Save Lives."
CTDOT honors and remembers all the men and women who have perished
while working in highway work zones. Even 1 is too many!
Learn more about National Work Zone Awareness Week
Work zones can present unfamiliar situations to all roadway users. Hazards presented to our traveling public include changes in traffic patterns, closed or narrowed travel lanes, closed sidewalks, and the presence of construction equipment and personnel.
As drivers, passengers, cyclists, motorcyclists, and pedestrians, we are all responsible for keeping work zones safe.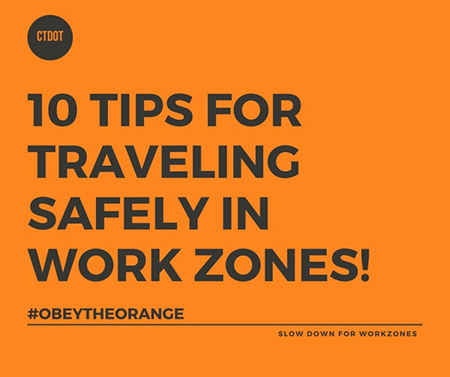 Expect the Unexpected.
Things may change overnight on the routes you travel every day! Normal speed limits may be reduced, traffic lanes and sidewalks may be closed, narrowed, or shifted and people may be working on or near the road.


Stay Alert.
Dedicate your full attention to the roadway and avoid distraction while approaching and driving/walking/biking in a work zone. The construction signs are there to help everyone move safely through the work zone.


Keep a Safe Distance.
Drive defensively by keeping distance between you and the car ahead of you. Most rear-end accidents occur because of following too closely and traveling too fast for conditions.


Obey Speed Limit.
Speeding is one of the major causes of work zone crashes. Traveling at 60 mph, if you see a sign that indicates a Work Zone is 1,500 feet ahead, you'll be there in 17 seconds!!


Keep Up with the Traffic Flow.
Don't slow down to look at road work.


Obey Road Crew Flaggers.
The flagger knows what is best for moving all road users safely through the work zone.


Know Before You Go.
Check radio, TV, and websites for traffic information; and schedule enough time so you can reach your destination on time and safely. Learn to expect delays.


Be Patient and Stay Calm.
Work zones are not there to personally inconvenience you. Remember, the crew members are working to improve the transportation system you use every day.


Wear Your Seatbelt.
It is your best defense in a crash and it's the law.


Obey the signs.
There are signs at the beginning AND the end of the work zone. Obey the signs all the way through to the end of the work zone. Remember, some work zones are moving and may cover a distance.

#OBEYTHEORANGE EVENTS
Our Work Zone Safety Campaign mascots and volunteers show up wherever YOU are to remind all our motorists to "Slow Down for Work Zones" on the other side of the COVID-19 pandemic!
Anticipating a future event and want us to attend??
Email us at DOT.CTWorkZone@ct.gov with all the details!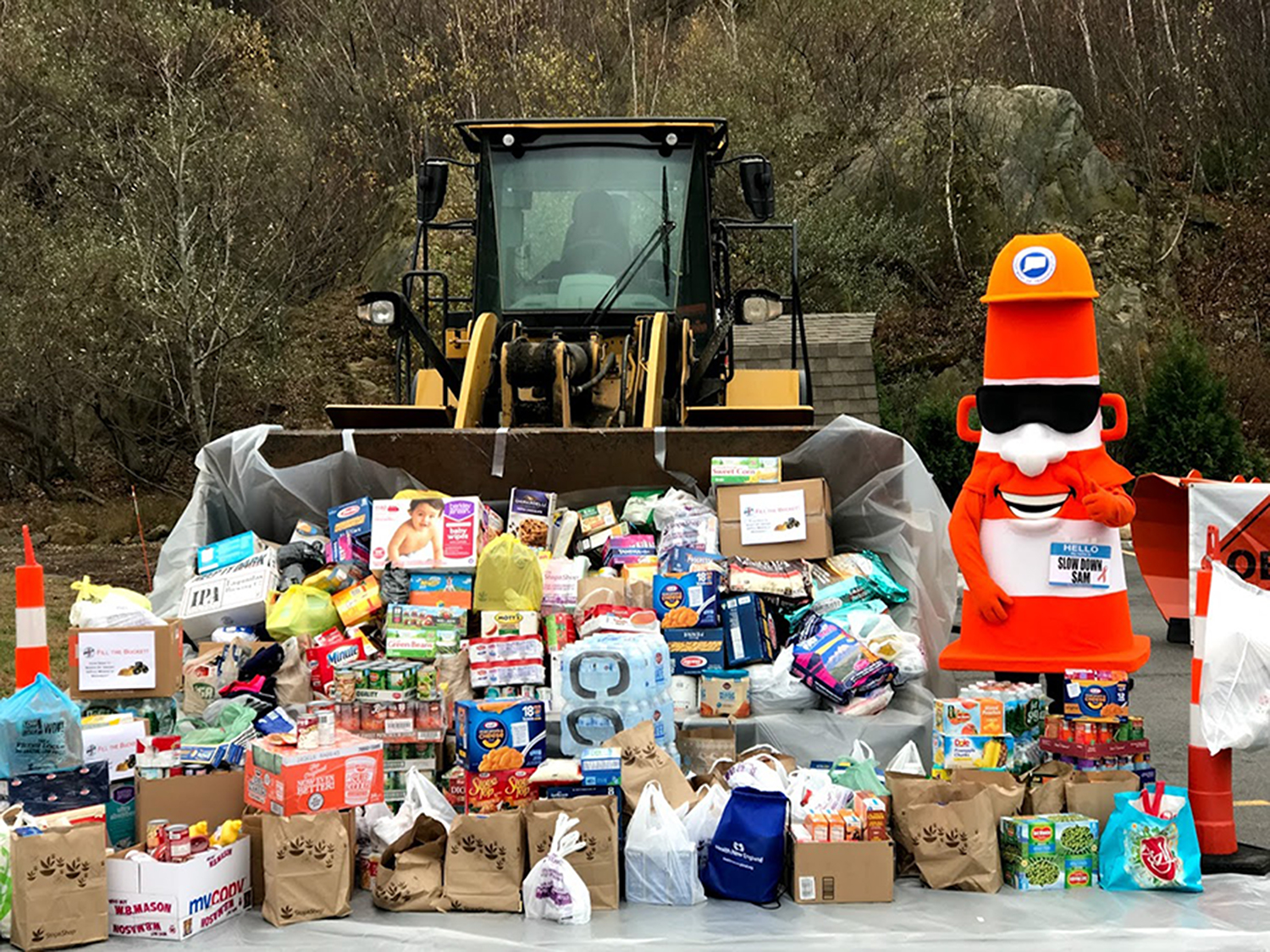 I-84 Waterbury Reconstruction Project "Fill the Bucket" event to benefit St. Vincent DePaul Mission of Waterbury, November, 2017!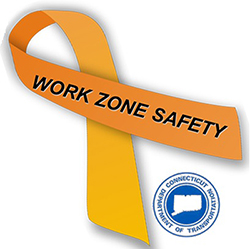 "Like" and "Follow" Us!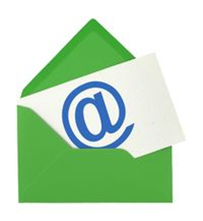 To contact us, email at DOT.CTWorkZone@ct.gov.