CONNECTICUT DEPARTMENT OF TRANSPORTATION

NEWS RELEASE

2800 BERLIN TURNPIKE P.O. BOX 317546

NEWINGTON CONNECTICUT, 06131-7546
FOR RELEASE: November 29, 2016

FOR FURTHER INFORMATION:

OFFICE OF COMMUNICATIONS

TELEPHONE: (860) 594-3062

FAX: (860) 594-3065
---
GOV. MALLOY AND CTDOT DEBUT NEW SNOW PLOWS THAT CAN CLEAR TWO HIGHWAY LANES IN ONE PASS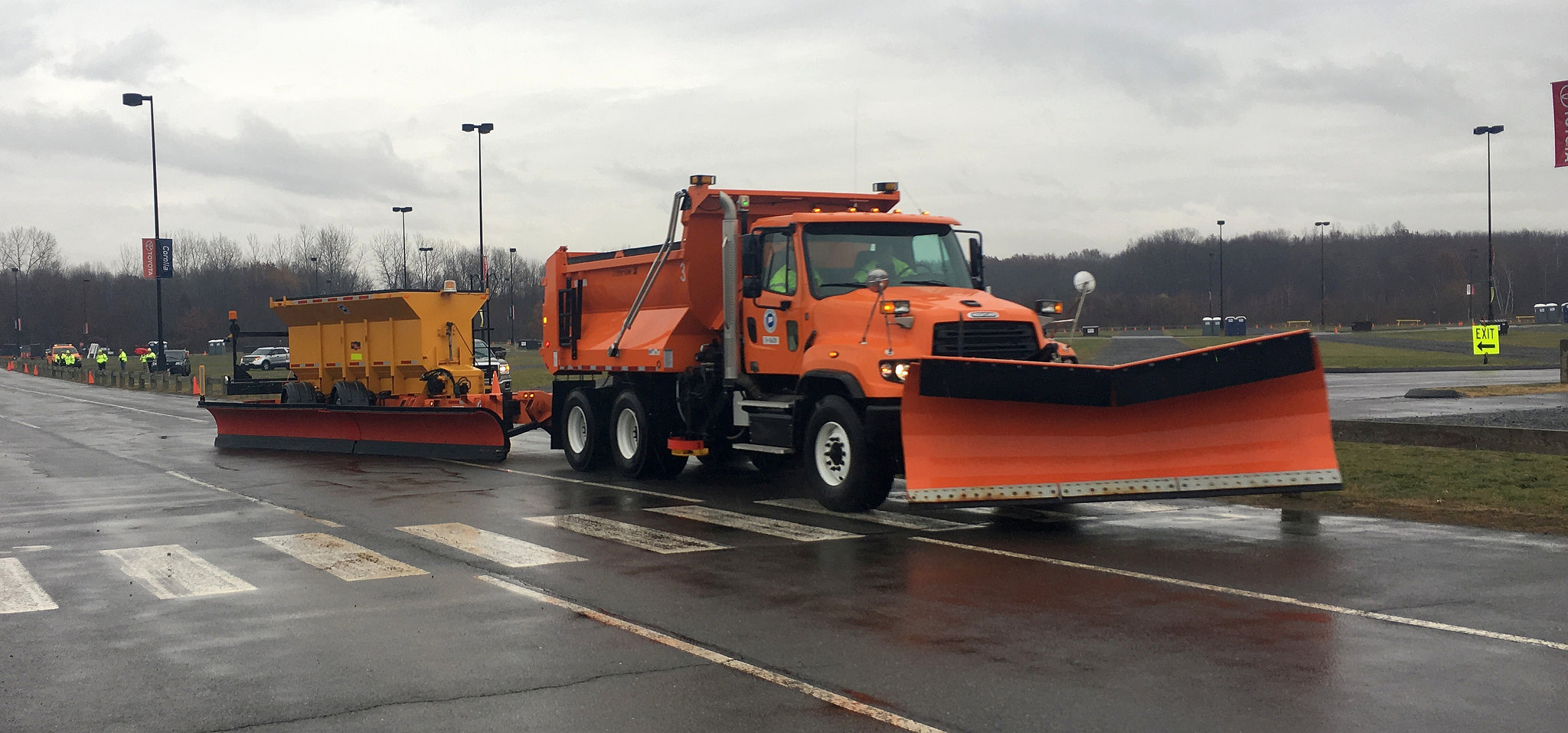 (HARTFORD, CT) – Governor Dannel P. Malloy and Connecticut Department of Transportation (CTDOT) Commissioner James P. Redeker today debuted the state's new fleet of three tow-behind plows that are capable of clearing snow and ice from two full highway lanes in a single pass. Towed in the rear of a truck, the plows measure 26 feet in length, essentially doubling the width of a single plow truck when in operation, and will boost the state's overall handling of winter maintenance and snow-clearing operations on state roads.
"The people and businesses of Connecticut depend on an efficient transportation system, and these advanced snow plows will make a difference when it comes to clearing our highways following winter weather events," Governor Malloy said. "In addition to the practical benefits of clearing the roads faster, it also will help generate efficiencies in terms of our dependency on state resources. It's our goal to be prepared for severe weather events the best we can, and the addition of these tow plows will increase our efforts to safely clear the roads so that schools and businesses can re-open more quickly and emergency services can reach those who need them."
As part of its ongoing efforts to find ways to improve efficiencies during winter weather events, CTDOT tested one of the tow plows under a pilot program during the 2015-2016 winter season. This year, the agency purchased two additional units that will be put into operation during the upcoming season. The supersized tow plows will help the agency improve cycle times and reduce overall fuel consumption associated with snow clearing operations.
When in operation, the steerable trailer-mounted tow plows swing out to one side of the truck and are equipped with a granular spreader for dispensing liquids for snow and ice control.
"Clearing snow and ice from our roads and highways during winter storms is one of our most critical functions as an agency," Commissioner Redeker said. "With the winter season upon us, the addition of these tow plows to our snow-fighting fleet ensures we can better handle virtually any winter-weather event in an efficient and strategic manner, while reducing costs to the taxpayer."
Governor Malloy and Commissioner Redeker are urging drivers to stay clear of the snowplows while on the road and cautioned against trying to pass a snowplow or snow plow echelon when it is in operation. The safest advice is for motorists to give the plows plenty of space, don't attempt to pass them, and to keep in mind that the road behind the snow plows is in better condition than the road ahead.
In addition to improving operational efficiencies, the tow plows have safety benefits, such as rear and side mounted cameras, lights that both illuminate the plow area and provide a warning to nearby motorists, and a mounted laser to guide and determine the position of the tow plow when fully extended in relation to roadside obstacles and other vehicles. The tow plows also have a longer service life than traditional plow trucks.
CTDOT's winter maintenance and snow-clearing operations cover a roadway network of over 10,800 highway lane-miles, including commuter parking lots, the CTfastrak guideway, and other state facilities. CTDOT's current Severe Service Snow and Ice Fleet consists of 634 plow trucks that are stationed at roughly 50 garages around the state, as well as materials and personnel to clear state roadways.