CONNECTICUT DEPARTMENT OF TRANSPORTATION

NEWS RELEASE

2800 BERLIN TURNPIKE P.O. BOX 317546

NEWINGTON CONNECTICUT, 06131-7546
FOR RELEASE: September 9, 2015

FOR FURTHER INFORMATION:

OFFICE OF COMMUNICATIONS

TELEPHONE: (860) 594-3062

FAX: (860) 594-3065
---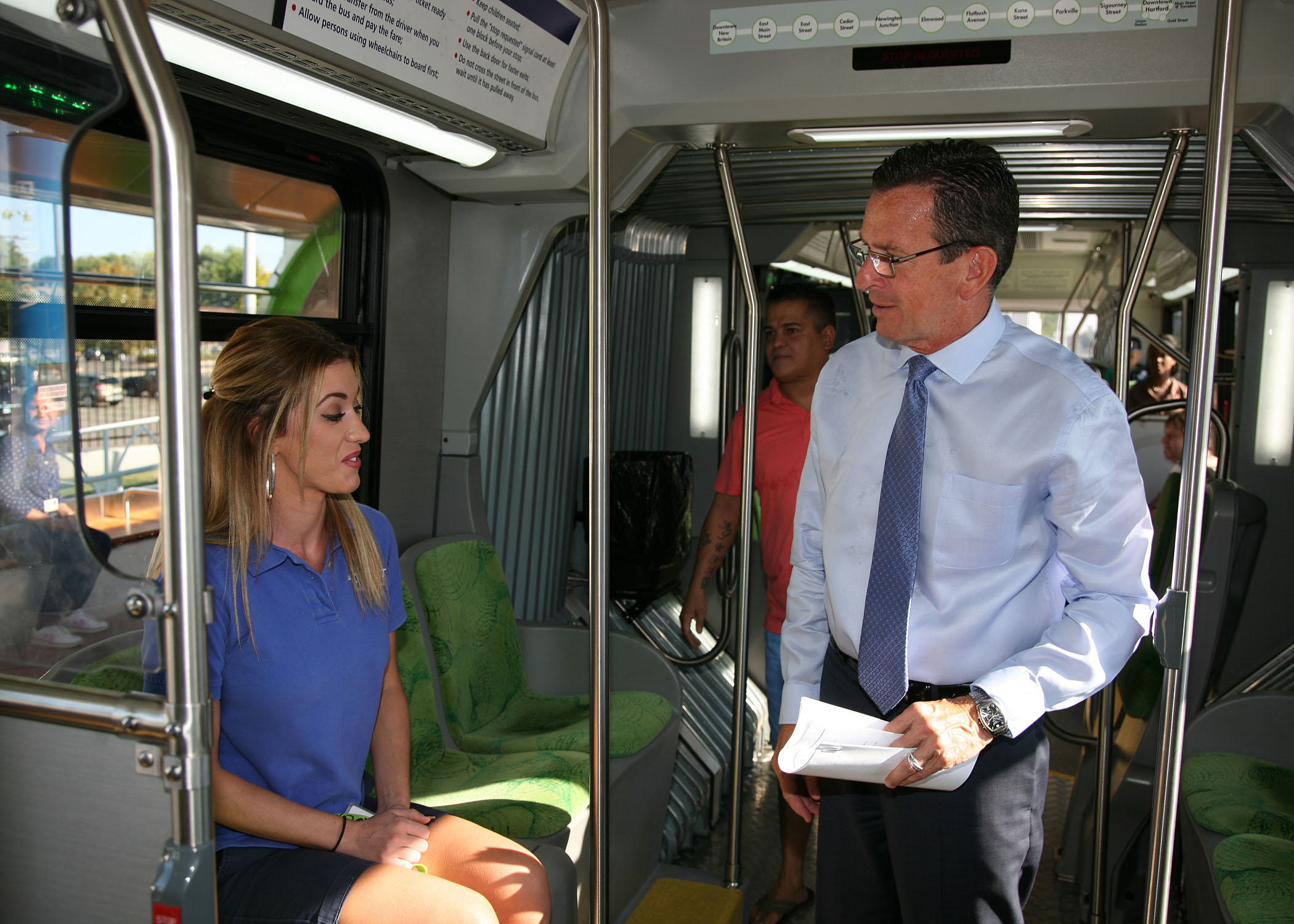 GOV. MALLOY ANNOUNCES CTFASTRAK HAS DELIVERED OVER ONE MILLION PASSENGER TRIPS
(HARTFORD, CT) – Governor Dannel P. Malloy today joined Connecticut Department of Transportation Commissioner James P. Redeker and other state and local officials at the Flatbush Avenue CTfastrak station in Hartford to announce that the bus rapid transit system has reached a major milestone – one million passenger trips since its launch earlier this spring.
"This project is surpassing expectations – today is a major milestone. CTfastrak is a key part of broader efforts around the state to increase transit opportunities, revitalize neighborhoods, spur redevelopment, and create new opportunities for small businesses. We are changing the way people travel with this dynamic project," Governor Malloy said. "If we want to improve our state's economy, if we want to grow jobs and support business growth, then we must make these types of crucial investments. This project is an example of how – and why – transforming transportation is so important."
The count of 1 million covers only the green CTfastrak buses going back and forth on the busway; it does not include the blue CTtransit buses that also feed into the bus-only roadway. In the overall corridor, the CTfastrak system's average ridership is 14,000 passenger trips on weekdays, with 9,000 passenger trips on Saturdays and 5,000 passenger trips on Sundays. The passenger trips numbers are gathered by an automatic passenger counting system installed in the doorway of each bus to accurately measure the amount of boardings. The ridership count used to calculate the one-millionth passenger trip began on April 6, 2015, which was after the temporary free-ride period ended and was the start of when passengers began to pay regular fares.
CTfastrak is Connecticut's first bus rapid transit system, utilizing a dedicated roadway for bus-only travel in central Connecticut. The transit system features buses that operate seven days a week – every six to eight minutes during rush hour, and up to 21-hours a day – as well as a pre-pay fare boarding system, level platform boarding, real-time arrival information and free Wi-Fi service. Partnering with local business, CTfastrak recently launched a passenger rewards' program that offers discounts at area restaurants, retailers, entertainment venues and other businesses.
Customers seeking additional information about CTfastrak, can visit www.ctfastrak.com, connect via Facebook at www.facebook.com/ctfastrak or via Twitter at @ctfastrak. Route timetables are available at www.cttransit.com under the "Schedules/CTfastrak" tab.