CTDOT Freight Program
About
CTDOT's Freight Program focuses on the integration of planning, operations, and engineering best practices in order to provide for the reliable and efficient movement of goods into, out of, and through Connecticut.
Connecticut's Final Statewide Freight Plan
Connecticut Statewide Freight Plan
Appendix A-Transearch Freight Movements
Appendix B-Economic Context of Freight
The CTDOT Statewide Freight Plan (Freight Plan) serves the residents and businesses of the State of Connecticut to improve freight transportation by identifying the state's unique needs, recommending policies, and devising implementation strategies. The Freight Plan considers highway, freight rail, aviation, port and waterway needs. The Freight Plan also describes the pipeline system, but does not provide investment or policy recommendations for it. This Plan is prepared in accordance with, and pursuant to Fixing America's Surface Transportation Act (FAST ACT) (Pub. L. No. 114-94). The Plan is required in order for Connecticut to receive funding under the National Highway Freight Program (23 U.S.C 167) and must comprehensively address the State's freight planning activities and investments.
The Freight Plan is a long-term (25-year) perspective on the needs and issues of the freight transportation system. How and where freight move depends on many factors, including infrastructure condition and capacity, economic conditions and competitiveness, consumer demand, government regulations, transport technologies, international politics, and trade policies. These factors are in flux, making long-term predictions and recommendations more useful as a guide for establishing general priorities than as specific prescriptions. The Freight Plan takes a short-term view as well, and considers the value of the current State Transportation Improvement Program (STIP) to freight transportation.
Related Links
CT Motor Carrier Services Portal
CTDOT Oversize/Overweight Program
Federal Highway Administration- Freight Management & Operations
CT Department of Motor Vehicles-Commercial Vehicles
CT Rest Areas & Service Plazas
Army Corps of Engineers- New England District

Modes
Documents
Transportation in Connecticut- The Existing System Report 2014
SCRCOG- Freight Cargo Study for Tweed New Haven Airport 2014
Connecticut Deep Water Port Strategy Study 2012
CT Statewide Rest Area & Service Plaza Study 2008
Statewide Commodity Flow Analysis
New England Freight Planning
Maine DOT Office of Freight & Business Services
Massachusetts State Freight Plan
New Hampshire Bureau of Rail & Transit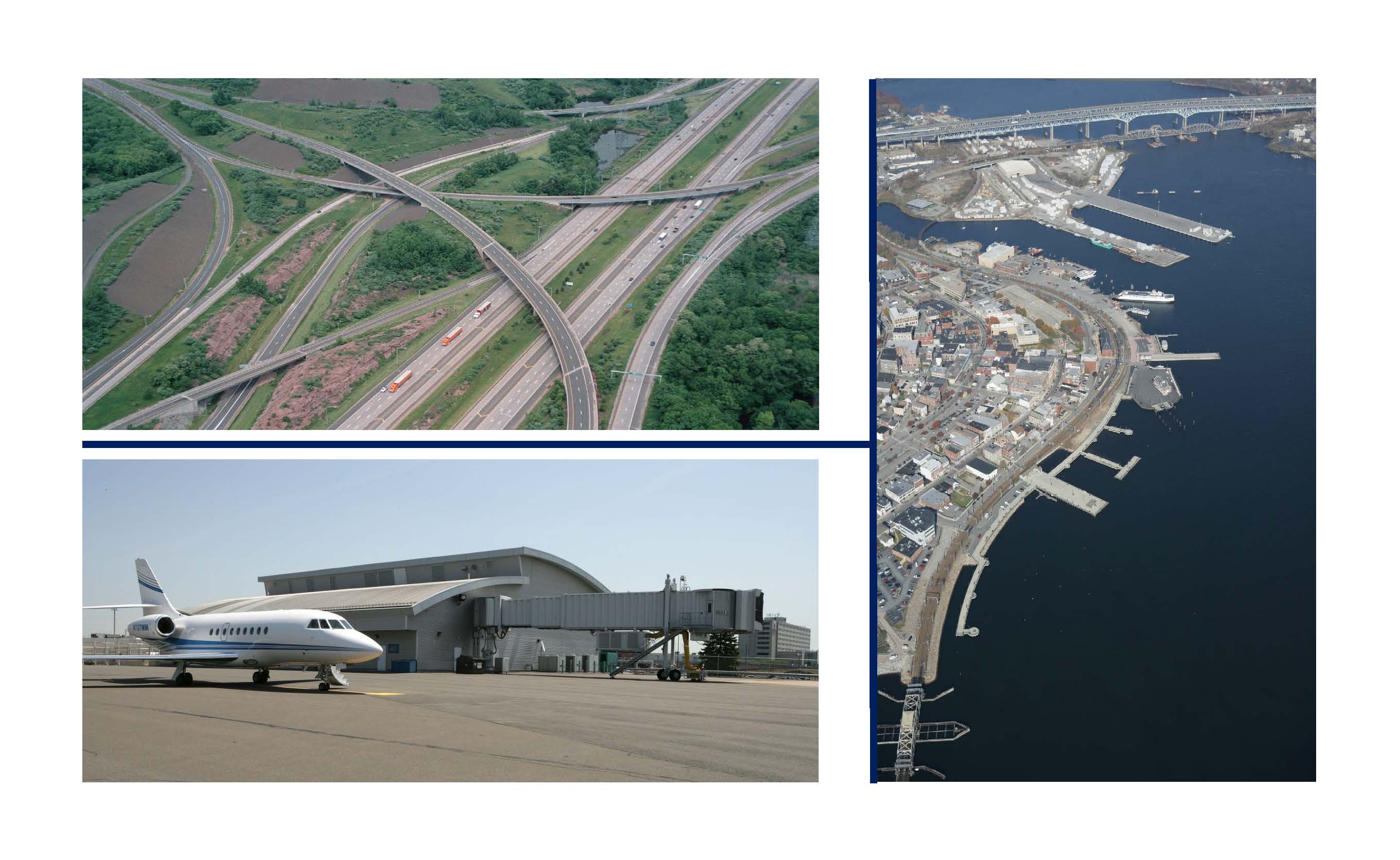 Staff Contacts
David Elder, AICP, Assistant Planning Director
Office of Strategic Planning and Projects
Bureau of Policy and Planning
(860)594-2139 | David.Elder@ct.gov
Mauricio Garcia-Theran, Transportation Engineer
Office of Strategic Planning and Projects
Bureau of Policy and Planning
(860) 594-2015 | Mauricio.Garcia-Theran@ct.gov