CONNECTICUT DEPARTMENT OF TRANSPORTATION

NEWS RELEASE

2800 BERLIN TURNPIKE P.O. BOX 317546

NEWINGTON CONNECTICUT, 06131-7546
FOR RELEASE: March 28, 2017

FOR FURTHER INFORMATION:

OFFICE OF COMMUNICATIONS

TELEPHONE: (860) 594-3062

FAX: (860) 594-3065
---
GOV. MALLOY: TOWNS ALONG CTFASTRAK ROUTE CONTINUE TO BENEFIT FROM TRANSIT-ORIENTED DEVELOPMENT AS SYSTEM REACHES ITS SECOND ANNIVERSARY
Bus Rapid Transit System Carried Over 5.5 Million Riders During 2016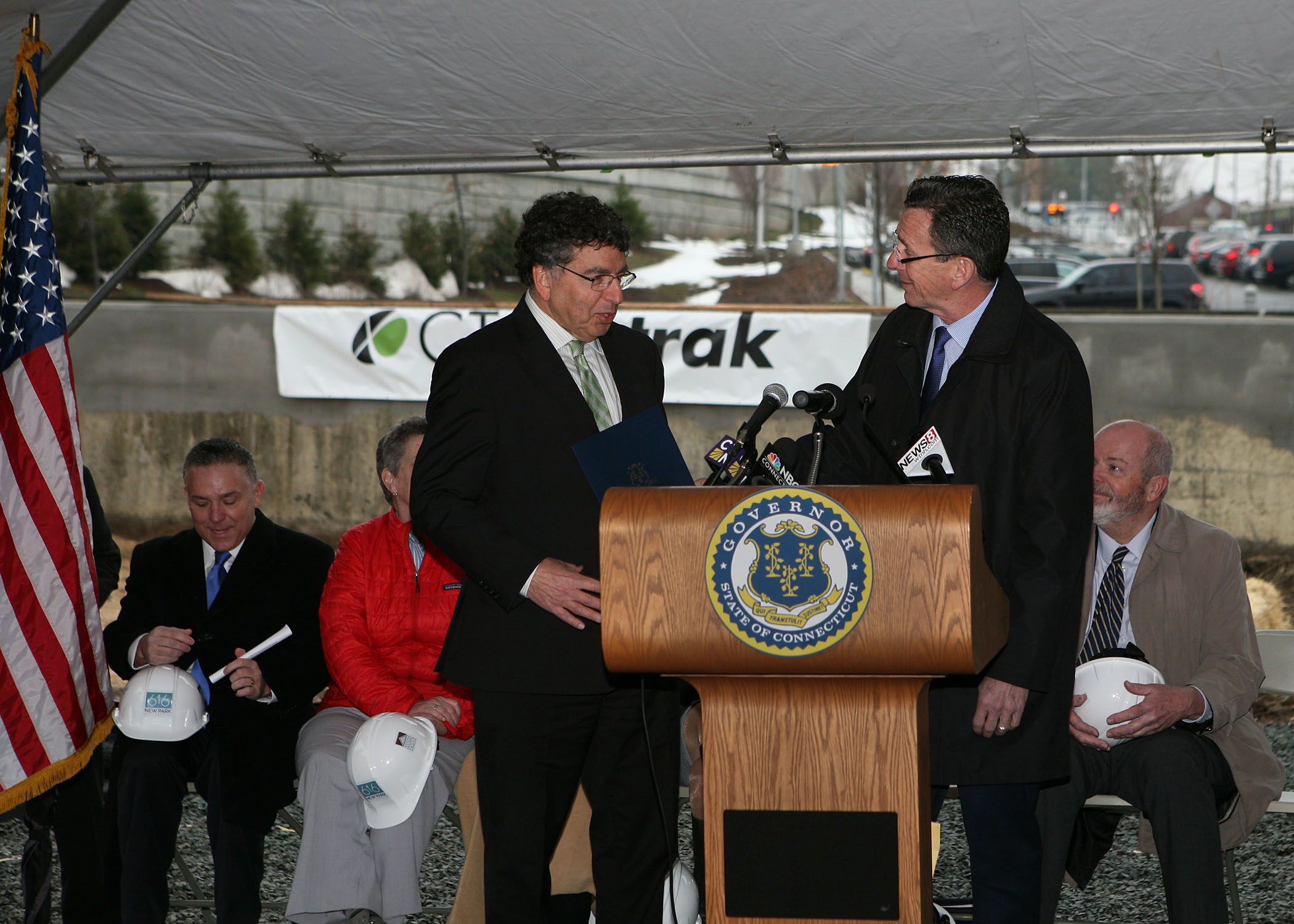 Gov. Malloy presents Mike Sanders with a proclamation celebrating Mike's retirement after 23 years with CTDOT.
(HARTFORD, CT) – Governor Dannel P. Malloy today announced that as CTfastrak reaches its second anniversary, towns and cities with stations along the bus rapid transit system are continuing to benefit from the growth of transit-oriented development as multi-use projects are reinvigorating neighborhoods along its route. The bus rapid transit system launched on March 28, 2015 and provides direct service to and from Waterbury, Cheshire, Southington, Bristol, Plainville, New Britain, Newington, West Hartford, Hartford, East Hartford and Manchester with routes that take advantage of the bus-only CTfastrak roadway.
To mark the occasion, the Governor joined state and local officials at a ceremony near the Elmwood Station in West Hartford to not only commemorate the anniversary, but to also celebrate the construction of 616 New Park, the first mixed-income, multi-use development being built adjacent to a CTfastrak station. When completed in 2018, the development will consist of 54 units of market-rate and work force housing that is expected to attract young, working professionals. Eleven units of supportive housing are specifically designated for veterans. The first floor of the building will be used for commercial developments.
CTfastrak also marked the occasion with a new report on the first two years of operations.
"Over the past two years, CTfastrak has exceeded all expectations – it is a transformative investment in our future," Governor Malloy said. "The data is showing that more and more people are continuing to take CTfastrak each day, and as ridership grows so does the development of new businesses, new jobs, and new opportunities along the region that it serves. We are seeing new mixed-used developments being created all along the route, bringing life to neighborhoods where just a few years ago there were eyesores. Because of decades of underinvestment, Connecticut has some of the oldest transportation infrastructure in the nation. It's time to move us forward – let's continue to build a best-in-class transportation system for our residents, let's pass a constitutional transportation lockbox, and let's work together to make that a reality."
"Two years into CTfastrak's operations and it's clear that investing in smart, convenient alternatives to driving has resulted in consistently strong ridership that has surpassed all short term ridership targets, already more than doubled corridor ridership, and looking to triple previous ridership in the corridor within the next two years," Connecticut Department of Transportation Commissioner James P. Redeker said. "Not only has CTfastrak exceeded passenger demand forecasts with impressive growth month after month, it has also brought about continued TOD and economic growth along the system's corridor."
During the full 2016 calendar year, CTfastrak carried more than 5.5 million riders. Additional statistics about CTfastrak ridership are available online at www.ct.gov/dot/ctfastrak.
For information about CTfastrak, visit www.ctfastrak.com, connect via Facebook at www.facebook.com/ctfastrak or via Twitter at @ctfastrak. Route timetables are available at www.cttransit.com under the "Routes/CTfastrak" tab. The latest information on the more than 60 businesses participating in the CTfastrak Rewards program is available at www.ctfastrak.com/rewards.