CONNECTICUT DEPARTMENT OF TRANSPORTATION
Office of the Commissioner


WELCOME TO THE OFFICE OF EQUITY
Disadvantaged Business Enterprise Program (DBE)
The Connecticut Department of Transportation (CTDOT) is committed to the effective implementation of the Disadvantaged Business Enterprise (DBE) Program as defined in Title 49, Code of Federal (CFR) Part 26 and Part 23 for Airport Concessions. This program will be executed in accordance with the regulations of the United States Department of Transportation (DOT) as a condition of receiving DOT funding.
CTDOT will not exclude any person from participation in, deny any person the benefits of, or otherwise discriminate against anyone in connection with the award and performance of any contract or concession opportunity. CTDOT shall not discriminate on the basis of race, color, national origin, or sex in the award and performance of any DOT-assisted contract or in the administration of its DBE and ACDBE Programs or the requirements of 49 CFR Part 26 and 23. CTDOT shall take all necessary and reasonable steps under 49 CFR Part 26 and 23 to ensure nondiscrimination in the award and administration of DOT-assisted contracts and concession opportunities.
DBE Program Information
For more information about the DBE Program, please contact Ms. Debra Goss at (860) 594-2169 or by e-mail at Debra.Goss@ct.gov
Effective May 1, 2019, the Office of Equity will no longer be issuing approval letters for DBE annual updates. To determine if a firm is currently DBE certified and/or to verify a firm's NAICS codes, please refer to the online DBE Directory. The DBE Directory is updated daily and contains a complete list of all certified firms. If a firm is not in the DBE Directory, it means that the firm is not certified.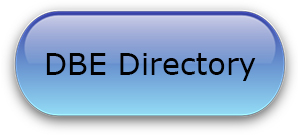 How do I become DBE Certified?
In State – Connecticut Based Firms
Interstate – Home office located outside of Connecticut
For more information about DBE Certification, please contact:
Shari Pratt
(860) 594-2171
Shari.Pratt@ct.gov
Please mail the completed DBE application, along with all supporting documentation to:
Connecticut Department of Transportation
Office of Equity
Attn: Shari Pratt
2800 Berlin Turnpike
Newington, CT 06111
Annual Updates
All certified firms (in state and interstate) must update on an annual basis
DBE Information
DBE Training Modules
DBE Meetings and Training Opportunities