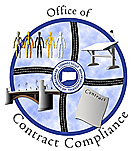 CONNECTICUT DEPARTMENT OF TRANSPORTATION
Bureau of Finance and Administration
WELCOME TO THE OFFICE OF CONTRACT COMPLIANCE
Connecticut Department of Transportation (ConnDOT)
On-the-Job Training (OJT) Workforce Development Pilot
In an effort to make the On-the-Job Training (OJT) Program more user-friendly, a Workforce Development Pilot has been developed to assist contractors with developing a highly skilled and diversified workforce to meet future demands, resulting in better efficiency, safety records and performance.
Purpose
To provide construction industry related job opportunities to minorities, women and economically disadvantaged individuals; and to increase the likelihood of a diverse and inclusive workforce on Connecticut Department of Transportation projects.
The program offers various training opportunities in the transportation construction industry and allows trainees to receive the necessary knowledge, develop the required skills and improve performance while working on the job.
In the state of Connecticut, implementation and administration of the OJT Program is the responsibility of the ConnDOT.
Introduction
The OJT Workforce Development Pilot has been prepared through the cooperative efforts of the Federal Highway Administration (FHWA Connecticut), the United States Department of Labor (US DOL), Connecticut Department of Transportation (ConnDOT), Department of Labor (DOL), the Construction Industry, and Trade Unions.
The flexibility of the OJT Workforce Development Pilot allows a contractor to train employees on all types of projects. The projects can be Federal, State, and/or privately funded. However, the projects must be located in Connecticut, and the training must meet the requirements outlined in this program. Also, priority must be given first to training trainees on ConnDOT Federal Aid and/or Federal Funded projects. This program will increase long-term relationships between contractors and trainees and encourage contractors to assist trainees in attaining full journeyperson status.
For more information Contact:
Phylisha Coles, OJT Program Coordinator
Connecticut Department of Transportation
Division of Contract Compliance
2800 Berlin Turnpike
PO Box 317546
Newington, CT 06131-7546
(860) 594-2178
Phylisha.Coles@ct.gov