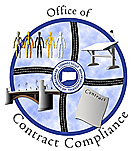 CONNECTICUT DEPARTMENT OF TRANSPORTATION
Bureau of Finance and Administration
WELCOME TO THE OFFICE OF CONTRACT COMPLIANCE
DISADVANTAGED BUSINESS PROGRAM
(DBE)

FREQUENTLY ASKED QUESTIONS

Q: If my firm is certified with the Department of Administrative Services (DAS) am I automatically certified in the DBE Program?
A: No. They are two different programs with different rules and regulations. The DAS Supplier Diversity Program is a state program, whereas the DBE program is a US Department of Transportation program. There is no reciprocity between the two programs.

Q: If I am DBE certified in another state, can I automatically get DBE certified with the Connecticut DOT?
A: No. Interstate certification isn't effective until January 1, 2012; and even with interstate certification DBE certification is not automatic. The DBE applicant must still forward a copy of the completed DBE application and all supporting documents which were submitted to the home state.

Q: A contract is coming up. Can my application be expedited?
A: Unfortunately we cannot expedite your DBE application. Your application will be reviewed in the order in which it was received.

Q: Do I have to submit all the required paperwork in the Documents Checklist?
A: You must submit all the forms that are applicable to your firm under the section All Applicants; next you must submit the appropriate forms specific to your Company Structure (i.e., partnership, corporation, LLC).