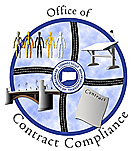 CONNECTICUT DEPARTMENT OF TRANSPORTATION
Bureau of Finance and Administration
WELCOME TO THE OFFICE OF CONTRACT COMPLIANCE
Affirmative Action Plans
The affirmative action plan is a formal, written, results-oriented document that outlines specific steps the contractor/consultant will take to remedy the present effects of past discrimination and insure the full utilization of minorities, women and other protected classes within the workforce.
Prime contractors/consultants must have an approved affirmative action plan prior to being awarded a contract and subcontractors/sub consultants must have a plan approved prior to starting work.
The Office of Contract Compliance is responsible for the review and approval of all contractor/consultant affirmative action plans for CTDOT administered projects and maintains a database of all firms with approved plans.
New Firms

Annual Update




Instructions for Submitting Electronic AAP

Additional Resources

The Office of Contract Compliance no longer issues approval letters for Affirmative Action Plan updates. To determine if a firm has an approved Affirmative Action Plan on file with the Department, please refer to the Affirmative Action Plan Approval List posted below. The approval list is updated weekly.

Please note that the Resource Directory above is for both community outreach and employee referrals. When using the Directory for employee referral sources, refer to the column titled "Referral Source" to confirm whether the organization is an acceptable referral source to meet affirmative action hiring requirements.

Phylisha Coles

Equal Employment Opportunity Specialist

Connecticut Department of Transportation

Office of Contract Compliance

Bureau of Finance and Administration

2800 Berlin Turnpike, P.O. Box 317546

Newington, CT 06111

Tel: 860-594-2178