Project No. 158-214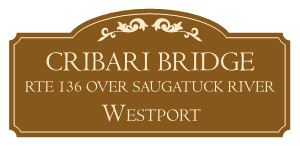 Municipality: Town of Westport
Project Location: Bridge No. 01349 (William F. Cribari Memorial Bridge), carrying Route 136 over the Saugatuck River
Project Description: A Rehabilitation Studies Report (RSR) for the Cribari Bridge – a historic swing bridge, listed on the National Register of Historic Places - was conducted to explore rehabilitation options. The completed RSR was presented to the public on June 15, 2016 and is included in the documents section below. This bridge project was originally initiated because routine inspections identified the need for rehabilitation work, primarily to vehicular collision-damaged truss elements and corroded pile cross bracing. The more detailed investigations conducted as part of the RSR process have revealed substantially more structural deficiencies and significant highway functional deficiencies. The cost to address the structural deficiencies may require major rehabilitation of the structure at a much greater construction cost than originally estimated. Due to a projected high cost of major bridge rehabilitation work and difficulty of maintaining traffic flow while performing rehabilitation work, a complete bridge replacement option was also studied in the RSR, to provide a baseline cost comparison between bridge rehabilitation and bridge replacement.
Project Map: Click to view a map of the project area.

Elevation view of the original bridge


Contact: Ms. Priti S. Bhardwaj, P.E.
Transportation Supervising Engineer
Connecticut Department of Transportation
2800 Berlin Turnpike, Newington, CT 06131
Phone: 860-594-3311
E-Mail: Priti.Bhardwaj@ct.gov
Scheduled Nighttime Closure and Detour of the William Cribari Bridge (Route 136 ) in Westport
Creation of a Project Advisory Committee for Cribari Bridge
Weight Restrictions Imposed for Cribari Bridge (Route 136) in Westport
Steel Pile Structural Condition Inspection Scheduled for Bridge 01349 (Cribari Bridge) in Westport
NON-ROUTINE INSPECTION AND MAINTENANCE ACTIVITIES
JULY 2018 - REPAIR WORK TO STRENGTHEN BADLY DAMAGED TRUSS MEMBERS
Maintenance work to repair truss performed in Summer of 2018. Work consists of bolting of metal plates to various vertical and diagonal members of truss system for strengthening purposes.
JULY 2018 - INSTALLATION OF GABIONS TO STABILIZE WING WALL EXTENSION ON NW CORNER OF BRIDGE
A gabion system was installed in front of the bridge's wing wall on the northwest corner of the bridge. This interim work was conducted to stabilize the wall, which was leaning seaward.
2017 - INSPECTION OF PIER 2 STEEL PILES
A short-term inspection of Pier 2 steel piles of the Cribari Bridge was conducted in 2017 as part of Project 158-214 with the intent of determining their condition.

PUBLIC MEETINGS/HEARINGS
PROJECT ADVISORY COMMITTEE (PAC) INTRODUCTORY MEETING
An introductory Project Advisory Committee (PAC) Meeting was held at the Westport Town Hall Auditorium at 6:30 p.m. on Wednesday, July 18, 2018. Subsequent meetings to be scheduled at regular intervals with specific dates to be determined and materials linked below as they become available.
Meeting 1 - July 18, 2018: Presentation Slides, Report of Meeting.
Meeting 2 - September 26, 2018: Presentation Slides, Report of Meeting.
Meeting 3 - November 28, 2018: Presentation Slides, Report of Meeting.
Meeting 4 - January 30, 2019: Presentation Slides, Report of Meeting.
Meeting 5 - May 8, 2019: Presentation Slides, Report of Meeting.
Note that although some attendees listed themselves as primary PAC members on attendance sheets (attached to meeting reports), in reality only one member per PAC group sat at the table to participate in discussions. All PAC groups are composed of one primary member, with the remaining members being listed as alternates. NEW
PUBLIC INFORMATION AND PUBLIC SCOPING MEETING
A Public Information and Public Scoping Meeting for this project was held at the Westport Town Hall Auditorium at 7:00 p.m. on Wednesday June 15, 2016. Additional written comments from the public were accepted until the close of business on Friday, July 1, 2016 for this meeting. However, general comments or questions regarding the project can be submitted at any time.
APPROVED CONSULTING PARTIES
The following entities have been approved by the Federal Highway Administration (FHWA), the lead federal agency associated with Project 158-214, as Consulting Parties under Section 106 of the National Historic Preservation Act. Other consulting parties under Section 106, by right and whenever applicable, are the State Historic Preservation Officer (SHPO), the Tribal Historic Preservation Officer (THPO), Indian Tribes and Native Hawaiian Organizations, local governments, and applicants for federal assistance or approvals (CTDOT, in this case).
PROJECT DOCUMENTS AND OTHER INFORMATIONAL ITEMS