Specialty Food Products
Relish your burger. Salsa your chips. Jam your yogurt. Jelly your toast. Sauce your eggs. Connecticut Grown products add a fresh, delicious twist on your favorites at breakfast, lunch, and dinner. Look below for a list of Connecticut Grown value added producers.
Follow our Pinterest page to find a producer of Connecticut Grown value added products, along with recipe ideas sure to please a crowd.
Try These Ideas
1. Spoon hot pepper jelly over a hot chicken breast, lamb, or pork out of the oven to glaze.
2. Add zucchini relish to your hamburger.
3. Top baked brie wrapped in crescent roll with strawberry jam.
4. Make your own mini donuts filled with jelly.
5. Pair tomato sauce with your favorite sausage or ground beef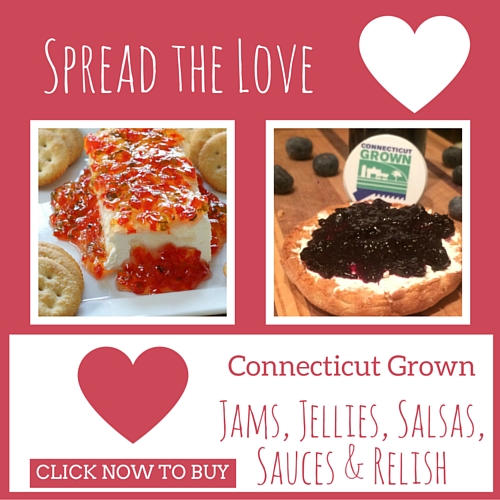 Producers of Connecticut Grown Value Added Products
Cupola Hollow Farm
130 North Stone Street
West Suffield, CT 06093
860-668-0859
www.cupolahollowfarm.com
Dondero Orchards, LLC
529 Woodland Street
South Glastonbury, CT 06073
860-659-0294
www.donderoorchards.com
Gresczyk Farms, LLC
860 Litchfield Turnpike
New Hartford, CT 06057
860-482-3925
www.gresczykfarms.com
Killam & Bassette Farmstead
14 Tryon Street and 1098 Main Street
South Glastonbury, CT 06073
860-833-0095
www.kbfarmstead.com
Lyman Orchards
32 Reeds Gap Road
Middlefield, CT 06455
860-349-1793
Rose's Berry Farm, LLC
Matson Hill Farm
295 Matson Hill Road
South Glastonbury, CT 06073
Hebron Avenue Stand
1200 Hebron Avenue
Glastonbury, CT 06033
860-633-7467
www.rosesberryfarm.com
Waldingfield Farm
24 East Street
Washington, CT 06793
860-868-7270
www.waldingfieldfarm.com
Winding Drive Gourmet Specialtieswww.windingdrive.com