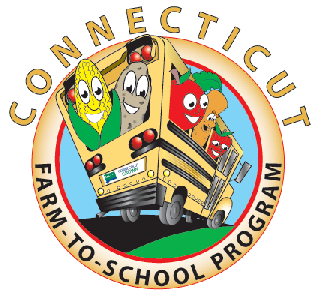 The CT Farm-To-School Program encourages you to visit our partners and other related sites that we have listed below. Along with agricultural sites, there are health and wellness programs to enhance you and your schools programs. Please contact us if your organization would like to be listed here. We all know how difficult it is to develop materials and we hope you find resources you and your school systems need through these links!
The USDA Farm to School Program is a top notch site to read and learn. In addition, spend some time reading USDA Know Your Farmer, Know Your Food programs, too. MyPlate is a healthy eating tool created by the federal government that provides practical information to consumers and educators on putting the science of nutrition into practice. The website provides a variety of resources including meal planning tools, healthy cooking tips, and more. Visit www.choosemyplate.gov for more information.
The USDA has jsut released a new document,Procuring Local Foods Child Nutritions Program Guide, so check it out!
WE are all in this together. Helping CT farmers and American farmers provides a safe and plentiful supply of fresh fruits and vegetables to our kids. As we move forward, we are now working on protein items as well. Need more knowledge? Read up on the National School Lunch Program!
National Farm To School Network is a wonderful resource for food service directors, teachers, and parent/teacher organizations that will enable you to expand your resource base to support your local Farm To School Program.
The Auer Farmin Bloomfield, CT has ag education classes, a farm and more! Visit the farm site and see what is up!
The Center for Ecoliteracy offers templates for slow food and wellness policies, how to start school gardens and other very creative programs, guidelines and sustainability information.
Community Alliance for Family Farmers has produced a booklet to help farmers and school teachers prepare for a farm visit! Visiting your local farm helps children connect to agriculture and their food system!
The Connecticut Ag In the Classroom is a resource for our state at the regional and national level for the National Ag in the Classroom Program.
The Connecticut Food Policy Council has been instrumental in bringing nutritional needs of children to the forefront in Connecticut.
The Connecticut Department of Education's Nutrition offer a wealth of information for schools, parents and others concerned with child nutrition. Visit their Nutrition Education page and their Farm To School page for information on the federal requirement that every Connecticut school system involved in the USDA's school meal programs has to have a wellness policy in place by the first day of the 2006/2007 school year. Also, it has the information on healthy food and beverages in school.
For guidance on school gardens, from the SDE, please read this information:
The Connecticut RC&D is part of a USDA program that focuses on the protection of natural resources, and the managed use of those resource to support and improve the local economy, local farm community and in the end, improve the quality of life for the citizens in this state. Connecticut has two councils that support that effort, one in the East and one in the West. We are proud to call them partners in the Farm-to-School adventure.
The Connecticut School Garden Resource Center is a new organization developing resources for your school garden at Comomon Grounds. Check it out--it is a great new resource.
Crossroads Resource Center is a firm that can help your community fashion a food system that responds to local people and local needs—one that builds health, wealth, connection, and capacity in your community, offering a variety of tools for a community to use, developed over nearly four decades of close collaboration with residents of rural and urban communities.
The Food Project has a good variety of information, even books to buy, to inspire you further...
My American Farm is a copyrighted program of the American Farm Bureau Foundation. My American Farm project website is agricultural literacy computer game for the public. Tackling an important agricultural question, "where does my food come from?", the public learns where their food is from, and that journey from farm to their supper table, in a amusing fashion. Have fun!
Project Food, Land and People is designed to provide supplementary educational material emphasizing the environment and our agricultural impact. It promotes an educational approach that allows students to understand the interrelationships among agriculture and the environment and the people of the world. Its goal is to create critical thinking skills that will provide for sustainable practices that benefit our environment while meeting our needs for food, clothing, and shelter. This project was designed to complement Project Learning Tree, WILD, Agriculture in the Classroom materials, and national youth programs. To learn more about this program, visit the National Food Land and People website or contact the Connecticut Food Land and People coordinator, Sue Quincy, stationed at the Kellogg Educational Center, or call (203) 734-2513.
The National Dairy Council offers free printable handouts and low-cost kits for classroom and cafeteria programs.
The New England Dairy & Food Council says Drink Milk! Want the facts and studies on flavored milk? Read here about the benefits of flavored milk. Remember, you are supporting local agriculture, open space, and keeping a cow in a job when you drink milk.
The New Hampshire Farm to School Program has a new website! Check it out!
SNACT-The School Nutrition Association of Connecticut - the mission to promote quality Child Nutrition programs and enhance professionalism among school foodservice employees in the state of Connecticut. Visit their site for valuable information on the way your foodservice employees strive for excellence--for the kids! The SNACT summer conference is the way our food service community for schools keeps informed. support your food service directors by buying hot lunches! Thanks!
snap4ctorg is a brand new website this marvelous 2014 summer season! This site for eating healthy and local and ... WOW! There is "ask a nutritionist!" There is info how to sign up for SNAP, grocery tour, recipes, healthy eating, a find a CT Farmers Market where SNAP clients can use their CT Dept. of Agriculture's coupons... We need you all to use and promote these programs.. this is a must visit site!
Visit USDA My Plate to get lots of nutrition information. It is a lot of fun and a lot of common sense, all in one great location!
Contact Us with other links you would like to see on this site!