Farm to School Promotional Materials and Programs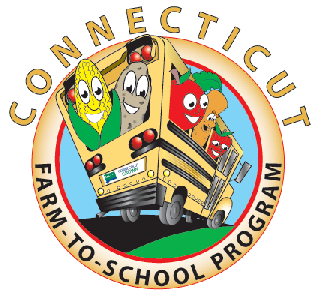 Present Program Events
Food Service Directors Launched!
Start with Half a Cup

The Start with Half a Cup tool kit was a collaborative effort with CT Department of Administrative Services, CT State Department of Education, and our agency, the CT Department of Agriculture, to help with the rapid successive changes in the USDA School Feeding Programs. In order to encourage the consumption of the fresh produce requirements, a high energy highly motivated food service directors, anti-hunger advocates, university staff, community food organizations, and CT FoodCorps were brought together for meetings, project development, and implementation. We as a group introduced this virtual toolkit to all Connecticut School Food Service Directors at the CT School Breakfast Summit on November 4, 2014. This tool kit provides resources for school nutrition programs to support their efforts in getting students to take and consume the fruits and vegetables that come with their school meals.
Visit and use the website TODAY! SWHAC.ct.gov
MORE PROMOTIONAL PROGRAMS AND MATERIALS
Promotional Materials for this program:
A logo for the program was developed with the assistance of UCONN.
The logo has been formatted into a "price card" which is already being used in many schools to denote lunch items that are CT Grown. To preview the card simply click farm_schoolpricecards1.pdf
The logo is available for School Lunch Programs to use for banners, promotional materials or other similar uses to help promote the Farm to School Program, any CT Grown produce and nutritional programs associated with that program.
The price cards come in pads of 50. Call to order your supply today at (860) 713-2543.
The logo itself can be used on menus and materials after your school starts using CT Grown in its school lunch, breakfast or snack programs. it is available in

.gif

format here.
Connecticut Grown Crop Availability Calendar ~
The seasonal availability of Connecticut Grown fruits and vegetables in a multi-colored, easy to read chart. It can be used at school event. It can be downloaded and printed.

Click crop calendar.pdf for high quality version to print for your school events.
The CT Dept of Agriculture has partnered with CT NOFA to expand the list of farms, farmers' markets, and farm stands beyond the current CT NOFA membership - free of charge and online. It is a joint effort to promote the availability of all Connecticut farmers who can provide food and other farm products in this time of crisis.
Costume Usage
The costume program is on hold until further notice due to COVID-19. For more information, contact Erin Windham at 860-713-2543, or email Erin at Erin.Windham@ct.gov.