Bite into fall with crisp, delicious Connecticut Grown apples.
With more than 60 varieties of apples grown in the state, your favorites are ripening now.
Click on the counties below to plan your trip to a Connecticut orchard.
Find an orchard by location, keep posted on events and receives notices of specials.
Download the Connecticut Apples app by scanning the QR code below.
Listings By County: Fairfield | Hartford | Litchfield | Middlesex | New Haven | New London | Tolland | Windham
Beardsley's Cider Mill & Orchard, LLC PYO C R F
278 Leavenworth Road (Rte. 110)
Shelton, CT 06484
203-926-1098
no1cidermill@yahoo.com
Blue Jay Orchards PYO C R W F
125 Plumtrees Road
Bethel, CT 06801
203-748-0119
Silverman's Farm PYO C R Y
451 Sport Hill Road
Easton, CT 06612
203-261-3306
nsilv370@optonline.com
101 Clark Hill Road
South Glastonbury, CT 06073-3507
860-633-4906
425 Avery Street
South Windsor, CT 06074
860-648-1633
Autumn Harvest Orchard, LLC PYO R W F
879 Winchester Road
Norfolk, CT 06058
203-592-0554
JDCharon@comcast.net

Averill Farm PYO C R F
250 Calhoun Street
Washington Depot, CT 06794
860-868-2777
averillfarm@sbcglobal.net
Gotta's Farm C R W F
661 Glastonbury Turnpike
Portland, CT 06480
860-342-1844
rgottafarm@aol.com
Lyman Orchards PYO C R W Y F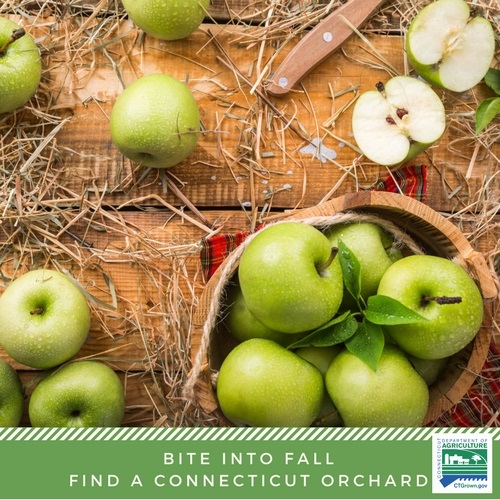 Jct. Rtes. 147 & 157
Middlefield, CT 06455
PYO Hotline 860-349-6015
Scott's CT Valley Orchard PYO F
274 Kelsey Hill Road
Deep River, CT 06417
860-526-9633