REGION 5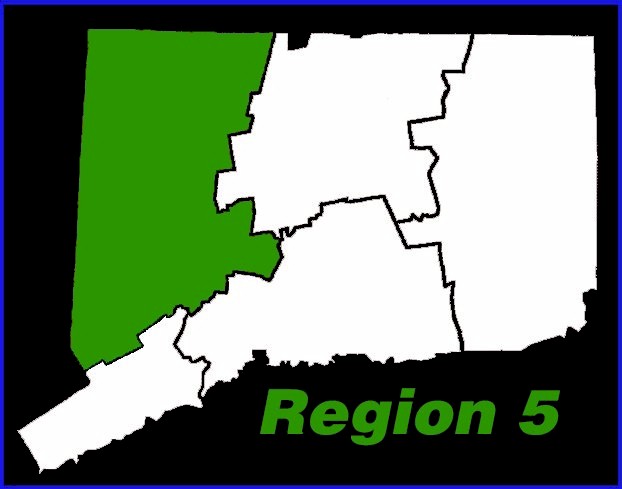 Mental Health Services
---
REGION 5
Local Mental Health Authorities (LMHAs)
ADMINISTRATIVE OFFICE:

The administrative office oversees the LMHAs in Region Five.
Western CT Mental Health Network
Rowland State Government Center
55 West Main Street, Suite 410
Waterbury, CT 06702-2004
PH: 203-805-6400 FAX: 203-805-6432
---
Western CT Mental Health Network - Waterbury Area
(state operated)
95 Thomaston Ave.
Waterbury, CT 06702
PH: 203-805-5300 FAX: 203-805-5310
(Catchment Area 20)Serving the towns of Beacon Falls, Bethlehem, Cheshire, Lakeside, Middlebury, Naugatuck, Oakville, Oxford, Prospect, South Britain, Southbury, Thomaston, Union City, Waterbury, Watertown, Waterville, Wolcott and Woodbury.


---
Western CT Mental Health Network - Danbury Area
(state operated)
78 Triangle Street, Bldg. I-4
Danbury, CT 06810
PH: 203-448-3200 FAX: 203-448-3199
(Catchment Area 21)
Serving the towns of Bethel, Botsford, Bridgewater, Brookfield, Brookfield Center, Danbury, Gaylordsville, Hawleyville, New Fairfield, New Milford, Newtown, Redding, Redding Center, Redding Ridge, Ridgefield, Roxbury, Sandy Hook, Sherman, West Redding.
---
Western CT Mental Health Network - Torrington Area
(state operated)
249 Winsted Road, Third Floor
Torrington, CT 06790
PH: 860-496-3700 FAX: 860-496-3800
(Catchment Area 22)
Serving the towns of Bantam, Barkhamsted, Canaan, Colebrook, Cornwall, Cornwall Bridge, Falls Village, Goshen, Hartland, Harwinton, Kent, Lakeville, Limerock, Litchfield, Marble Dale, Morris, New Hartford, New Preston, Norfolk, North Canaan, North Kent, Northfield, Pine Meadow, Pleasant Valley, Riverton, Salisbury, Sharon, South Kent, Taconic, Torrington, Warren, Washington, Washington Depot, West Cornwall, West Goshen, Winchester, Winchester Center, Winsted.
REGION 5
DMHAS-Funded Mental Health Programs
Ability Beyond Disability
4 Berkshire Blvd.
Bethel, CT 06801
PH: 203-775-4700 FAX: 203-740-2636
1-888-832-8247
Catholic Charities, Inc.
Family Services of Waterbury

56 Church Street
Waterbury, CT 06702

PH: 203-755-1196 FAX: 203-575-9675
Bridgeport Diocese
238 Jewette Ave.
Bridgeport, CT 06606

PH: 203-372-4301 FAX: 203-372-5045
CMHA Northwest Center for Adult, Child and Family Services
100 Commercial Boulevard
Torrington, CT 06790
Tel 860-482-8561 Fax 860-489-5261
(merged with Ability Beyond Disability)
60 West Street
Danbury, CT 06810
PH: 203-797-1210 FAX: 203-797-8776
Mental Health CT
(Danbury, Torrington, Waterbury)
61 South Main Street, Suite 100
West Hartford, CT 06107
PH: 860-529-1970 FAX: 860-529-6833
Supportive Environmental Living Facility (SELF)
4 John Street
Waterbury, CT 06708
PH: 203-596-4827 FAX: 203-596-4829
Waterbury Hospital Health Center
64 Robbins Street
Waterbury, CT 06721
PH: 203-573-6500 FAX: 203-573-7007
(formerly Morris Foundation)
402 East Main Street
Waterbury, CT 06702
PH: 203-755-1143 Fax: 203-755-1447