REGION 1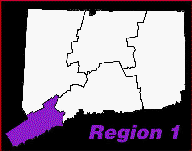 Mental Health Services
---
Region 1

LOCAL MENTAL HEALTH AUTHORITIES:
---
F.S. DuBois Center (state operated)
1351 Washington Boulevard, 5th Floor, Stamford, CT 06905
PH: 203-388-1600 FAX: 203-388-1681Crisis Programs: (203) 358-8500
(Catchment Area 1 and 2)
Serving the towns of Byram, Cos Cob, Darien, East Norwalk, East Portchester, Georgetown, Glenbrook, Glenville, Green Farms, Greenwich, New Canaan, Noroton, Noroton Heights, Norwalk, Old Greenwich, Riverside, Rowayton, Saugatuck, South Norwalk, Springdale, Stamford, Weston, Westport, and Wilton.

---
Greater Bridgeport Community Mental Health Center
(state operated)
1635 Central Avenue
Bridgeport, CT 06610PH: 203-551-7400
Crisis Programs: (203) 551-7507 (8am to 8pm)
(click here for directions)
Outpatient Services (state operated)97 Middle Street
Bridgeport, CT 06604
PH: 203-579-7300
(Catchment Area 3 and 4)
Serving the towns of Bridgeport, Easton, Fairfield, Monroe, Nichols, Southport, Stepney, Stevenson, Stratford, and Trumbull.
Region 1
DMHAS-Funded Mental Health Programs
Applied Behavioral Rehabilitation Research Institute
655 Park Avenue
Bridgeport, CT 06604
PH: 203-338-0669
Bridge House, Inc.
880 Fairfield Avenue
Bridgeport, CT 06605
PH: 203-335-5339 FAX: 203-331-1694
Catholic Charities of Fairfield County
238 Jewett Ave.
Bridgeport, CT 06606
PH: 203-416-1307

Central Connecticut Coast YMCA
850 Park Ave.
Bridgeport, CT 06604
PH: 203-334-5551

Chemical Abuse Service Agency (CASA)
P.O. Box 2197
690 Arctic Street
Bridgeport, CT 06608
PH: 203-339-4112

9 Mott Avenue, 4th floor
Norwalk, CT 06850
PH: 203-855-8765 1-800-676-4066

Family Centers, Inc.
60 Palmer's Hill Road
Stamford, CT 06902
PH: 203-324-3167

PH: 860-529-1970

4 Merritt St.
Norwalk, CT 06854
PH: 203-866-1057

Optimus Health Care, Inc.
982 East Main St. (Main Office)
Bridgeport, CT 06608
PH: 203-696-3260

Pathways, Inc.


175 Milbank Avenue

Greenwich, CT 06830


PH: 203-869-5656

Shelton, CT 06484
PH: 203-929-1954

2800 Main St.

Bridgeport, CT 06606

PH: 203-576-6000

Pacific House, Inc.

Administrative Offices: 137 Henry St., Suite 205

Stamford, CT 06902

PH: 203-406-9619

Mail to: P.O. Box 1252