Wildlife License Plates
Step Up To The Plate For Wildlife…
and show your support by displaying a wildlife license plate on your vehicle.
More Information (link to DMV)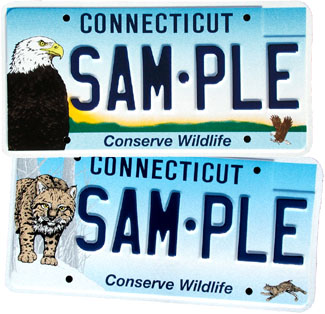 A wildlife license plate allows drivers to publicly display their support for Connecticut's wildlife with some eye-catching artwork. In fact, it proved so difficult to select a single plate design that two versions are being offered. Drivers can choose between the majestic bald eagle and the secretive bobcat. Both species are representative of the DEEP's efforts to protect Connecticut's wildlife and its habitat.
Bald eagles, while still a threatened species in Connecticut, are making a comeback due to improvements in the quality of the environment and active management. In 1992, a pair of bald eagles nested in Connecticut for the first time since the 1950s. In 2019, 45 pairs of nesting bald eagles fledged 81 chicks. The DEEP is working with landowners and local authorities to protect nests from disturbance and biologists band chicks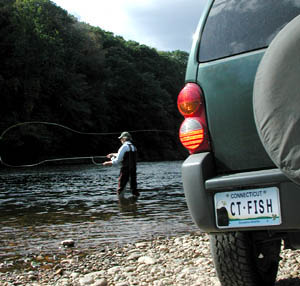 each year to assist in population monitoring. Eagle watching is becoming an increasingly popular winter activity, especially along the lower Connecticut River.
Bobcats are a symbol of all that is wild in Connecticut. Solitary and secretive, these seldom seen predators are a vital remnant of our natural heritage. Their presence is indicative of a healthy ecosystem and Wildlife Division biologists are collecting data to clarify the status of bobcats in the state.
How Can You Get a Wildlife License Plate?
Wildlife license plates are easy to order. Visit the CT Department of Motor Vehicles website to find out the fees and how to order plates. In addition, applications can be found at most Department of Motor Vehicle (DMV) and DEEP offices. Additional information about vanity plates and other specialty plates can be found online at the CT Department of Motor Vehicles website.
Vehicles with passenger (including handicapped), commercial, combination, camp/boat trailer, and camper registrations are eligible for wildlife license plates. Your current plates can be replaced with new or "off-the-shelf" plates for a $50 fee. Vanity, low number, and current marker plate numbers can be transferred to the wildlife background for $70. New vanity plates can be ordered on a wildlife background for $139. The cost of each set of wildlife plates and their renewal includes an administrative cost.
Content last updated September 10, 2019.