Connecticut Stream Flow Standards Frequently Asked Questions


Why were new Stream Flow Standards and Regulations adopted?
DEEP proposed the Connecticut Stream Flow Standards and Regulations in response to requirements in legislation approved by the General Assembly and signed into law in 2005 (PA 05-142). The purpose of the Stream Flow Standards and Regulations is to provide for the protection of Connecticut's river and streams by establishing stream flow standards that apply to all river and stream systems in the state through a classification process and requiring minimum releases from dams. These proposed rules add to and eventually replace the existing requirements found in the Minimum Stream Flow Standards and Regulations of the Connecticut Department of Environmental Protection, sections 26-141a-1 to 26-141a-8, inclusive, of the Regulations of Connecticut State Agencies.
What is the basic regulation framework?
The Stream Flow Standards and Regulations balance the needs of humans to use water for drinking and domestic purposes, fire and public safety, irrigation, manufacturing, and recreation, with the needs of fish, wildlife and other biota that also rely upon the availability of water to sustain healthy, natural communities. The regulations provide a framework considering the best available science to balance the human and ecological needs for water. The framework includes: four stream flow classifications; operational rules for each; public notice and input into the classification process; and a phased implementation of regulatory requirements to encourage and support water supply planning and conservation efforts. These rules help protect Connecticut's river and stream systems by promoting better, more efficient management of our water supplies, so that all needs, both human and ecological, can be met both today and in the future.
What is the classification scheme?

Stream flow classes range from Class 1 (minimally altered) to Class 4 (substantially altered). The flow standards for each class are based on maintaining, to various degrees, the natural variation in flow expected in Connecticut given seasonal climate and rainfall patterns and human use.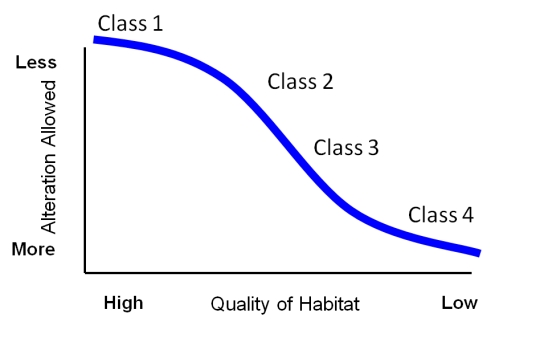 The stream flow standards incorporate the concept of balancing human and ecological needs for water by establishing different flow standards for each of four classes of waters:
Class 1- free flowing, priority given to protecting ecological health

Class 2- minimally altered free flowing stream system

Class 3- moderately altered, have intermediate balance points between ecological and human uses.

Class 4- substantially altered, priority is given to human uses


What is the classification process and timeframe?

A public participation process is required that includes a public notice of proposed classifications in the newspaper, opportunity for public comment, State Agency review (including but not limited to the Department of Public Health, Department of Agriculture, Department of Economic and Community Development, Public Utilities Regulatory Authority and Office of Policy and Management), a document summarizing the reasons and support for the stream flow classifications, and notice of adopted classifications in the Connecticut Law Journal.There is no timeframe set in the Stream Flow Standards and Regulations for the classification process to be completed. It is the Department's expectation that each of the major basin areas will take approximately one year to complete. The DEEP will be issuing public information and notices so the public can comment when river and stream system are classified.
What are the factors used for classification?
Factors that will be considered in the stream flow classification include location of dams, existing diversions, potential water supply, water supply margin of safety, return flows, land cover, planned land use, aquatic resources, aquatic life, anadromous fish runs, trout management areas, and recreational resources.
What happens if there is new information after stream flow classification are established? Is there a procedure to change the stream flow classifications?
Yes, there is a procedure for petition to change a classification that allows for public notice and input prior to the Commissioner making a final determination on the request.
Who must comply and make releases?

Dam owners or operators that impound or divert the waters of a river or stream system or that affect the flow of water in such a system must comply with the regulation and make certain releases. However there are a number of off ramps in the release rules, and exemptions to that basic applicability.
What are the exemptions?
There are exemptions for safety, emergencies, limited/short term water use, non-consumptive uses, stormwater detention, small watersheds, certain man-made conveyances, and pollution abatement.
Note that some exemptions are subject to conditions. Key exemptions are listed below:
hydropower under FERC

fire emergencies

flood control dams

dams not on streams

permitted diversions

diversions subject to approved flow management plans, such as special act, or wild and scenic designations

tidal rivers

impoundments with no active manipulation or withdrawal, these are typically lakes and ponds used for recreation or other non-consumptive purposes

small intermittent withdrawals

draw downs for dam inspection and weed control

agriculture and golf courses

dams with watersheds < 3 square miles or naturally limited flows

certain streams between reservoirs

man-made conveyances


What are the release rules?
There are release requirements in each class for dams to maintain a minimum stream flow, the basic release rules by class are as follows:
Class 1- free flowing
Class 2- 75% of natural inflow
Class 3- this class is where the most balancing of human and ecological needs occurs for water, it establishes baseline release standards as set in the table below
Bioperiod
Effective Dates
Minimum Required Release
Antecedent Period Dry
Antecendent Period Wet
Overwinter
Dec 1-Feb 28/29

Bioperiod Q99*

Habitat Forming
Mar 1-Apr 30

Bioperiod Q99

Cluepid Spawning
May 1-May 31

Bioperiod Q95

Resident Spawning
June 1-June 30

Bioperiod Q90

Rearing and Growth
July 1-Oct 31

Bioperiod Q80

Bioperiod Q50

Salmonid Spawning
Nov 1-Nov 30
Bioperiod Q90
* These are established by DEEP stream statistics (Stream Stats)
For Class 2 and 3, there are some special provisions for small watersheds, small storage reservoirs and areas between impoundments to make only minimum releases.
There are various operational flexibilities to the Class 3 release rule for public water supplies.
Class 4- these releases are approved individually as a "site specific release" taking into account substantially altered conditions given to human uses. Releases must be consistent with the Class 4 narrative standard and consider the impact on human uses and ecological benefit of the releases. The goal is to achieve Class 3 type conditions to the extent practicable.
How can I determine the required "Q" flows that are specified in the Stream Flow Standards and Regulations?

Q stream flows found in the Stream Flow Standards and Regulations can be automatically calculated at any point along a river or stream in the web-based StreamStats application developed by the United States Geological Survey available at USGS Connecticut StreamStats .
References applicable to this work can also be found on the USGS webpage:
Ahearn, E.A., 2004, Regression equations for estimating flood flows for the 2-, 10-, 25-, 50-, 100-, and 500-year recurrence intervals in Connecticut: U.S. Geological Survey Scientific Investigations Report 2004-5160, 62 p.
Ahearn, E.A., 2010, Regional regression equations to estimate flow-duration statistics at ungaged stream sites in Connecticut: U.S. Geological Survey Scientific Investigations Report 2010–5052, 45 p.
Other methods of calculating appropriate Q stream flows may also be considered.
What are the compliance timeframes and reporting requirements?
Generally compliance is required 10 years from river or stream classification date, however there are some reporting requirements ahead of that. Timeframes are:
within one year of classification- dam owners and operators subject to the regulations must report, on a DEEP form, basic information for the dam, such as name of owner and location

within nine years (unless another date is approved in writing by the commissioner), submit description of methods and locations to be used to calculate release flows and to demonstrate compliance with release flow requirements

within ten years (unless another date is approved in writing by the commissioner) initiate required releases

upon initiation of required releases, maintain an operating log


If a release is not required, does a dam owner or operator still have to report information to DEEP?
Generally if you are not subject to the regulation, including meeting exemption provisions, you do not have to report. However, operation of a dam with no active manipulation of the water storage and no withdrawal of water from within the impoundment, such as recreational lakes and inactive reservoirs, have to report by submitting a certification that such dam is operating, and will continue to operate, as such.
We draw our lake down for maintenance of aquatic plants. What is required under the Stream Flow Standards and Regulations?
Diversion of water caused by drawing down for aquatic weed control, water quality control, seasonal drawdown, or inspection or maintenance are exempt from the Stream Flow Standards and Regulations, provided the surface elevation of the impoundment is lowered only to the elevation and for the amount of time necessary and during drawdown and refilling periods, water is continuously released in an amount no less than the minimum of either the rearing and growth bioperiod Q80 or the natural inflow of water.
Do the Stream Flow Standards and Regulations apply to groundwater?
No, the current Stream Flow Standards and Regulations do not apply to wells.
Content Last Updated on February 14, 2020