Map of Connecticut State Parks and Forests that
Hire Seasonal Employees
The following map lists the state recreation areas that hire seasonal employees. For further information on the recreation area including contact information and positions that may be hired at that location, select a number on the map.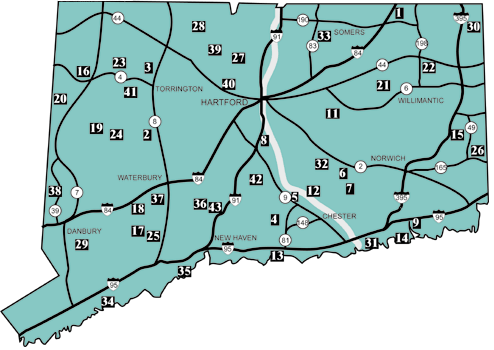 How to apply for a seasonal position:
Visit the

Online Employment Center

to Register and set up a Master Application. (Mailed or faxed job applications will no longer be accepted.)

No need to manually fill out a new application every time you want to apply for a job. Simply keep your "Master Application" up-to-date and use it to apply for a current job opening.

Sign up to receive email or text notification about future job openings by filling out an

Interest Card

. Check the boxes for Environmental Protection and Outdoor Recreation when signing up. You will need to renew your Interest Card selections annually.
Alphabetical Listing of State Parks and Forests that Hire Seasonal Employees
CT State Parks Lifeguard Program
Seasonal Job Descriptions
Seasonal Employment Information