Winter Activities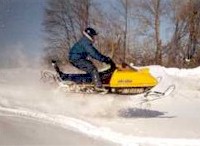 There's no need to stay home when the weather turns cold - the fun continues all winter long!
Play it safe! Before you venture out onto any frozen pond or lake to ski, snowshoe, snowmobile, or ice fish, follow these important guidelines for ice safety.

Cross Country Skiing (Ski Touring)
Many of our parks and forests offer excellent terrain and miles of trails for cross-country skiers.
Ski Touring Information
Downhill Skiing
Mohawk Mountain, a facility leased from the DEEP, is one of the State's most popular ski areas. Information concerning ski operations and conditions may be obtained by contacting Mohawk Ski Area.
Ice Skating
Stay warm on a cold winter's day by gliding across a frozen pond at one of Connecticut's State Parks. Currently, only Osbornedale State Park in Derby has a designated area that is tested for safe ice.
Snowmobiling
There are 11 designated areas within Connecticut State Forests where the use of snowmobiles on established trails and forest roads is authorized.
Snowmobiling Information
More Winter Fun!
Other popular activities include snowshoeing, ice boating, winter camping, and dog sled racing.
---
If you have questions or need additional information on Connecticut State Parks and Forests, please contact the State Parks Division by e-mail at deep.stateparks@ct.gov or by phone at 860-424-3200.
Content last updated December 2017