Swimming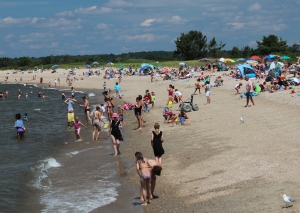 Connecticut State Parks offer many beautiful places to go swimming, from lakes and ponds to the shoreline. Whether you enjoy splashing in cool clear water or sunbathing on warm sparkling sand, our State beaches offer the perfect way to spend a hot summer day.
Where can I swim?
Connecticut offers 22 designated swimming areas.
Where are there lifeguards?
Guarded parks, identified by a red cross on the map, typically have lifeguard coverage during the summer season. Lifeguard coverage on any specific day is dependent on seasonality, time of day and staffing levels.
Before you swim: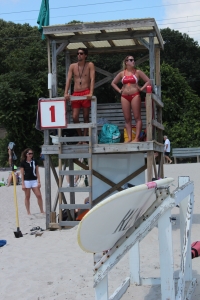 How to Stay Safe
Drink Responsibly
Excessive alcohol consumption impairs judgment and reaction ability. Even prescription drugs may impair judgment.
Parents - Watch your Children
It only takes seconds for a child to drown, and this can occur silently. Please ALWAYS watch your children; if you are more than an arm's length away, you're too far!
Be Aware of Underwater Hazards
Natural swimming areas can have sudden drop-offs, inshore holes, large rocks or tree roots that can't be easily seen from the surface. Diving and jumping into these waters can be hazardous. Please be careful of these unseen dangers.
Swim only in the designated areas, and stay where the lifeguards can see you!
Take a Swimming Lesson
Increasing your water safety knowledge and swimming skills can help save your life. People of all ages should consider signing up for a swimming class offered at your local YMCA branch, American Red Cross Chapter, or municipal parks & recreation department.
Follow the Beach Rules:


No alcoholic beverages, glass, pets, or nudity.
No flotation devices, only approved lifejackets.
No snorkels.
No rough play.
No sand or rock throwing.
No "throw-catch" activities.
No soap or shampoo.
No fishing.
Keep the beach area around the lifeguard chair clear.
Swimmers must stay off buoys and lines.
Water and the beach will be cleared when lightning is visible or thunder is heard.
Special Access
Beach Wheelchairs are available at several locations.
These are specially designed for access over the sand, and can be borrowed for the day. Just be careful - they are NOT designed to be taken into the water.
Remember...
Water and Alcohol DON'T mix!
Parents-watch your children!
Be careful of underwater hazards, and don't dive in.
Always swim in designated areas.
Please Be Safe In the Water!

Connecticut Waterfront Updates