Snowmobiling in Connecticut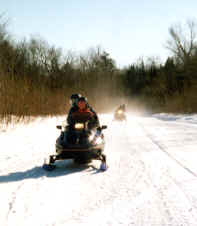 Trail Directory | Trail Maps
Highway Crossing | Hours | Operation
Parking Lot Snow Removal | Policies and Procedures
Prohibited Areas | Registration | Snow Depth | Speed


Snowmobiling is available at the following State Forests: American Legion in Barkhamsted, Cockaponset in Chester & Haddam, Housatonic in Sharon, Mohawk in Cornwall, Natchaug in Eastford, Naugatuck in Beacon Falls, Nipmuck in Union, Pachaug in Voluntown, Peoples in Barkhamsted, Pootatuck in New Fairfield, and Shenipsit in Stafford.
Trail Directory
COCKAPONSET STATE FOREST, Chester
Cedar Swamp Block
Directions: From the traffic circle at the junction of Routes 80 and 81, in Killingworth, proceed easterly on Route 80 for 4.0 miles taking a left at Winthrop onto Cedar Swamp Road. Continue 1.1 miles on paved road then 0.1 mile on a gravel road to the intersection of Cedar Swamp Road and Pine Ledge Road. The shoulders of the intersection are wide enough to provide parking for approximately 4 vehicles with trailers.
Trail Description: The Cockaponset Cedar Swamp Block snowmobile trail runs generally in a north and east direction from the starting point. Unplowed forest roads provide a smooth, easy grade with sufficient width for two-way traffic. The 6-mile trail is entirely wooded and passes through dense growths of mountain laurel.
COCKAPONSET STATE FOREST, Haddam
Turkey Hill Block
Directions: From Route 154 in Haddam, take Jail Hill Road westerly, bearing left at intersection near a pond on the left. Here, Turkey Hill Road leads to Filley Road - the first right. Parking is permitted for 20 cars along the sides of Filley Road in the vicinity of the overpass at Route 9 where the trail begins. Access from Route 148 in Chester is also possible by turning north at Cedar Lake using Cedar Lake Road through the forest to Filley Road.
Trail Description: Two-way snowmobile traffic is possible on Cockaponset Turkey Hill Block trails using unplowed forest roads. The easy trails traverse both deciduous and evergreen woodland providing occasional views of Turkey Hill and Pataconk Reservoirs.
HOUSATONIC STATE FOREST, Sharon
Directions: The Housatonic snowmobile trail is located on West Cornwall Road (Caulkintown Road). From the junction of Routes 7 and 128 proceed westerly toward Sharon 3.5 miles. Just beyond Miles Pond turn right onto gravel road to parking lot for thirty vehicles.
Trail Description: The 10.6 mile trail passes through some of the more rugged Connecticut hills and presents opportunities to challenge the beginner as well as the expert. Offering several excellent vistas, Clay Beds Road is the site of a historic mining operation. Caution is urged in the Mount Easter section where numerous wildlife food plots are located. The plots are easily damaged by snowmobile compaction.
MOHAWK STATE FOREST, Cornwall
Directions: The snowmobile trail begins at Mohawk Forest Headquarters in Cornwall. From the intersection of Routes 4, 43 and 128, proceed easterly 1.5 miles turning south into the forest at the sign. Follow the forest road 1.5 miles to "T" intersection. Turn left and drive 0.2 miles. The parking lot is on the right. Parking space is available for approximately 40 vehicles.
Trail Description: From the starting point at the parking lot follow the trail signs and proceed southeasterly toward the Mohawk Mountain communications tower accessible by a spur trail. Land configuration and the linear layout of this state forest necessitate two-way traffic on the 10.5 miles of trails and caution is advised.
NATCHAUG STATE FOREST, Eastford
Directions: From a point on Route 198 halfway between Phoenixville and Chaplin, turn easterly at the sign indicating Forest Headquarters. Proceed across the Natchaug River and uphill to a "T" intersection. Parking is available by turning left at 0.7 miles. Parking capacity is twenty-five vehicles.
Trail Description: The Natchaug Forest snowmobile trails utilize unplowed forest roads and seasonal hiking trails which present a variety of hilly terrain traversing through a wooded country scene. Caution is requested when crossing town roads or where two-way traffic signs are posted. Total trail mileage is 17.0.
NIPMUCK STATE FOREST, Union
Directions: From the intersection of Routes 190 and 171, adjacent to I-84, proceed easterly 1.3 miles to the entrance of Bigelow Hollow State Park on Route 171. The Nipmuck Forest snowmobile trail begins at the first hiker information sign on the right after entering the park. Parking is provided for a limited number of vehicles.
Trail Description: Starting in an easterly direction, the snowmobile trail traverses an old woods road and serves two-way traffic for a short distance. The remainder of the run forms a series of loops providing considerable adjustment for time and distance. Total trail mileage is 9.0. Located in evergreen woodland, the trail winds through ledges and is moderately demanding of operator skill especially in narrow passages.
PACHAUG STATE FOREST, Voluntown
Directions: From the junction of Routes 138 and 49 (one mile east of Voluntown) proceed north on Route 49 for 1 mile to the forest sign on the left. Follow the forest entrance road for approximately 1 mile. Park at the ball field area.
Trail Description: The snowmobile trail utilizes unplowed forest roads and snowmobile or motorcycle trails. A series of loops permits adjustments for time and distance as desired. The trails are of easy grade and suitable to the skills of the novice operator.
PEOPLES STATE FOREST, Barkhamsted
Directions: Starting point for the Peoples State Forest snowmobile trail is located 0.9 miles north of the bridge over the West Branch of the Farmington River. From the junction of Routes 181 and 44 follow directional signs northeasterly 1.1 miles to Pleasant Valley; cross the bridge, turning left onto East River Road and proceed to a parking lot on the left in the Matthies Grove Recreation Area.
Trail Description: Within Peoples Forest, snowmobilers will find a series of looped trails totaling nearly 13 miles in length using both seasonal hiking trails and unplowed forest roads. Suitable for novice operators, the site offers large open areas near the parking lot for testing machines and practice purposes.
POOTATUCK STATE FOREST, New Fairfield
Directions: From its intersection with Route 39, follow Short Woods Road westerly 0.1 miles to the entrance of Squantz Pond State Park. On the right is a parking lot for forty vehicles.
Trail Description: The Pootatuck State Forest snowmobile trail begins at the parking lot and proceeds westerly, then northerly, over unplowed forest roads for about 0.6 miles. This section requires two-way traffic and leads to two, one-way loop trails over rugged, wooded terrain. Total trail mileage is 4.3.
SHENIPSIT STATE FOREST, Somers
Directions: From a point 1.2 miles east of Somers off Route 190, a blinker light marks the intersection of Gulf Road. Take Gulf Road south for 1.7 miles to a parking lot for twelve vehicles. The Soapstone Mountain sign marks the entrance.
Trail Description: Utilizing unplowed forest roads where two-way traffic is permitted, the trail winds around Soapstone Mountain providing some steep grades and rewarding views to the West. Much of the 6.0 miles of trail is above 800 feet in elevation helping to retain suitable snow depth over long periods. Riders should be aware that road gates are closed on January 1. Passage around gates is provided for snowmobiles. Use caution and slow speed when approaching closed gates.
Trail Maps
The Department of Energy & Environmental Protection (DEEP) offers snowmobile trail maps for each of its areas. These maps are available from the following locations:
Bureau of Outdoor Recreation
State Parks Pision

79 Elm Street
Hartford, CT 06106-5127
(860) 424-3200
Eastern District Office

209 Hebron Road (Rt. 66)
Marlborough, CT 06447
(860) 295-9523
Western District Office

230 Plymouth Road
Harwinton, CT 06791
(860) 485-0226
The maps can also be downloaded in PDF format:
Highway Crossing
In Connecticut, snowmobiles may not be operated on public highways. When crossing public highways is unavoidable, a licensed operator may proceed if the crossing is made at ninety degrees to the direction of the road and where no obstruction prevents a quick and safe crossing. Motor vehicles using the highway have the right-of-way. The crossing snowmobile must be completely stopped before entering the traveled portion of the roadway.
Hours
8 a.m. to sunset.
Operation
Except for operation on private lands, snowmobile operators must be over sixteen and properly licensed.
Parking Area Snow Removal
Parking areas are normally plowed during scheduled weekday hours of operation. Snowmobilers are advised that plowed parking may not be available on weekends or in the early morning after fresh snowfall.
Polices and Procedures
Snowmobiling is permitted on certain state-owned properties through posted, written, conditional permission directed to the general public for the use of defined trails. It is also permitted on all state-owned water bodies. The DEEP will deny permission to use trails which have insufficient snow cover or are unsafe; when sanitation or parking facilities are at capacity; or when staffing is inadequate.
Prohibited Areas
Snowmobiling is prohibited upon all lands managed by DEEP including all state parks, forests and wildlife management areas, except upon those areas named herein and specified upon official DEEP snowmobile trail maps.
Registration
Snowmobiles must be registered to be operated on public land in Connecticut. Contact the Department of Motor Vehicles for registration information. Vehicle identification numbers must be displayed on each side of the front section of the snowmobile in addition to display on the rear registration plate. The registration certificate must be carried on the vehicle when it is being operated.
Snow Depth
Six-inch minimum required.
Speed
Maximum 20 m.p.h. as posted.