Letterboxing and Geocaching/EarthCaching in State Parks and Forests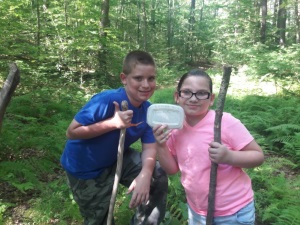 Letterboxing
Letterboxing is fun and exciting. It is about the adventure of finding your way through the woods and the thrill of reaching your goal. In letterboxing, you visit interesting locations and collect unique stamps to mark your visit. The letterboxes that are in Connecticut's State Forests provide the means and inspiration for you to visit the State Forests and learn something about the state's history, wildlife, trees and, of course, the forests!
Note: Before visiting any of our letterboxes, please be sure to check the respective letterboxing webpage(s). Sometimes letterboxes are undergoing repairs and therefore are not available.
Geocaching/EarthCaching
Geocaching is an outdoor treasure hunting game, in which the participants use a GPS enabled device to navigate to a specific set of coordinates and then find a container, called a "geocache" or "cache". An EarthCache is a place where you will find an interesting geologic feature or process that will enrich your outdoor experience. The Connecticut Geological Survey has created over 20 EarthCache sites in Connecticut. These sites are designed to enhance the interested geocacher's knowledge of our state parks and other public land.
Placement of letterboxes or caches on state land
The following polices must be observed for placement of boxes or caches on state land:
Individuals wishing to place a letterbox or cache in a state park or forest recreation area must obtain a permit for each box or cache they wish to place. Permits are obtained by submitting a completed Permit Application Form to the park supervisor where the box or cache will be located.

The park supervisor or designee is responsible for reviewing the application form and approving or denying the request.

Any proposed location is subject to inspection and approval by State Parks before permission to place the box or cache is allowed.

Boxes and Caches may not be placed in areas that are designated as protected. This includes natural area preserves and sites of historical or cultural significance.

A permit is valid for as long as the letterbox or cache is in place.

Each approved letterbox or geocache must contain some indication that it has been approved by The Department of Energy & Environmental Protection (DEEP), along with the owners contact information.

Letterbox and geocache contents must be suitable for all ages. Food, alcohol, tobacco, weapons or other dangerous items, prescription or illicit drugs and adult items may not be placed in a letterbox or cache.

Hiding a letterbox or geocache may not involve disturbance of the environment or of existing structures.

Letterboxes or geocaches must be placed in such a manner as to allow multiple ways to arrive at the box or cache, preventing creation of spur or "social" trails.

On-line descriptions must include information on park fees or other relevant DEEP regulations such as park hours, pets on leashes, etc.

The box or cache 'owner' must make periodic maintenance checks. Any box or cache showing evidence of environmental damage such as an unauthorized trail leading to it or a new clearing around it, must be moved or removed, the new location re-permitted.

Unauthorized boxes or caches and those violating any DEEP policy, will be removed and owners may be subject to enforcement actions per Park regulations.
Research a site. Make sure that the site you choose isn't too easy to get to, but can be reached by several different routes. Wherever possible use existing trails. A site should be in a safe and accessible location.
For help in formulating clues for a letterbox or calculating coordinates, check out www.letterboxing.org or www.geocaching.com . Make sure instructions or coordinates are accurate. Camouflage the site with leaves or branches, do not bury, do not put in stonewalls or archaeologically or ecologically sensitive areas.
Policy Procedure 317 Letterboxing, Geocaching & Earthcaching in State Park and Forest Recreation Areas
Content last updated November 2022