Overview/History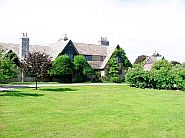 Topsmead State Forest is the former summer estate of Miss Edith Morton Chase, daughter of Henry Sabin Chase and Alice Morton Chase. Henry Sabin Chase was the first President of Chase Brass and Copper Company in Waterbury. Chase Brass was one of the leaders in the brass industry when Waterbury was the Brass Capital of the world.
In 1917, Miss Chase received from her father approximately 16 acres on Jefferson Hill in Litchfield. Here she built a rustic cabin, which was replaced with a more substantial summer home in 1923. She hired noted architect Richard Henry Dana, Jr. to help her design and build the English Tudor style house which was completed in 1925. The exterior woodwork is of cypress, the downspouts are lead, the walls of brick and stucco, and the roof is slate. The interior woodwork is oak, as is most of the flooring. The foyer, hallway and dining room floors are of polished terra cotta tile. Most of the interior walls are of the same type of stucco as is found on the exterior. Fine craftsmanship, an eye for detail and understated wealth are evident throughout the house, which is tastefully and simply furnished with 17th and 18th century English country antiques.
Miss Chase loved the outdoors and as much care was given to the landscaping as was given to the design and furnishings of her home. Surrounding her home are plantings of holly, lilac, and juniper. Apple trees line the drive and formal gardens on each end of the house compliment the English Tudor architecture.
Edith Chase shared her summer home with her life-long companions, Mary and Lucy Burrall. The ladies spent the winter months at the Burrall sisters' home on Church Street in Waterbury. Because it was their dream to create a pocket of serenity, the ladies' lifestyle at "Topsmead" was relaxed. Guests were entertained informally.
Miss Chase was a clever businesswoman. She built up her financial inheritance and subsequently her real estate holdings. One of her most significant acquisitions was the 1927 purchase of the Buell Farm which was renamed Topsmead Farm to reflect its location at the "top of the meadow". The farm produced food used on the estate. In addition to vegetable and flower gardens there were beef cattle, poultry, sheep, pigs, and at one time, draft horses.
Upon her death in 1972, Edith Chase left her beloved country estate to the people of Connecticut and to be known as Topsmead State Forest. In her will, Miss Chase requested that Topsmead State Forest "be kept in a state of natural beauty". To ensure that Topsmead would remain undisturbed, Miss Chase left an endowment to be used toward maintaining and operating the buildings and grounds as they were upon her death.
Nestled in the Litchfield Hills, Topsmead State Forest remains a precious piece of an era past.