Recycling in Connecticut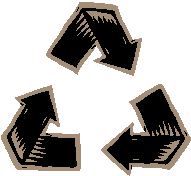 On average, each one of us (at home, at work, and at play) produces over five pounds of solid waste each day - just over one pound of that gets recycled, and the rest, about four pounds, gets disposed. This adds up to almost 3/4 ton of trash disposed per person, per year. In a state with over 3 million residents this means we generate close to 4,000,000 tons of municipal solid waste (MSW) each year and dispose almost 2,600,000 tons. "Where Does All This Trash Go?"
How we handle our solid waste has changed dramatically over the past 25 years. As recently as 1975, 140 of Connecticut's 169 towns disposed of their trash within their own borders. Today, only one municipality operates its' own landfill to dispose of residential trash. What happened? In the late 1980s and early 1990s, it became apparent that dozens of municipal landfills would have to close. Many had reached their permitted capacity, while others were unable to meet new federal regulatory requirements for modern sanitary landfills. Some even posed a contamination threat to drinking water supplies.
An important step was taken toward changing the way we manage our MSW when Connecticut adopted a solid waste management hierarchy which utilizes first source reduction, then recycling, composting, waste-to-energy and finally landfilling as the preferred methods to handle our trash.
To implement this hierarchy, in the late 1980's, the State legislature passed the mandatory recycling laws which required recycling of 25% of the state's solid waste stream by January 1, 1991. To meet this goal, 9 items were designated which could not be disposed of and had to be recycled instead. These items include: glass food & beverage containers, used motor oil, vehicle (lead-acid) batteries, scrap metal, corrugated cardboard, newspaper, metal food & beverage containers, leaves, white office paper (private residences exempt).
On May 1, 1996, nickel-cadmium batteries were added to the list of mandatory recyclables. Instead of being recycled curbside, these batteries are recycled at retailers, businesses, municipalities and other sites though a take-back program sponsored by the battery manufacturers. As of October 1998, grass clippings were banned from solid waste disposal facilities. In 1993, Connecticut's General Assembly passed legislation (Section 22a-220(f) of the Connecticut General Statutes), which, among other provisions, raised the state's recycling/source reduction goal to 40% by the year 2000. To help achieve this goal, many municipalities have added additional items to their programs including: plastic resins #1 & #2, magazines and junk mail and even textiles. Connecticut's recycling/source reduction rate was about 25.4% for FY 2002-2003. The rate does not include redeemable deposit containers (CT is a bottle bill state), auto scrap or certain other commercial recyclables.
To facilitate the collection, processing and marketing of recyclable commodities, municipalities were encouraged to join one of 10 recycling regions. Towns belonging to regions send their collected recyclables to one of 5 intermediate processing centers (IPCs) which are located in Stratford, Hartford, Danbury, Berlin and Groton. At the IPCs, the recyclable materials are prepared for market. Working through an IPC allows communities to take advantage of the economies of scale that a larger facility offers. Companies that purchase the recyclables as a feedstock are assured of a more reliable and consistent supply of materials for their manufacturing process. Some towns have chosen not to join a region. These towns market their own recyclables or utilize other recycling facilities
The MSW which is not recycled or composted (or kept out of the wastestream through home composting and grasscycling - leaving grassclippings on the lawn), is incinerated at one of 6 waste-to-energy facilities located in Hartford, Bristol, Bridgeport, Wallingford, Preston and Lisbon. The energy produced is sold to electric utility companies. The resource recovery process reduces the weight of the refuse by 75%. The resulting ash is landfilled. In 2002-03, 64.4% of our MSW trash was incinerated; 4% was landfilled in Connecticut; 8% went out-of-state; and 24% was recycled. In addition, based on rough estimates, about 50,000 tons never had to be managed by the solid waste management infrastructure because it was home composted or grasscycled.
The DEEP Recycling Program encourages consumers to reduce the waste they generate by making simple shopping decisions such as not buying overpackaged products, avoiding disposables, and selecting durable, reusable items. Our "Don't Trash Grass!" program encourages homeowners to leave their grass clippings on the lawn, which effectively removes them from the waste stream. Our home composting education program encourages residents to manage yard trimmings and food scraps on their own property. This enables them to produce a valuable soil amendment, compost, and also reduces the need for costly collection programs for these items.
Closing the Loop - Connecticut buys recycled products
The State of Connecticut has been a leader in taking a proactive role to promote market development for recyclables. Back in 1988, Connecticut's General Assembly charged the Department of Administrative Services (DAS) with preparing and implementing a state plan to increase the purchase of products made from recycled material. Legislation passed in 1990 (Section 22a-256m through 22a-256u of the Connecticut General Statutes) requires newsprint publishers and printers to utilize an increasing percentage of recycled fiber in their newsprint. In 1994, CT was one of the first states in the nation to revise specifications for printing and writing paper to incorporate standards specified by a Federal Executive Order (#12873). In addition, the same legislation directed DAS to adopt EPA procurement guidelines for minimum recycled content for those products for which guidelines exist. These policies acknowledge that recycling is a process, which involves not only collection, but also remanufacturing, and the purchase of products made from recycled materials. All aspects of this process are equally important if we are to close the loop and make the most of our natural resources.
For more information, contact the Recycling Program at (860) 424-3366.
Content Last Updated January 2020