Recycling And Disposal of Scrap Tires
Waste Tire Generation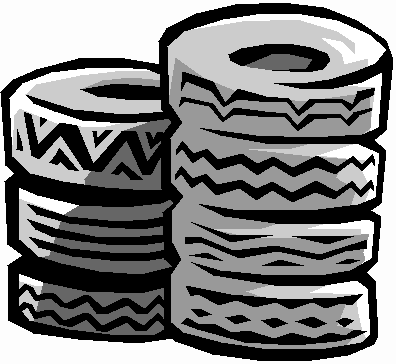 Although today's tires last for more miles than they did in the past, the number of cars on the road is increasing and the average number of miles driven annually is also increasing. According to the Scrap Tire Management Council, the standard assumption is that waste tires (also know as scrap tires) are generated at a rate of one tire per person per year. The population of Connecticut is approximately 3.41 million people. Therefore, the number of waste tires produced each year in Connecticut is approximately 3.41 million tires.
Management of Waste Tires in Connecticut
Waste tires generated in the New England states are for the most part managed within New England. Studies show that waste tires generally stay in their area of origin due to the high cost of transportation. The most common management method for waste tires is as fuel for paper mills in Maine. There are three paper mills in Maine that supplement their fuel use with tire-derived fuel (TDF). Together the three mills consumed approximately 71,000 tons of TDF in 2000 which equates roughly to 7.1 million passenger tires. The dedicated tire-to-energy facility, ReEnergy in Sterling, Connecticut closed in October 2013.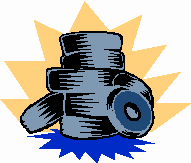 Since State statute defines tires as a "special waste" as opposed to municipal solid waste (MSW) they require special handling. Connecticut no longer permits the landfilling of waste tires, either whole or in pieces. However, Connecticut has three volume reduction facilities which process tires for reuse and recycling. They include:
Lakin Tire East, Inc. in West Haven, (203) 932-5801;

Empire Tire of Edgewater II, LLC, Inc. in Plainfield, (860) 564-8811; and

Don Stevens Tire Co. in Southington, (860) 621-3256.
The DEEP Solid Waste Management Regulations, under Section 22a-209-8 of the Regulations of CT State Agencies (RCSA) specify the handling requirements for the storage, disposal or processing (sort, shred, grind, etc.) of waste tires. Volume Reduction Facilities must conform to the requirements of Section 22a-209-10 of the RCSA. DEEP also requires that facilities that process tires are required to report quarterly on the origin of the waste received, amounts received, and amounts recycled and disposed, and the destination of all materials leaving their facility. DEEP does not track the transport of tires, there is no prohibition against the shipment of tires across state lines and transporters/haulers do not need to be licensed.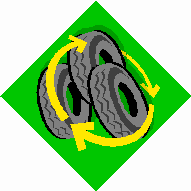 Tire Recycling
Tires do have good engineering properties, including the following: Road building material, chiefly as an additive or supplement to asphalt; Engineering applications such as lightweight fill to support road base material and as fill behind retaining walls; as drainage material in landfills and leachate systems in septic system design; Paving material to occupy the space between and around railroad tracks; As rubber matting for playground surfaces and in and as surfacing for equestrian arena; Crumb rubber and artificial turf for athletic fields - Risk Assessment Studies For Artificial Turf Fields
Tire Retailers
The $2.00 tire fee charged on the retail sale of each tire commonly used on a motor vehicle was repealed on July 1, 1997. The intent of this fee was to address tire disposal problems. Presently, any extra surcharges on tires are done so at the discretion of the retailer and are not mandated by the state. Fees are typically collected to assist the retailer in the handling of waste tires left behind when a new tire is purchased. There are no statutes which require a tire retailer to take waste tires, but most will when a new tire is purchased.
National Waste Tire Facts
GENERATION
Generated in the U.S.: 3.9 million tons or 1.9% of generated MSW by weight.
Almost 1 scrap tire is generated per person per year.
The average weight of a passenger car scrap tire is 20 lbs.
A truck scrap tire will weigh 40 pounds or more.
A steel-belted radial passenger tire will have 2.5 pounds of steel.
RECYCLED
730,000 tons for an 18.7% recovery rate.
RECYCLED CONTENT
New tires contain no more than 2% recycled rubber.
Retreads contain 75% recycled content.
INCINERATED OR LANDFILLED
3.2 million tons or 2.1% of discarded MSW by weight.
Scrap tires that are not properly recycled or disposed of can create a public health problem by providing a location for the breeding of mosquitoes.
44 states restrict tire disposal at landfills.
Landfilled single tires can pose problems if the tires fail to compress within the landfill then rise up and resurface.
Scrap tires have a 15,000 British thermal unit (BTU) fuel value per pound, which is slightly higher than coal.
SOURCE REDUCTION
Purchasing longer tread-life tires, rotating and balancing tires every 4,000 miles, and keeping tires at their recommended air pressure levels are the best ways to reduce the number of scrap tires.
Reuse of used (but still usable) tires and retreading are the primary source reduction options.
Approximately 30 million to 33 million tires are retreaded yearly.
Improved manufacturing techniques have doubled the useful life of tires since 1955, with 40,000-mile tires now commonplace.
Who Can I Call If I Have Questions?
If you have any questions about tires, you may call the DEEP, Bureau of Materials Management and Compliance Assurance, Recycling Program at (860) 424-3366. Our business hours are between 8:30 a.m. and 4:30 p.m., Monday through Friday, except State Holidays.
For More Tire Information
Society of Automotive Engineers, Inc.
Retread Tire Buyers Guide available online at www.retread.org
Content Last Updated May 30, 2023