Local Municipal Recycling Coordinators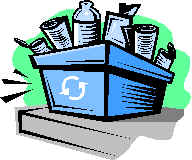 Every Connecticut municipality is required by state statute to designate a local recycling contact. Some towns have an employee whose primary responsibility is to manage the local recycling program; others designate a public official or town commission member to fulfill this role. You can access the list of contacts for all of Connecticut's 169 towns below. If the town has a webpage specifically for recycling, public works, or the transfer station, that link is provided. If not, then the link goes to the town's home page. The questions that are best answered at the local level include, but are not limited to:
How do I get a new recycling bin?
What materials are collected in my local program?
Are there additional materials that are not collected curbside that I could recycle if I visited a town drop site or transfer station?
When are my recyclables collected?
When is leaf pick-up held?
When will my town be sponsoring a household hazardous waste collection day?
Why were some of the items that I set out for recycling not collected?
---
NOTE:
DEEP seeks to ensure that up-to-date recycling information is available to the public. If you are a public official, please take a moment to review and update the information we have about your town on this page. Please email DEEP.RecyclingProgram@ct.gov to notify DEEP of any changes or clarifications.
Select your town from the following list to find your local recycling coordinator.
Andover

Joseph Higgins
Town Administrator
Town Hall - 17 School Road
Andover, CT 06232
Phone: 860-742-7305 Fax: 860-742-7535
Email:
jhiggins@andoverct.org
Municipal Website


Ansonia

Shelia O'Malley
Economic Development Director
City of Ansonia
253 Main Street
Ansonia, CT 06401
c: 203-437-1598
Municipal Website
Ashford

Christine Abikoff
Assistant to the Board of Selectmen
5 Town Hall Road
Ashford, CT 06278
Phone: 860-487-4400 Fax: 860-487-4430
Email:
cabikoff@ashfordtownhall.org
Municipal Website


Avon

Bruce Williams
Director of Public Works
60 West Main Street
Avon, CT 06001
Phone: 860-673-6151 Fax: 860-673-0338
Email:
publicworks@town.avon.ct.us
Municipal Website

Barkhamsted

Debbie Angell
RRDD Administrator
31 New Hartford Road
Barkhamsted, CT 06063
Phone: 860-379-1972 x111 Fax: 860-379-1972
Email:
dangell@rrdd1.com
Municipal Website


Beacon Falls

Kerry McAndrew
First Selectman's Office Administrator
Town Hall - 10 Maple Avenue
Beacon Falls, CT 06403
Phone: 203-729-4340 Fax: 203-729-2730
Email:
kmcandrew@tobfct.com
Municipal Website


Berlin

James P. Horbal
Deputy Director, Public Works
240 Kensington Road
Berlin, CT 06037
Phone: 860-828-7069 Fax: 860-828-7180
Email:
jhorbal@town.berlin.ct.us
Municipal Website
Bethany

Tony Ciarleglio
Recycling Coordinator
755 Amity Road
Bethany, CT 06524-3338
Phone: 203-393-1555 Fax: 203-393-9466
Email:
tciarleglio@bethany-ct.com
Municipal Website


Bethel
Andrew Freitas
Recycling Coordinator
Town Hall - 1 School Street
Bethel, CT 06801
Phone: 203-778-7436 Fax: 203-794-8144
Email:
Freitasa@bethel-ct.gov
Municipal Website
Alternate Contact:
Jennifer A. Heaton-Jones
Executive Director
Housatonic Resources Recovery Authority
162 Whisconier Road – Old Town Hall
Brookfield, CT 06804
203.312.1071 office
203.617.4727 fax
203.994.1960 cell
Email:
jennifer@hrra.org
www.hrra.org
Bethlehem

John Zarrella
Public Works Director
28 Main Street South
P.O. Box 160
Bethlehem, CT 06751
Phone: 203-266-7488 ext. 2 Fax: 203-841-1026
Email:
jzarrella@bethlehemct.org
Municipal Website
Bloomfield

Abigail Croteau
Clerk to Town Manager's Office
800 Bloomfield Avenue
Bloomfield, CT 06002
Phone: 860-769-3504 Fax: 860-242-2965
Email:
acroteau@bloomfieldct.org
Municipal Website


Bolton

Joshua S. Kelly
Administrative Officer
222 Bolton Center Rd
Bolton, CT 06043
Phone: 860-649-8066, x-6115 Fax: 860-643-0021
Email:
jkelly@boltonct.org
Municipal Website


Bozrah

Glenn Pianka
1st Selectman
1 River Road
Bozrah, CT 06334
Phone: 860-889-2689, ext. 1 Fax: 860-887-5449
Email:
firstselectman@bozrahct.org
Municipal Website
Branford

Diana McCarthy-Bercury

Sustainability and Compliance Manager

747 East Main Street
Branford, CT 06405
Phone: 203-315-0622 Fax: 203-488-6125
Email:
dbercury@branford-ct.gov
Municipal Website
Bridgeport
Domingos Valdegas
Recycling Department
990 Housatonic Ave.
Bridgeport, CT 06606
Phone: 203-576-7753 Fax: 203-332-3029
Email:
Domingos.Valdegas@Bridgeportct.gov
Municipal Website
Bridgewater

Alan Dinho
Recycling Coordinator
P.O. Box 216
Bridgewater, CT 06752-0216
Phone: 860-354-2441 Fax: 860-355-5944
Email:
briansullivan1211@gmail.com
/
Alan9953@charter.net
Municipal Website
Alternate Contact:
Jennifer A. Heaton-Jones
Executive Director
Housatonic Resources Recovery Authority
162 Whisconier Road – Old Town Hall
Brookfield, CT 06804
203.312.1071 office
203.617.4727 fax
203.994.1960 cell
jennifer@hrra.org
www.hrra.org

Bristol

Josh Corey
Acting Superintendent of Solid Waste Operations
111 North Main Street
Bristol, CT 06010
Phone: 860-584-7792
Email:
joshcorey@bristolct.gov
Municipal Website


Brookfield

Sheldon Conn
Facility Manager
100 Pocono Road
Brookfield, CT 06804
Phone: 203-775-5232 Fax: 203-775-1804
Email:
Sconn@brookfieldct.gov
Municipal Website
Alternate Contact:
Jennifer A. Heaton-Jones
Executive Director
Housatonic Resources Recovery Authority
162 Whisconier Road – Old Town Hall
Brookfield, CT 06804
203.312.1071 office
203.617.4727 fax
203.994.1960 cell
Email:
jennifer@hrra.org
www.hrra.org
Brooklyn

Lisa K. Mileski
Administrative Asst. to First Selectman
4 Wolf Den Road
P.O. Box 356
Brooklyn, CT 06234
Phone: 860-779-3411 x16 Fax: 860-779-5732
Email:
L.Mileski@Brooklynct.org
Municipal Website
Burlington

Scott Tharau
Director of Public Works
66 Belden road
Burlington, CT 06013
Phone: 860-673-2439 ext. 244 Fax: 860-673-8427
Email:
stharau@yahoo.com
Municipal Website
Canaan

Tracey Wilson
Transfer Station Coordinator
Town Hall - 108 Main Street - P.O. Box 47
Falls Village, CT 06031
Phone: 860-824-5819 Fax: 860-824-4506
Email:
Transferstation@canaanfallsvillage.org
Municipal Website
Canterbury
Christopher Lippke
First Selectman
1 Municipal Drive
Canterbury, CT 06331
Phone: 860-546-9693 Fax: 860-546-7805
Email: firstselectman@canterburyct.org
Municipal Website
Canton
Robert J. Martin
Director of Public Works
Town Hall - 4 Market Street
P.O. Box 168
Collinsville, CT 06022-0168
Phone: 860-693-7863 Fax: 860-693-7864
Email: rmartin@townofcantonct.org
Municipal Website
Chaplin
Matthew Cunningham
1st Selectman
495 Phoenixville Road
Chaplin, CT 06235
Phone: 860-455-0073 Fax: 860-455-0027
Email: firstselectman@chaplinct.org
Municipal Website
Cheshire
Ann Marie Hearn
Public Works Secretary
84 South Main Street
Cheshire, CT 06410
Phone: 203-271-6650 Fax: 203-271-6659
Email: AMHearn@CheshireCT.org
Municipal Website
Chester
Jenny Watrous
Administrative Assistant
203 Middlesex Avenue
Chester, CT 06412-0218
Phone: 860-526-0013 ext.202 Fax: 860-526-0004
Email: Jennywatrous@chesterct.org
Municipal Website
Clinton
Pamela Dickson
Recycling Contact
117 Nod Road
Clinton, CT 06413
Phone: 860-669-6811 Fax: 860-664-0167
Email: pdickson@clintonct.org
Municipal Website
Colchester
James Paggioli, L.S.
Director of Public Works
127 Norwich Avenue
Colchester, CT 06415
Phone: 860-537-7288 Fax: 860-537-7273
Email: publicworks@colchesterct.gov
Municipal Website
Colebrook
Thomas D. McKeon
1st Selectman
P.O. Box 5
Colebrook, CT 06021
Phone: 860-379-3359 ext.202 Fax: 860-379-7215
Email: tommckeon@colebrooktownhall.org
Municipal Website
Columbia
George Murphy
Director of Public Works
323 Jonathan Trumbull Highway
Columbia, CT 06237
Phone: 860-228-4270 Fax: 860-228-0327
Email: town@columbiact.org
Municipal Website
Cornwall
Ted Larson
Transfer Station Operator/Recycling Coordinator
24 Furnace Brook Rd
Cornwall, CT 06753
Phone: 860-672-4069 Fax: 860-672-4068
Email: tstationtoc@gmail.com
Municipal Website
Coventry
Mark Kiefer
Director of Public Works
100 Olsen Farm Road
Coventry, CT 06238
Phone: 860-742-6588 Fax: 860-742-5467
Email: mkiefer@coventryct.org
Municipal Website
Alternate contact:
Donna Wrubel
Secretary
100 Olsen Farm Rd.
Coventry, CT 06238
Phone: 860-742-6588 Fax: 860-742-5467
Email: dwrubel@coventryct.org
Municipal Website
Cromwell
Louis J. Spina, Jr
Director of Public Works
Town Hall - 41 West Street, 2nd Floor
Cromwell, CT 06416
Phone: 860-632-3420 Fax: 860-635-3477
Email: lspina@cromwellct.com
Municipal Website
Alternate Contact:
Carl Townsley
Transfer Station Operator
ctownsley@cromwellct.com
Danbury
Charles Kindya
Public Utilities
City Hall - 155 Deer Hill Avenue
Danbury, CT 06810
Phone: 203-797-4539 Fax: 203-796-1590
Email: c.kindya@ci.danbury.ct.us
Municipal Website
Alternate Contact:
Jennifer A. Heaton-Jones
Executive Director
Housatonic Resources Recovery Authority
162 Whisconier Road – Old Town Hall
Brookfield, CT 06804
203.312.1071 office
203.617.4727 fax
203.994.1960 cell
Email: jennifer@hrra.org
www.hrra.org
Darien
Darren Oustafine, P.E.
Assistant Director of Public Works
Town Hall - 2 Renshaw Road
Darien, CT 06820
Phone: 203-656-7365 Fax: 203-656-7485
Email: doustafine@darienct.gov
Municipal Website
Deep River
Angus L. McDonald, Jr.
1st Selectman
Town Hall - 174 Main Street
Deep River, CT 06417
Phone: 860-526-6020 Fax: 860-526-6023
Email: selectman@deepriverct.us
Municipal Website
Derby
Edward Armeno
Director of Public Works
4 Coon Hollow Rd
Derby, CT 06418
Phone: 203-736-1468 Fax: 203-736-1470
Email: derbypw@derbyct.gov
Municipal Website
Durham
Thomas Kannam
Chairman, Clean Energy and Sustainability Task Force
P.O. Box 428
Durham, CT 06422-0428
Phone: 860-349-3625 Fax: 860-343-6733
Email: tkannam@gmail.com
Municipal Website
East Granby
James M. Hayden
1st Selectman
9 Center Street
East Granby, CT 06026
Phone: 860-413-3302 Fax: 860-653-4017
Email: Jimh@egtownhall.com
Municipal Website
East Haddam
Elizabeth S. Lunt
Director of Public Works
1 Plains Road
P.O. Box 385
Moodus, CT 06423
Phone: 860-873-5023 Fax: 860-873-6014
Email: pwadmin@easthaddam.org
Municipal Website
East Hampton
Matthew Walsh, P.E.
Director of Public Works
One Public Works Drive
East Hampton, CT 06424
Phone: 860-267-4747 Fax: 860-267-4172
Email: mwalsh@easthamptonct.gov
Municipal Website

East Hartford
Marilynn Cruz-Aponte
Assistant Director of Public Works
Town Hall - 740 Main Street
East Hartford, CT 06108
Phone: 860-291-7363 Fax: 860-291-7370
Email: mcruz-aponte@easthartfordct.gov
Municipal Website
East Haven
Charlie Coyle
Superintendent of Operations
461 North High Street
East Haven, CT 06512
Phone: 203-468-3250 Fax: 203-468-3257
Email: ccoyle@townofeasthavenct.org
Municipal Website
East Lyme
Winston Averill
Regional Recycling Coordinator
7 Hurlbutt Road
Gales Ferry, CT
Phone: 860-381-5558 Fax: 860-381-5948
Email: waverill@scrrra.org
Municipal Website
SCRRRA Website
East Windsor
Leonard Norton
Director of Public Works/Town Engineer
Town Hall - 11 Rye Street
P.O. Box 389
Broad Brook, CT 06016
Phone: 860-292-7073 Fax: 860-292-7072
Email: lnorton@eastwindsorct.com
Municipal Website
Eastford
Emily John
Selectmen's Secretary
16 Westford Road
Eastford, CT 06242
Phone: 860-974-0133, ext. 3 Fax: 860-974-0624
Email: selectmen@townofeastford.com
Municipal Website
Easton
Edward Nagy
Director of Public Works
15 Westport Road
Easton, CT 06612
Phone: 203-268-0714 Fax: 203-261-7915
Email: eastondpw@gmail.com
Municipal Website
Ellington
Sam Saunders
Recycling & Refuse Coordinator
Town Hall - 55 Main Street
P.O. Box 187
Ellington, CT 06029-0187
Phone: 860-870-3140 Fax: 860-870-3147
Email: ssaunders@ellington-ct.gov
Municipal Website
Enfield
Ken Boulette
Assistant Public Works Director
40 Moody Road
Enfield, CT 06082
Phone: (860) 763-7524 Fax: (860) 763-7401
Email: kboulette@enfield.org
Municipal Website
Essex
Bill Armstead
Recycling Contact
Town Hall - 29 West Avenue
Essex, CT 06426-0098
Phone: 860-767-1926 Fax: 860-767-8509
Email: barmstead@EssexCT.gov
Municipal Website
Fairfield
Audrey Sciuto
Recycling Coordinator
Independence Hall - 725 Old Post Road
Fairfield, CT 06824
Phone: 203-256-3023 Fax: 203-256-3080
Email: asciuto@fairfieldct.org
Municipal Website

Farmington
Jim Ruzbasan
Highway and Grounds Superintendent
Farmington Highway & Grounds- 544 New Britain Avenue
Farmington, CT 06032
Phone: 860-675-2550 Fax: 860-674-1076
Email: ruzbasanj@farmington-ct.org
Municipal Website
Franklin
Charles Grant
1st Selectman
Municipal Offices - 7 Meetinghouse Hill Rd
North Franklin, CT 06254
Phone: 860-642-6055, ext. 16 Fax: 860-642-6606
Email: Franklin@99main.com
Municipal Website
Glastonbury
Michael Bisi
Superintendent of Sanitation
Town Hall - 2155 Main Street
Glastonbury, CT 06033
Phone: 860-652-7772 Fax: 860-652-7771
Email: mike.bisi@glastonbury-ct.gov
Municipal Website
Goshen
Paul Collins
Recycling Coordinator
42A North Street
Goshen, CT 06756
Phone: 860-491-2308 Fax: 860-491-6028
Email: RATs@goshenct.gov
Municipal Website
Granby
Lisa Pyatt
Recycling Coordinator
52 North Granby Road
Granby, CT 06035
Phone: 860-653-8960 Fax: 860-653-8959
Email: lpyatt@granby-ct.gov
Municipal Website
Greenwich
Patrick Collins
Environmental Operations Manager
Town Hall - 101 Field Point Road, 2nd Floor
Greenwich, CT 06830
Phone: 203-869-6910 Fax: 203-618-0653
Email: pcollins@greenwichct.org
Municipal Website
Griswold
Winston Averill
Regional Recycling Coordinator
7 Hurlbutt Road
Gales Ferry, CT
Phone: 860-381-5558 Fax: 860-381-5948
Email: waverill@scrrra.org
Municipal Website
Groton
Winston Averill
Regional Recycling Coordinator
7 Hurlbutt Road
Gales Ferry, CT
Phone: 860-381-5558 Fax: 860-381-5948
Email: waverill@scrrra.org
Municipal Website
Alternate Contact:
Rebecca Chapman
Phone: 860-381-5558, ext. 204
Email: RChapman@scrrra.org
Website: www.scrrra.org
Guilford
Janice A. Plaziak
Town Engineer
50 Boston Street
Guilford, CT 06437
Phone: 203-453-8037 Fax: 203-453-8034
Email: plaziakj@ci.guilford.ct.us
Municipal Website

Haddam
Christopher R. Corsa
Assistant Director of Public Works
103 Depot Road - P.O. Box 395
Higganum, CT 06441
Phone: 860-345-2110 Fax: 860-345-5156
Email: publicworks@haddam.org
Municipal Website
Hamden
Joseph DeRisi
Recycling Coordinator
Hamden Govt. Center - 2750 Dixwell Avenue
Hamden, CT 06518
Phone: 203-287-7021 Fax: 203-287-7101
Email: JDeRisi@Hamden.com
Municipal Website
Hampton
Allan Cahill
1st Selectman
Town Hall - 164 Main Street
Hampton, CT 06247
Phone: 860-455-9132, ext. 2 Fax: 860-455-0517
Email: adminasst@hamptonct.org
Municipal Website
Hartford
Thomas Stewart
Sanitation Supervisor
50 Jennings Road
Hartford, CT 06120
Phone: 860-757-4963 Fax: 860-722-6215
Email: stewt003@hartford.gov
Municipal Website
Hartland
Wade Cole
1st Selectman
Town Hall - 22 South Road
East Hartland, CT 06027
Phone: 860-653-6800 Fax: 860-653-7919
Email: selectmen@hartland.necoxmail.com
Municipal Website
Harwinton
Terri Christenson
Recycling Coordinator
P.O. Box 66, 100 Bentley Drive
Harwinton, CT 06791
Phone: 860-485-2784 Fax: 860-485-0051
Email: recycling@harwinton.us
Municipal Website
Hebron
Kevin Kelly
Public Works Director
Town Hall - 15 Gilead Street
Hebron, CT 06248
Phone: 860-228-2871 Fax: 860-228-5988
Email: kkelly@hebronct.com
Municipal Website

Kent
Joyce Kearns
Administrative Assistant
41 Kent Green Blvd.
P.O. Box 678
Kent, CT 06757
Phone: 860-927-4627 Fax: 860-927-1313
Email: adminassist@townofkentct.org
Municipal Website
Alternate Contact:
Jennifer A. Heaton-Jones
Executive Director
Housatonic Resources Recovery Authority
162 Whisconier Road – Old Town Hall
Brookfield, CT 06804
203.312.1071 office
203.617.4727 fax
203.994.1960 cell
Email: jennifer@hrra.org
www.hrra.org
Killingly
David Capacchione
Town Engineer
172 Main Street
Killingly, CT 06239
Phone: 860-779-5360 Fax: 860-779-5326
Email: dcapacchione@killinglyct.org
Municipal Website
Killingworth
Walter Adametz
Highway Foreman
Town Hall - 323 Route 81
Killingworth, CT 06419
Phone: 860-663-1875 Fax: 860-663-3305
Email: publicworks@townofkillingworth.com
Municipal Website
Lebanon
Betsy Petrie
First Selectman
579 Exeter Road
Lebanon, CT 06249-1506
Phone: 860-642-6100 Fax: 860-642-7716
Email: firstselectman@lebanonct.gov
Municipal Website
Ledyard
Steven E. Masalin
Public Works Director
741 Colonel Ledyard Hwy
Ledyard, CT 06339
Phone: 860-464-3238 Fax: 860-464-1126
Email: public.works.director@ledyardct.org
Municipal Website
Lisbon
Marlene LePine
Recycling Coordinator
1 Newent Road
Lisbon, CT 06351
Phone: 860-376-3400 Fax: 860-376-6545
Email: tsparkman@lisbonct.com
Municipal Website

Litchfield
Naomi Boccio
Recycling Coordinator
101 Russell Street
Litchfield, CT 06759
Phone: 860-567-7575 Fax: 860-567-7578
Email: boccion@townoflitchfield.org
Municipal Website
Lyme
Steven Mattson
1st Selectman
Town Hall - 480 Hamburg Road
Lyme, CT 06371
Phone: 860-434-7733 Fax: 860-434-2989
Email: selectman@townlyme.org
Municipal Website
Madison
John J. Ienneco
Director of Public Works
Town Hall - 8 Campus Drive
Madison, CT 06443
Phone: 203-245-5611 Fax: 203-245-5613
Email: iennecoj@madisonct.org
Municipal Website
Manchester
Rachel Schnabel
Recycling & Community Service Coordinator
321 Olcott Street
P.O. Box 191
Manchester, CT 06045-0191
Phone: 860-647-3120 Fax: 860-647-3237
Email: rschnabel@manchesterct.gov
Municipal Website

Mansfield
Virginia Walton
Refuse & Recycling Coordinator
Audrey Beck Municipal Building - 4 South Eagleville Road
Storrs, CT 06268
Phone: 860-429-3333
Fax: 860-429-6863
Email: waltonvd@mansfieldct.org
Municipal Website
Marlborough
Peter Hughes
Planning Coordinator
Town Hall - 26 North Main Street
Marlborough, CT 06447
Phone: 860-295-6202 Fax: 860-295-6123
Email: planner@marlboroughct.net
Municipal Website

Meriden
Brian Ennis, P.E.
Associate City Engineer
City Hall - 142 East Main Street, Room 19
Meriden, CT 06450
Phone: 203-630-4020 Fax: 203-630-4025
Email: Bennis@meridenct.gov
Municipal Website
Middlebury
Daniel Norton
Director of Public Works
1 Service Road
Middlebury, CT 06762
Phone: 203-577-4170 Fax: 203-577-4168
Email: publicworks@middlebury-ct.org
Municipal Website
Middlefield
Edward Bailey
First Selectman
Administrative Building - 393 Jackson Hill Road
Middlefield, CT 06455
Phone: 860-349-7114 Fax: 860-349-7115
Email: ebailey@middlefieldct.org
Municipal Website
Note: Recycling is shared with Durham
Middletown
Kim O'Rourke
Recycling Coordinator
245 DeKoven Drive
Middletown, CT 06457
Phone: 860-638-4855 Fax: 860-638-1950
Email: kim.orourke@middletownct.gov
Municipal Website
Milford
Christopher Saley
Director of Public Works
70 West River Street
Milford, CT 06460
Phone: 203-783-3265; 203-209-4402 Fax: 203-878-5321
Email: csaley@ci.milford.ct.us
Municipal Website
Monroe
Chris Nowacki
Director of Public Works
Town Hall - 7 Fan Hill Road
Monroe, CT 06468
Phone: 203-452-2814 Fax: 203-452-2966
Email: cnowacki@monroect.org
Municipal Website
Montville
Donald Bourdeau
Director of Public Works
225 Maple Avenue
Uncasville, CT 06382
Phone: 860-848-7473 Fax: 860-848-7393
Email: dbourdeau@montville-ct.org
Municipal Website
Morris
Greg Vail
Foreman, Transfer Station
254 Lakeside Road
Morris, CT 06763
Phone: 860-567-7438 Fax: 860-567-7432
Email: recycle1@townofmorrisct.com
Municipal Website
Naugatuck
Sandra Lucas-Ribeiro
Recycling/Solid Waste Coordinator
Public Works Department
246 Rubber Avenue
Naugatuck, CT 06770
Phone: 203-720-7071 Fax: 203-720-5680
Email: slucas@naugatuck-ct.gov
Municipal Website

New Britain
Mailene Dimaio
Administrative Services Officer Public Works
City Hall - 27 West Main Street
New Britain, CT 06051
Phone: 860-826-3391 Fax: 860-826-3353
Email: Mailene.downes@newbritainct.gov
Municipal Website
New Canaan
Don Smith
Assistant Superintendent of Solid Waste
Town Hall - 77 Main Street, 2nd Floor
New Canaan, CT 06840
Phone: 203-594-3701 Fax: 203-594-3702
Email: Don.Smith@newcanaanct.gov
Municipal Website
New Fairfield
Russ Loudon
Public Works Superintendent
33 Biglow Rd
New Fairfield, CT 06812
Phone: 203-312-5677 Fax: 203-312-5678
Email: dropoff@newfairfield.org
Municipal Website
Alternate Contact:
Jennifer A. Heaton-Jones
Executive Director
Housatonic Resources Recovery Authority
162 Whisconier Road – Old Town Hall
Brookfield, CT 06804
203.312.1071 office
203.617.4727 fax
203.994.1960 cell
Email: jennifer@hrra.org
www.hrra.org
New Hartford
Debbie Angell
RRDD Administrator
31 New Hartford Road
Barkhamsted, CT 06063
Phone: 860-379-1972 x111 Fax: 860-379-1972
Email: dangell@rrdd1.com
Municipal Website
New Haven
Pierre Barbour
Executive Director, New Haven Solid Waste & Recycling Authority
14 Trumbull Street
New Haven, CT 06511
Phone: 203-691-5374 Fax: 203-691-5990
Email: pbarbour@nhswra.com
New Haven Waste & Recycling Authority Website
New London
Bill Watkins
Solid Waste & Recycling Manager
111 Union Street
New London, CT 06320
Phone: 860-447-5250; 860-447-5248 (Town Dump)
Fax: 860-447-5255
Email: wwatkins@ci.New-London.ct.us
Municipal Website
New Milford
Michael Zarba
Public Works Director
Town Hall - 10 Main Street
New Milford, CT 06776
Phone: 860-355-6040
Fax: 860-355-6055
Email: mzarba@newmilford.org
Municipal Website
Reycling Center Website
Alternate Contact:
Jennifer A. Heaton-Jones
Executive Director
Housatonic Resources Recovery Authority
162 Whisconier Road – Old Town Hall
Brookfield, CT 06804
203.312.1071 office
203.617.4727 fax
203.994.1960 cell
Email: jennifer@hrra.org
www.hrra.org
Newington
Robert Hillman
Assistant Highway Superintendent
Town Hall - 131 Cedar Street
Newington, CT 06111
Phone: 860-667-5810 Fax: 860-594-4146
Email: rhillman@newingtonct.gov
Municipal Website
Newtown
Fred Hurley
Director of Public Works
4 Turkey Hill Road
Newtown, CT 06470
Phone: 203-270-4300 Fax: 203-426-9968
Email: fred.hurley@newtown-ct.gov
Municipal Website
Alternate Contact:
Arlene Miles
Public Works Administrator/Recycling Coordinator
4 Turkey Hill Road
Newtown, CT 06470
Phone 203-270-4300 Fax: 203-426-9968
Email: arlene.miles@newtown-ct.gov
Municipal Website
Alternate Contact:
Jennifer A. Heaton-Jones
Executive Director
Housatonic Resources Recovery Authority
162 Whisconier Road – Old Town Hall
Brookfield, CT 06804
203.312.1071 office
203.617.4727 fax
203.994.1960 cell
Email: jennifer@hrra.org
www.hrra.org
Norfolk
Matthew Riiska
First Selectman
Town Hall - 19 Maple Avenue
Norfolk, CT 06058
Phone: 860-542-5829
Fax: 860-542-5876
Email: townnorfolk@snet.net
Municipal Website
North Branford
Michelle Knockwood
Purchasing Assistant & Risk Manager
909 Foxon Road
North Branford, CT 06471
Phone: 203-484-6005 Fax: 203-484-6025
Email: purchasingsecretary@townofnorthbranfordct.com
Municipal Website
North Canaan
Charles Perotti
1st Selectman
Town Hall - 100 Pease Street
North Canaan, CT 06018
Phone: 860-824-7313; 860-824-3138 Fax: 860-821-3139
Email: selectman@northcanaan.org
Municipal Website
North Haven
Lynn K. Sadosky, P.E.
Director of Public Works
Town Hall - 18 Church Street
North Haven, CT 06473
Phone: 203-239-5321, ext. 401 Fax: 203-234-8375
Email: sadosky.lynn@town.north-haven.ct.us
Municipal Website
North Stonington
Stephen Holliday
Public Works Highway Foreman
Town Hall - 40 Main Street
P.O. Box 91
North Stonington, CT 06359-0091
Phone: 860-535-2877 Fax: 860-535-8435
Email: twn.nstonington@snet.net
Municipal Website
Norwalk
Thomas Szabo
Waste Programs Manager
15 South Smith Street
Norwalk, CT 06855
Phone: 203-854-3200
Fax: 203-854-3224
Email: customerservice@norwalkct.org
Municipal Website
Norwich
Emma Robinson
Recycling Coordinator
50 Clinton Avenue
Norwich, CT 06360
Phone: 860-823-3798 Fax: 860-823-3788
Email: erobinson@cityofnorwich.org
Municipal Website
Old Lyme
Don Rutty
Recycling Coordinator
Town Offices - 52 Lyme Street
Old Lyme, CT 06371
Phone: 860-434-2337 Fax: 860-434-1400
Email: selectmansoffice@oldlyme-ct.gov
Municipal Website

Alternate Contact:

Cathy Frank
Office of the 1st Selectman
Town Offices - 52 Lyme Street
Old Lyme, CT 06371
Phone: 860-434-1605, ext. 210 Fax: 860-434-3026
Email: selectmansoffice@oldlyme-ct.gov
Municipal Website
Old Saybrook
Larry Bonin
Director of Public Works
Town Hall
302 Main Street
Old Saybrook, CT 06475
Phone: 860-395-3123 Fax: 860-395-3125 (Selectman's Office)
Email: larrybonin@gmail.com
Municipal Website
Orange
Robert Brinton
Director of Public Works/Town Engineer
617 Orange Center Rd.
Orange, CT 06477
Phone: 203-891-4741 Fax: 203-891-2185
Email: bbrinton@orange-ct.gov
Municipal Website
Oxford
Wayne Watt
Recycling Coordinator
Town Hall - 486 Oxford Road, Route 67
Oxford, CT 06478-1298
Phone: 203-888-7716 Fax: 203-888-2136
Email: wayne.watt@oxfordpublicworks.com
Municipal Website
Plainfield
Cathy Tendrich
1st Selectman
Town Hall - 8 Community Avenue
Plainfield, CT 06374
Phone: 860-230-3001 Fax: 860-203-3033
Email: selectman@plainfieldct.org
Municipal Website
Plainville
Andy Cirioli
Assistant Town Manager
Municipal Center - 1 Central Square
Plainville, CT 06062-1955
Phone: 860-793-0221, ext. 8702 Fax: 860-793-2285
Email: cirioli@plainville-ct.gov
Municipal Website
Plymouth
Charles Wiegert
Director of Plymouth Public Works
Town Hall - 80 Main Street
Terryville, CT 06786-1295
Phone: 860-585-4030 Fax: 860-585-4067
Email: publicworks@plymouthct.us
Municipal Website
Pomfret
Maureen Nicholson
1st Selectman
Town Hall - 5 Haven Road
Pomfret Center, CT 06259
Phone: 860-974-0101 Fax: 860-974-3950
Email: maureen.nicholson@pomfret.gov
Municipal Website
Portland
Richard D. Kelsey
Public Works Director
Town Hall - 33 East Main Street
P.O. Box 71
Portland, CT 06480
Phone: 860-342-6733 Fax: 860-342-6759
Email: RKelsey@portlandct.org
Municipal Website
Preston
Rosemary Rheaume
Recycling Coordinator
Town Offices - 389 Route 2
Preston, CT 06365
Phone: 860-857-2511
Fax: 860-885-1905
Email: roram1@comcast.net
Municipal Website
Prospect
Robert Chatfield
Mayor of Prospect
Town Hall - 36 Center Street
Prospect, CT 06712-1699
Phone: 203-758-4461 Fax: 203-758-4466
Email: town.of.prspct@sbcglobal.net
Municipal Website
Putnam
Travis Sirrine
Highway Superintendent
Town Hall - 126 Church Street
Putnam, CT 06260
Phone: 860-963-6813 Mobile: 860-377-5165
Email: travis.sirrine@putnamct.us
Municipal Website
Redding
Jeff Hanson
Director of Public Works
84 Hopewell Woods
P.O. Box 1028
Redding, CT 06875
Phone: 203-938-2801 Fax: 203-938-3736
Email: jhanson@townofreddingct.org
Municipal Website
Alternate Contacts:
Peggy Palmer
Administrative Assistant
84 Hopewell Woods
P.O. Box 1028
Redding, CT 06875
Phone: 203-938-2801 Fax: 203-938-3736
Email: ppalmer@townofreddingct.org
Municipal Website
Jennifer A. Heaton-Jones
Executive Director
Housatonic Resources Recovery Authority
162 Whisconier Road – Old Town Hall
Brookfield, CT 06804
203.312.1071 office
203.617.4727 fax
203.994.1960 cell
Email: jennifer@hrra.org
www.hrra.org
Ridgefield
Rudy Marconi
1st Selectman
Town Hall - 400 Main Street
Ridgefield, CT 06877
Phone: 203-431-2774; 203-431-2748 (Public Works)
Fax: 203-431-2311
Email: selectman@ridgefieldct.org
Municipal Website
Alternate Contact:
Tiffany Carlson
Recycling Coordinator
Department of Public Services
60 South Street
Ridgefield, CT 06877
Phone: 203-431-2748, ext. 1505
Fax: 203-438-5719
Email: recyclingcoordinator@ridgefieldct.org
Municipal Website
Alternate Contact:
Jennifer A. Heaton-Jones
Executive Director
Housatonic Resources Recovery Authority
162 Whisconier Road – Old Town Hall
Brookfield, CT 06804
203.312.1071 office
203.617.4727 fax
203.994.1960 cell
Email: jennifer@hrra.org
www.hrra.org
Rocky Hill
Joe Lentini
Field Operations & Highway Superintendent
761 Old Main Street
Rocky Hill, CT 06067
Phone: 860-258-7709 Fax: 860-258-2703
Email: jlentini@rockyhillct.gov
Municipal Website
Roxbury
Barbara Henry
1st Selectman
Town Hall - 29 North Street
P.O. Box 203
Roxbury, CT 06783-0203
Phone: 860-354-9938 Fax: 860-354-0560
Email: bhenry@roxburyct.com
Municipal Website
Salem
Don Bordeau
Director of Public Works, Fire Marshal
Town Hall - 270 Hartford Road
Salem, CT 06420
Phone: 860-859-3873, ext. 120 Fax: 860-859-1184
Municipal Website
Salisbury
Curtis Rand
1st Selectman
Town Hall - 27 Main Street
P.O. Box 548
Salisbury, CT 06068
Phone: 860-435-5170 Fax: 860-435-5172
Email: crand@salisburyct.us
Municipal Website
Scotland
Daniel Syme
1st Selectman
Town Hall - 9 Devotion Road
Scotland, CT 06264-0288
Phone: 860-456-7797; 860-456-8625 (Public Works)
Fax: 860-456-1402
Email: scotlandselect1@yahoo.com
Municipal Website
Seymour
Anthony DePrimo
Director of Public Works
721 Derby Avenue
Seymour, CT 06483
Phone: 203-735-6028 Fax: (203) 881-5005
Email: adeprimo@seymourct.org
Municipal Website
Sharon
Brent M. Colley
1st Selectman
Town Hall - 63 Main Street - P.O. Box 385
Sharon, CT 06069
Phone: 860-364-5789 Fax: 860-492-7021
Email: Brent_c@sharon-ct.org
Municipal Website
Shelton
Marilyn Gannon
Recycling Coordinator
City Hall - 54 Hill Street
Shelton, CT 06484
Phone: 203-924-1555, ext. 370 Fax: 203-924-0185
Email: m.gannon@cityofshelton.org
Municipal Website
Sherman
Ruth Byrnes
Recycling Coordinator
P.O. Box 39
Sherman, CT 06784-0039
Phone: 860-355-1139 Fax: 860-355-6943
Email: rbyrnes@townofshermanct.org
Municipal Website
Alternate Contact:
Jennifer A. Heaton-Jones
Executive Director
Housatonic Resources Recovery Authority
162 Whisconier Road – Old Town Hall
Brookfield, CT 06804
203.312.1071 office
203.617.4727 fax
203.994.1960 cell
Email: jennifer@hrra.org
www.hrra.org
Simsbury
Tom Roy, P.E.
Director of Public Works
Town Hall - 933 Hopmeadow Street
Simsbury, CT 06070
Phone: 860-658-3222
Fax: 860-408-9283
Email: Troy@simsbury-ct.gov
Municipal Website
Somers
Kristina Owren
Administrative Assistant / Recycling Coordinator
Department of Public Works
600 Main Street
Somers, CT 06071
Phone: 860-763-8234
Fax: 860-749-3018
Email: kowren@somersct.gov
Municipal Website
South Windsor
Anthony Manfre
Superintendent of Pollution Control
Town Hall - 1540 Sullivan Avenue
South Windsor, CT 06074
Phone: 860-644-2511, ext. 247 Fax: 860-644-7280
Email: Anthony.manfre@southwindsor.org
Municipal Website
Southbury
Jeannette Kilcourse
Public Works Secretary
60 Peter Road
Southbury, CT 06488
Phone: 203-262-0622
Email: publicworks2@southbury-ct.gov
Municipal Website
Southington
Annette Turnquist
Director of Public Works / Town Engineer
Della Bitta Drive
Plantsville, CT 06479
Phone: 860-276-9430 Fax: 860-276-9010
Email: Turnquista@southington.org
Municipal Website
Sprague
Catherine A. Osten
1st Selectman
Town Hall - 1 Main Street
P.O. Box 677
Baltic, CT 06330
Phone: 860-822-3000, ext. 202
Fax: 860-822-3013
Email: firstselectman@ctsprague.org
Municipal Website
Stafford
Roger DalPian Jr.
DPW Office Manager
Warren Memorial Town Hall - 1 Main Street
Stafford Springs, CT 06076
Phone: 860-684-3448
Fax: 860-684-1782
Email: dpw@staffordct.org
Municipal Website

Stamford
Dan Colleluori
Supervisor of Solid Waste and Recycling
1 Harbor View Avenue
Stamford, CT 06902
Phone: 203-977-4117 Fax: 203-977-4002
Email: dcolleluori@ci.stamford.ct.us
Municipal Website
Sterling
Russell M. Gray
First Selectman
1183 Plainfield Pike
Sterling, CT 06377
P.O. Box 157
Oneco, CT 06373
Phone: 860-564-2151 Fax: 860-564-1660
Email: selectman@sterlingct.us
Municipal Website
Stonington
John Phetteplace
Solid Waste Manager
Town Hall - 152 Elm Street
Stonington, CT 06378
Phone: 860-535-5099 Fax: 860-535-1023
Email: jphetteplace@stonington-ct.gov
Municipal Website
Stratford
Gary Catalano
Superintendent of Solid Waste
Town Hall - 2725 Main Street
Stratford, CT 06615
Phone: 203-385-4098; 203-385-4080 (Public Works)
Fax: 203-385-4082
Email: gcatalano@townofstratford.com
Municipal Website
Suffield
Kevin Pepka
Landfill Supervisor
2715 Mountain Road
West Suffield, CT 06093
Phone: 860-668-3837
Email: yupthedump@gmail.com
Municipal Website
Thomaston
Glenn Clark
Superintendent of Highways
Town Hall - 158 Main Street
Thomaston, CT 06787
Phone: 860-283-4030 Fax: 860-283-4403
Email: gclark@thomastonct.org
Municipal Website
Thompson
Leo Adams
Director of Public Works
Town Hall - 815 Riverside Drive North
P.O. Box 899
North Grosvenordale, CT 06255
Phone: 860-923-9561 Fax: 860-923-3836
Email: highwayl1@yahoo.com
Municipal Website
Tolland
Lori Sherwood
Secretary
Town Hall - 21 Tolland Green
Tolland, CT 06084
Phone: 860-926-4695 Fax: 860-870-6407
Email: lsherwood@tolland.org
Municipal Website
Alternate Contact:

Mike Wikinson
Director of Administrative Services
Town Hall - 21 Tolland Green
Tolland, CT 06084
Phone: 860-871-3627 Fax: 860-871-3663
Email: mwilkinson@tolland.org

Torrington
Linda Orr
MSW/ Recycling Coordinator
City Hall - 140 Main Street
Torrington, CT 06790
Phone: 860-489-2234 Fax: 860-489-2550
Email: linda_orr@torringtonct.org
Municipal Website
Trumbull
Suzanne Sheridan
Administrative Assistant - Highway Department
366 Church Hill Road
Trumbull, CT 06611
Phone: 203-452-5070 Fax: 203-452-5140
Email: ssheridan@trumbull-ct.gov
Municipal Website
Union
David Eaton
Director of Public Works
Town Hall - 1043 Buckley Highway
Union, CT 06076
Phone: 860-684-4706 Fax: 860-684-8830
Email: firstselectman@union.necoxmail.com
Municipal Website
Vernon
Dwight Ryniewicz
Refuse & Recycling Superintendent
375 Hartford Turnpike
Vernon, CT 06066
Phone: 860-870-3500 Fax: 860-870-3505
Email: dryniewicz@vernon-ct.gov
Municipal Website
Voluntown
Tracey Hanson
1st Selectman
Town Hall - 115 Main Street - P.O. Box 96
Voluntown, CT 06384-0096
Phone: 860-376-5880 Fax: 860-376-3295
Email: jzelinsky@voluntownct.org
Municipal Website
Wallingford
Robert Baltramaitis, P.E.
Director of Public Works
29 Town Farm Road
Wallingford, CT 06492
Phone: 203-294-2105 Fax: 203-294-2107
Email: solidwaste@wallingfordct.gov
Municipal Website
Warren
Craig B. Nelson
1st Selectman
50 Cemetery Rd.
Warren, CT 06754
Phone: 860-868-7881 ext.102 Fax: 860-868-7746
Email: selectman@warrenct.org
Municipal Website
Washington
Mark Lyon
First Selectman
Town Hall - 2 Bryan Plaza
P.O. Box 383
Washington Depot, CT 06794-0383
Phone: 860-868-2259 Fax: 860-868-3103
Email: mark.lyon@washingtonct.org
Municipal Website

Waterbury
CJ May
Refuse/Recycling Coordinator
185 South Main St.
Waterbury, CT 06706
Phone: 203-574-6851 ext. 7637
Fax: 203-574-8277
Email: cmay@waterburyct.org
Municipal Website
Waterford
Winston Averill
Regional Recycling Coordinator
7 Hurlbutt Road
Gales Ferry, CT
Phone: 860-381-5558 Fax: 860-381-5948
Email: waverill@scrrra.org
Municipal Website
Watertown
Roy Cavanaugh, P.E.
Director of Public Works
61 Echo Lake Rd.
Watertown, CT 06795
Phone: 860-945-5240 Fax: 860-945-2707
Email: cavanaugh@watertownct.org
Municipal Website
West Hartford
Katherine Bruns
Recycling Coordinator
17 Brixton Street
West Hartford, CT 06110
Phone: 860-561-8107
Email: katherine.bruns@westhartfordct.gov
Municipal Website
West Haven
Douglas Colter
Assistant Building Official
City Hall - 355 Main Street, 3rd Floor
West Haven, CT 06516
Phone: 203-937-3596, ext. 3003 Fax: 203-937-3581
Email: dcolter@westhaven-ct.gov
Municipal Website
Westbrook
Colleen A. Topitzer
Administrative Assistant
185 Horse Hill Road
Westbrook, CT 06498
Phone: 860-552-4496
Fax: 860-664-5094
Email: ctopitzer@westbrookct.us
Municipal Website
Weston
Lou Martirano
Director of Public Works
65 Norfield Road
Weston, CT 06883
Phone: 203-222-2662
Email: DPW@Westonct.gov
Municipal Website
Westport
Peter Ratkiewich P.E.
Director of Public Works
Town Hall - 110 Myrtle Avenue, Room 210
Westport, CT 06880
Phone: 203-341-1120 Fax: 203-454-6108
Email: publicworks@westportct.gov
Municipal Website
Wethersfield
Heather Vargas
Public Works Administrative Analyst
Wethersfield Physical Services - 100 Marsh Street
Wethersfield, CT 06109
Phone: 860-721-2845 Fax: 860-721-2847
Email: heather.vargas@wethersfieldct.com
Municipal Website
Willington
Troy Spasato
Director of Public Works
49 Hancock Road
Willington, CT 06279
Phone: 860-684-9313 Fax: 860-684-9313
Email: publicworks@willingtonct.org
Municipal Website
Wilton
Jennifer Fascitelli
DPW Program Coordinator
Town Hall - 238 Danbury Road
Wilton, CT 06897
Phone: 203-563-0152 Fax: 203-563-0269
Email: Jennifer.Fascitelli@wiltonct.org
Municipal Website
Winchester
Debbie Angell
RRDD Administrator
31 New Hartford Road
Barkhamsted, CT 06063
Phone: 860-379-1972 x111 Fax: 860-379-1972
Email: dangell@rrdd1.com
Municipal Website
Windham
Donald R. Fascio Jr
Director of Public Works
Town Hall - 979 Main Street
Willimantic, CT 06226
Phone: 860-287-5537 Fax: 860-465-3096
Email: pwdirector@windhamct.com
Municipal Website

Windsor
Mark Goossens
Solid Waste Manager
500 Huckleberry Road
Windsor, CT 06095
Phone: 860-285-1832 Fax: 860-683-2553
Email: goossens@townofwindsorct.com
Municipal Website
Windsor Locks
Philip J. Sissick
Director of Public Works
6 Stanton Road
Windsor Locks, CT 06096
Phone: 860-627-1405 Fax: 860-627-1407
Email: psissick@wlocks.com
Municipal Website
Alternate Contact:

Amy Whalen
Administrative Assistant
6 Stanton Rd.
Windsor Locks, CT 06096
Phone: 860-627-1405 Fax: 860-627-1407
Email: amy@wlocks.com
Municipal Website

Winsted
Debbie Angell
RRDD Administrator
31 New Hartford Road
Barkhamsted, CT 06063
Phone: 860-379-1972 x111 Fax: 860-379-1972
Email: dangell@rrdd1.com
Municipal Website
Wolcott
Mary Morrone
Recycling Coordinator
Town Hall - 10 Kenea Avenue
Wolcott, CT 06716
Phone: 203-879-8142 Fax: 203-879-1542
Email: mmorrone@wolcottct.org
Municipal Website
Woodbridge
Warren Connors
Operations Manager
15 Meeting House Lane
Woodbridge, CT 06525
Phone: 203-389-3420 Fax: 203-389-3488
Email: wconnors@woodbridgect.org
Municipal Website

Woodbury
Margaret Warner
DPW Administrative Assistant
281 Main Street South
Woodbury, CT 06798
Phone: 203-263-3633 Fax: 203-263-3348
Email: pworks@woodburyct.org
Municipal Website
Woodstock
Winston Averill
Town Hall - 415 Route 169
Woodstock, CT 06281-3039
Phone: 860-928-0208 Fax: 860-963-7557
Email: selectman@woodstockCT.gov
Municipal Website
Content Last Updated August 8, 2023