P2 View
A Pollution Prevention Newsletter
Are you looking for ways to make our world greener, cleaner and healthier?
Find inspiration in the DEEP's P2 View newsletter! You'll learn about the innovative and creative things people just like you are doing to reduce their carbon footprint and reduce, reuse and recycle more at home, work and school.
Here's what our readers stated in our annual survey about the P2 View: "It's a great way to learn how small changes can improve the environment." "The articles are relevant and interesting, and I always learn something new." "Easy to read." Did you know...after reading the P2 View the majority of our readers have changed a behavior, shared an article, and visited a website mentioned in an article.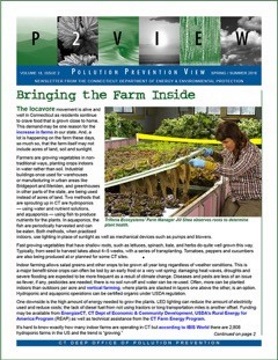 Read the Spring/Summer 2018 issue or previous newsletters.
Spring/Summer 2018 issue! This is our final issue of the P2 View
Learn why some local farmers won't be digging up much dirt.

Find out what's driving change in certain CT communities.

Get an update on what's poisoning pollinators.

And, Eartha'sadvice is a breath of fresh air!
We thank you for your readership and interest in preventing pollution.
Please e-mail Connie Mendolia if you would like to receive a paper copy of an issue.
Previous Issues (all are pdfs)
| 2012 | 2011 | 2010 | 2009 | 2008 | 2007 |
| --- | --- | --- | --- | --- | --- |
| | | | | | |
Previous Issues (all are pdfs)

| 2006 | 2005 | 2004 | 2003 | 2002 | 2001-2000 |
| --- | --- | --- | --- | --- | --- |
| | | | | | |
Content last updated July 2020