Urban Green and Community Gardens Grant Program
(CGS Section 7-131d to 7-131k, inclusive)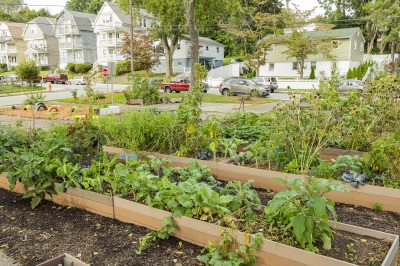 McDonald Street Community Garden, co-sponsored by New London FRESH
City of New London - UGCG Grant Recipient
The 2022 Urban Green & Community Grant Program (UGCG) competitive grant round closed on September 30, 2022. Please check back for news and updates.
The Department's Urban Green and Community Gardens Grant Program (UGCG) is available to distressed municipalities and provides funding assistance to develop or enhance urban green spaces for public enjoyment and/or environmental education. Promotion of open space in an urban setting may include, but may not be limited to, the development of a community garden or reclaiming and enhancing existing open space for the public's use. Grants are awarded to projects that demonstrate the highest ability to benefit urban communities in close proximity to population centers.
The UGCG is administered through the Department's Open Space and Watershed Land Acquisition (OSWA) Grant Program.
Grants under both UGCG and OSWA are based on the merits of the projects and the level of funding available. Funding for these programs is derived from State bond funds and/or the Community Investment Act.

Grant Program Eligibility Requirements:
Applicants must be a municipality, or a municipality partnering with a non-profit organization;

Projects must take place within the territorial limits of a "Distressed Municipality" or a "Targeted Investment Community" (CGS section 32-9p);

Projects must take place on publicly-owned land. If a non-profit organization is a co-applicant, it must have control of the project area for at least 10 years or another term as approved by the Commissioner of DEEP;

Applicants must have funds available or funding sources available for 50% of the anticipated total project cost;

Projects must create, enhance, or restore a community garden or urban green space;

Applicants must clearly show how the public will access and enjoy the project. If public access is not clearly shown, the project will not be evaluated or awarded a grant;

Projects cannot be for commercial activities (i.e., use of property for sale of goods or productions of goods for sale that generate a profit, turf athletic fields, indoor recreational facilities, or swimming pools); and

Projects cannot take place on land that was acquired by eminent domain.
Willimantic Garden on The Bridge, co-sponsored by Windham Garden Club
Town of Windham - UGCG Grant Recipient
Additional Assistance
Please first reference the Answers to Frequently Asked Questions. If you have additional questions, please contact:
Jamie Sydoriak, Environmental Analyst
Email: Jamie.Sydoriak@ct.gov
Phone: (860) 424-3143
Land Acquisition and Management Unit
Office of Planning and Regulatory Affairs


Content updated October 20, 2022