Land and Water Conservation Fund Grant Program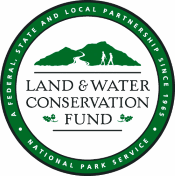 The Land and Water Conservation Fund (LWCF) is a federal grant program administered by the Department of Interior, National Park Service (NPS). LWCF consists of a federal side and a State side. The State side program provides funding for recreation planning, acquisition of lands and waters, and facility development. The goal of the LWCF is to increase opportunities and the quality of outdoor recreation.
Additional information on the history of the Land and Water Conservation Fund can be found on the NPS LWCF webpage.

The State of Connecticut, through its Department of Energy and Environmental Protection (DEEP) is seeking proposals to evaluate for potential submittal to the National Park Service's (NPS) Outdoor Recreation Legacy Partnership Program (ORLP). DEEP will select and submit applications for the LWCF ORLP grants through www.grants.gov to the NPS. DEEP is seeking eligible sub-recipients – known as project sponsors to partner for outdoor recreation development and redevelopment projects. Only DEEP is authorized to submit applications for this program.
Eligible Applicants
Eligible Applicants must:
Represent a jurisdiction of at least 50,000 people, AND
Be situated within or contiguous with the geographic boundary of one of the 497 urbanized areas delineated by the Census Bureau.
A list of the 497 urbanized areas was published in the Federal Register on March 27, 2012 (77 Fed. Reg. 18652-18669). The Census Bureau has published maps delineating each urbanized area, which can be found at https://www.census.gov/geographies/reference-maps/2010/geo/2010-census-urban-areas.html.
ORLP Program Competition Priorities
The competition will prioritize the selection of projects that will directly connect people to outdoor places, and that:
Serve communities that are underserved in terms of number of parks and other outdoor recreation areas and have significant numbers of individuals who are economically disadvantaged;
Create short-term and/or permanent jobs;
Help stimulate local economic development;
Engage and empower members of the affected community in the development of the project;
Create or expand public-private partnerships;
Benefit from a high degree of coordination among the public, multiple levels of government, and the private sector, to improve recreation opportunities for all; and
Advance goals of, or meet, priority recreation needs identified in the state's SCORP and other local, regional, state plans and/or initiatives.
Submittal Requirements and Deadline
DEEP is seeking projects that meet outdoor recreation goals set out in Connecticut's Statewide Comprehensive Outdoor Recreation Plan (SCORP). To be considered by DEEP for selection and submittal of a pre-application to the NPS, project sponsor must email Lindsay Suhr (Lindsay.Suhr@ct.gov) the following items no later than Friday August 6, 2021 at 11:59 PM.
1. Project narrative (maximum length: 10 pages, 12 point font)
Project Data Sheet (1 page limit)
Project Overview (2 page limit)
Project Criteria Information (Remaining pages) – Provide information required in the following criteria:
o Criterion 1 – Extent of Outdoor Recreation and Economic Need
o Criterion 2 – Appropriateness of Project to Meet Community Outdoor Recreation and Economic Needs
o Criterion 3 – Community Involvement in, and Support of, Proposed Project
o Criterion 4 – Embracing New Parks and Innovative Project Attributes
o Criterion 5 – Project Alignment with SCORP and Other Applicable Plans
o Criterion 6 – Project Feasibility and Likelihood of Success
2. Budget narrative (maximum length: 5 pages, including tables)
3. Project Timeline (1 page limit)
4. Photos
5. Maps and Plans Including:
Recreation Area Map showing the location of the project and identifying all existing recreation resources (if any) within a 1- mile vicinity of the project site;
Map (or Aerial Photo) Delineating the Project Area and the Proposed Boundary – must clearly indicate the area to be acquired and/or developed, as well as the proposed boundary of the larger park/recreation area that would be subject to the perpetual protection provisions of the LWCF Act (54 U.S.C. 200305(f)(3)), all known outstanding rights and interests in the area held by others, total acres within the boundary(ies), and a north arrow;
Plan or Sketch of the Site Features identifying location of planned recreational improvements and other features such as where the public will access the site, parking, etc.
6. Letters of support documenting secured contributions of matching share clearly stating the amount and type of contribution, or Co-sponsor/Ownership Agreements if project sponsor is not the title holder.
7. Analysis of how the project satisfies the goals of Connecticut's Statewide Comprehensive Outdoor Recreation Plan (maximum length: 2 pages)
To assist applicants in ensuring that required information is included, suggested formats for the Project and Budget Narratives and Timeline, as well as, an application checklist and a photos form are included under the "Related Documents" tab on the ORLP opportunity page. Click this link and then the opportunity number P21AS00509 to access the information.

Expected Award Amount
Maximum Award: $5,000,000
Minimum Award: $300,000
Cost Sharing or Matching
In accordance with the LWCF Act (54 U.S.C. 200305(c)), ORLP grant projects must be cost-shared with non-federal funds at a minimum ratio of 1:1. The budget narrative must clearly identify how the match will be met.
For more detailed information refer to the National Park Service LWCF-PGL - State and Local Assistance Division 2021 P21AS00509. If you have any questions on this opportunity after reading this document and the FAQs noted below, please contact Lindsay Suhr (Lindsay.Suhr@ct.gov).
FAQs:
How does the National Park Service define a jurisdiction for the purposes of the LWCF ORLP Grant?

Jurisdictions are defined as municipalities, cities and unincorporated towns only.

Are jurisdictions within the Census Bureau's urban clusters eligible as sub-recipients?

No, only jurisdictions within the boundary of or contiguous to the Census Bureau's Urban Areas are eligible.

Can a jurisdiction apply if their population is under 50,000, but they are within an urbanized area?

No, only jurisdictions with populations of 50,000 or more that are also within an urbanized area can apply.

Can jurisdictions apply jointly and count both of their populations?

No, jurisdictions cannot apply jointly and cannot combine their populations to meet the 50,000 population threshold.

If a jurisdiction has a population under 50,000, but surrounding jurisdictions use their recreation facilities because they lack a recreation department, can their populations be combined to meet the threshold?

No, the jurisdiction applying must have a population by itself that meets the 50,000 population threshold.

Can Regional Planning Organizations (COGs) apply as sub-recipients?

Yes, COGs can apply as special purpose districts, but they must apply for a project that serves an eligible jurisdiction with a population of 50,000 or more people that is within a designated urbanized area. COGs cannot apply on behalf of multiple jurisdictions.

What resource does the National Park Service use to determine population data?

The National Park Service uses the 2010 population data from the U.S. Census Bureau QuickFacts: United States site.
Is pre-construction remediation eligible for funding? Yes, remediation can be part of the proposed project, but it has to be part of a larger development project. Remediation cannot be the only thing that the grant will accomplish.

What is the process and turnaround time after the applications are submitted August 6th? After sub-recipient applications are submitted on August 6, 2021, DEEP will review the applications to ensure they meet federal standards. DEEP will then submit qualified applications to NPS on September 24, 2021. The National Park Service (NPS) is targeting April 1, 2022 for preliminary selections. If a project is chosen in the preliminary round then DEEP will work with these sub-recipients to submit all the final paperwork to ensure the project qualifies for contracting. NPS says to anticipate a grant start date of October 1, 2022. Keep in mind these dates often change depending on funding, federal budgeting, staffing, etc.
-------------------------------------------------------------------------------------------------------
Compliance
The LWCF has provided over $60 million to develop and enhance many Connecticut's outdoor recreational resources, since the program was created in 1965. Any property that has benefited from the assistance of the LWCF must be maintained for outdoor public recreation. Recipients of LWCF funding have agreed to:
Make the property available for public outdoor recreation
Maintain the project area and ensure it is accessible
Keep the property open for public use
Provide signage at the property indicating property is open for public outdoor recreation
If you have any questions about a property that has benefited from LWCF funding, please contact the Office of Constituent Affairs and Land Management at 860-424-3016.
Outdoor Recreation Planning
Current recreational needs in Connecticut have been assessed through the development of a Statewide Comprehensive Outdoor Recreation Plan (SCORP). This planning document identifies outdoor recreation issues of statewide significance and evaluates the supply of and the demand for outdoor recreation resources and facilities in Connecticut. Connecticut's SCORP provides unified guidance to state and municipal officials as they develop and expand outdoor recreation opportunities for their respective constituents.
In addition to its value as a planning document, the completion of a SCORP also satisfies a requirement of the federally administered Land and Water Conservation Fund (LWCF), which then makes Connecticut eligible to receive its annual apportionment from the LWCF State and Municipal Assistance Program. Apportionments from the LWCF can be used by the State and its municipalities to acquire new land for outdoor recreation and conservation, and to construct new outdoor recreational facilities.
The current SCORP covers the planning period of 2017 through 2022 and identifies the following outdoor recreation goals:
Connecticut's 2017-2022 Outdoor Recreation Goals
Goal 1: Protect, conserve, and manage Connecticut's natural, cultural, and historical resources as they support outdoor recreation.
Goal 2: Provide clean, safe, well-maintained outdoor recreation areas and facilities.
Goal 3: Ensure that all residents and visitors can locate and access all outdoor recreation areas and facilities.
Goal 4: Promote healthy lifestyles through increased participation in outdoor recreation.
Additional Resources
The LWCF is one of several programs that works to benefit outdoor recreation in Connecticut. For more information about outdoor recreation in Connecticut, please see the following links.
State Parks and Forests
Connecticut Rail Trail Explorer
Open Space in Connecticut
Connecticut Coastal Access Guide
No Child Left Inside®
For more information, contact the Office of Constituent Affairs and Land Management at 860-424-3016.