Connecticut Land Registry Pilot
The Public Use and Benefit Land Registry (Land Registry) pilot portal allows users to browse state lands, determine property ownership, and research, view, and download copies of parcel information, including deeds, surveys, and land management plans. Greater levels of detail are available as the map zoom level is increased.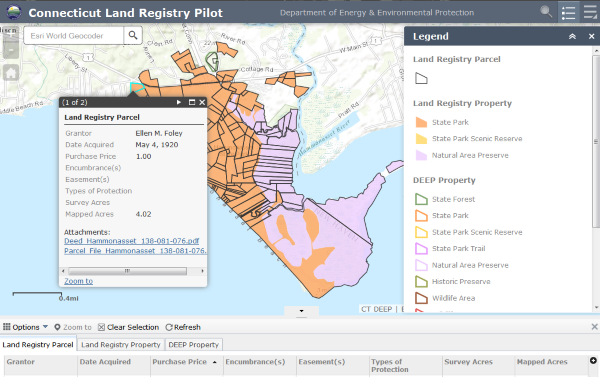 More Information:
The Department of Energy and Environmental Protection (DEEP) is in the process of establishing a publicly-accessible mapping system that contains information for three State Parks owned by the agency. This is a pilot project with more information to be added on other Department parcels, and in the future on open space lands held by other state agencies, municipalities, and land conservation organizations.
The Registry includes information on:
location,
ownership,
acquisition details,
deeds,
easements,
encumbrances
rights of ways,
surveys, and
management and stewardship plans.
Information for each parcel will be collected through sources including
the Protected Open Space Mapping Project, which acquired information on open spaces from town halls across 143 municipalities,
lands protected under the State's Open Space grant program, and
digitized physical records of deeds, easements, surveys, and other relevant documents.
Following uniform standards and practices, documents related to the Department's ownership of property within the state are recorded in the agency's unit of Land Acquisition and Management and are then scanned into the Registry's computer database system. Easements, surveys, and other related documents, when available, are also scanned into the system. The resulting images (in PDF format) are available for viewing and downloading at the Land Registry portal over the internet.
The Land Registry is valuable for many reasons. It provides a public record and notice of title, conservation purpose, funding amounts, and land management plans, when applicable. Furthermore, the Registry will expand public access to open space lands purchased with State conservation funds by highlighting their locations across Connecticut. A more comprehensive and transparent land registry will also serve as a useful system that enables DEEP to defend or explain the significance of its properties.
Instructions on viewing and downloading information will be available soon.
This Land Registry is being developed in phases, with additional information to be added first for other State Parks. In the future it will also allow DEEP's land conservation partners to add easements via a simple entry form.
Public Act 14-169 required DEEP to "...establish a publicly accessible geographic information map system and database that contains a public use and benefit land registry that is capable of providing, at a minimum, the following information for lands owned by the Department of Energy and Environmental Protection, other state agencies, municipalities, land conservation organizations and state owned water supply lands: (1) The location and ownership information for such lands, (2) categorizations for any such lands that are based on the use and level of protection applicable to such lands, (3) information data sheets for such lands that include any applicable deed, easement, land survey, maps and data for each parcel that constitutes such lands, and (4) whenever available, management and stewardship plans for such lands. ..."
Lands of public use and benefit means land that is used for conservation purposes, public enjoyment purposes, recreational purposes or any activity associated with improving or maintaining such conservation, public enjoyment or recreational purposes.
Content last updated August 2015