Geological Formation Educational Hand Sample Collection
National Geological and Geophysical Data Preservation Program

The Connecticut Geological Survey maintains a collection of representative hand samples from geologic formations as mapped on the State Geological Map of Connecticut (Rodgers, 1985). This collection is named the Connecticut Geological Formation Educational Hand Sample Collection (Hand Sample Collection) and includes approximately 315 samples. These samples are of particular value to educators who describe the geology of the state and to field researchers as orientation to the geology of an individual region of interest. The collection provides a valuable overview of the State's bedrock geology as a companion to the Rodgers map. Each of these hand samples has supporting information describing the rock sample and a map location.

The Hand Sample Collection is not available for loan, but can be viewed at the CT Geological Survey office in Hartford. The Geological Survey also maintains a dinosaur track collection that is available for loan to schools. To access the collection contact the State Geologist.

Sample Locations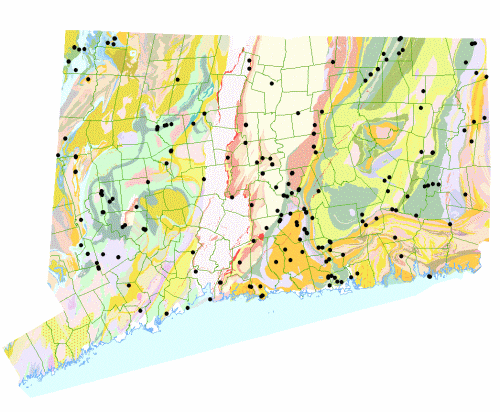 Inventory
This rock collection was begun prior to publication of the Bedrock Geological Map of Connecticut (Rodgers 1985), and has continued with the goal of obtaining representative hand samples of each of the 143 different rock units (formations) used on the map. To that end, the collection continues to be enhanced with additional specimens each year. Currently, 315 samples from 74 different formations are included in the collection. The collection is located in the State Geological Survey library at the Department of Energy and Environmental Protection 79 Elm Street, Hartford, CT. The library is open by appointment during Connecticut Geological Survey office hours, 8:30am-4:00pm EST, Monday-Friday.
The Hand Sample Inventory is presented above sorted by geological formation as well as by town. Some records include a general description of that sample and/or remarks about the specific field location from which the sample was collected. Sample numbers are in sequence designating the order in which the sample was collected within the quadrangle. A geologic map showing distribution of sample collection sites is presented above.
Sample information cards were used to verify ID numbers and descriptions of the physical samples for archival purposes. Validated information from the sample cards and maps were entered into an ArcGIS shapefile in order to populate the inventory with associated descriptive attributes. GIS queries were used to verify geologic formation attributes and help identify formations without representative samples.

Metadata & The National Catalog
Additional National Geological and Geophysical Data Preservation Program (NGGDPP) metadata attributes were added to the attribute table associated with the CT Educational Hand Samples shapefile as required. The NGGDPP metadata fields were extracted from the attribute table and converted to a CSV format file in compliance with NGGDPP standards. The individual element, sample level metadata was then delivered to the National Catalog.
Content last updated October 2019