Urban Wood Utilization in Connecticut: Introduction
Wood from urban trees is often underused, with the disposal of this wood seen mostly as an expense. Yet, there are plenty of alternatives for urban wood use that can be cost-effective and have environmental and economic benefits for the community.
Wood removed from streets and parks can be used as:
A source of lumber for high-value wood products
The raw material for mulch
A prime source for energy
Below is a series of webpages that provide an overview of the potential use of urban wood in Connecticut. These webpages complement a written document entitled "The Use of Wood from Urban and Municipal Trees". Printed versions of this document are available through the DEEP Division of Forestry.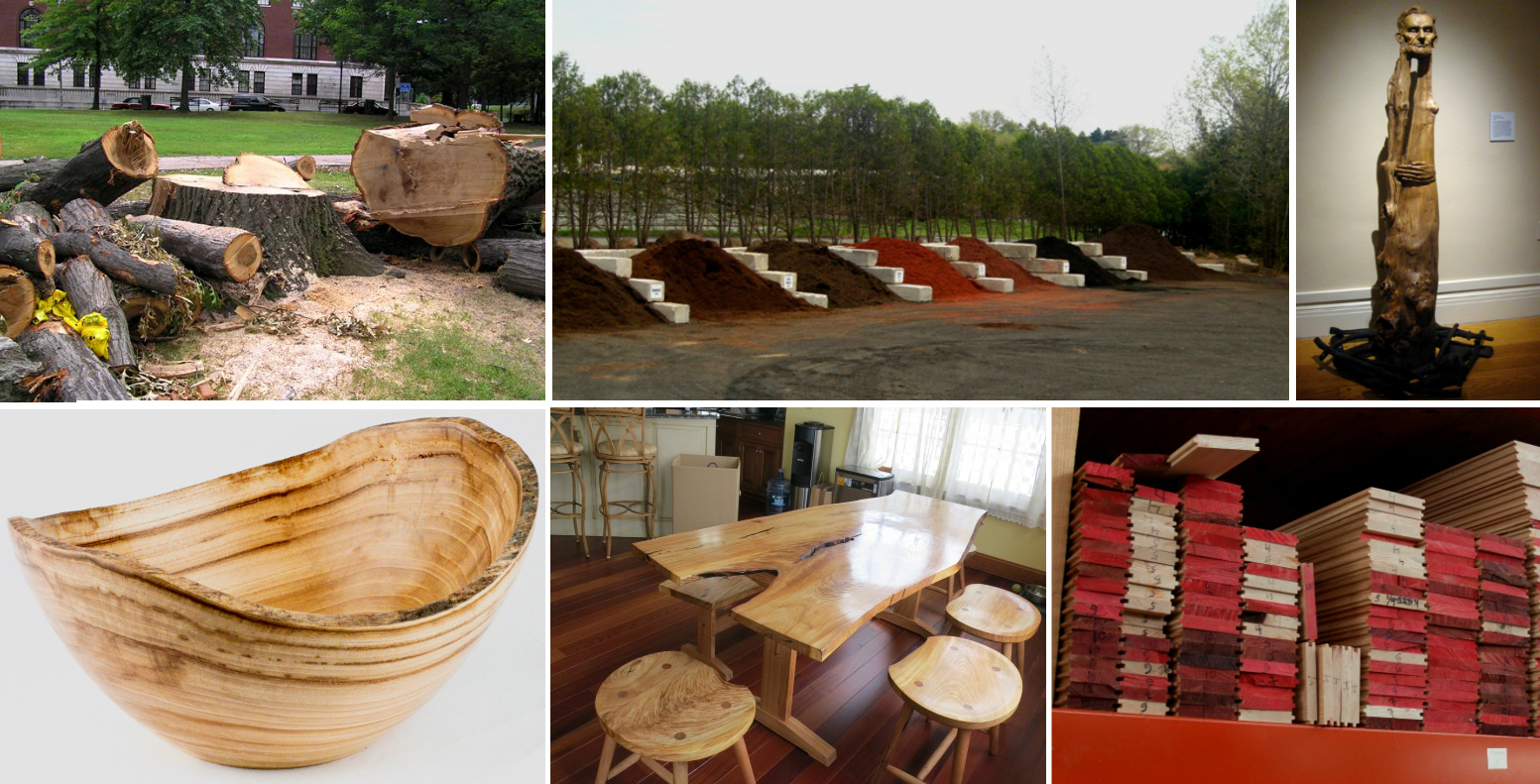 Upper row: (Left to right) Removal of urban trees; Colored wood mulch - Supreme Forest Products, Southington, CT; Sculpture by artist Susan Clinard made with wood from the emblematic Lincoln Oak that fell down during Tropical Storm Sandy (2012) on the New Haven Green.
Lower row: (Left to right) Bowl made with wood from an elm tree removed at Battell Chapel, Yale University Campus, New Haven, CT (Photo courtesy Yale Bowls); Trestle table with benches made with wood from an urban elm in Glastonbury, CT (Photo courtesy City Bench); Flooring boards at Moore's Sawmill, Bloomfield, CT.
Table of Contents
Reasons for the Removal of Urban Trees
Benefits of Urban Wood Utilization
Wood Chips to Support Environmental Efforts and Education in Connecticut - The Hotchkiss School
Wood Chips for Sustainable Year-Round Farming in Connecticut - Geremia Farms

Solid Sawn Wood from Urban Trees: Problems and Potential Solutions
Solid Sawn Wood from Urban Trees: Character Wood
Content last updated October 2019