Tree Planting and Young Tree Maintenance
Before Planting | Proper Planting | Tree Maintenance
The Connecticut Tree Owner's Manual is published by CT DEEP (an adaptation of the original Tree Owner's Manual by the USDA Forest Service) and is available as a free download. This publication provides the basic information needed for most tree planting situations and for young tree maintenance. It is a go-to-guide for all tree owners.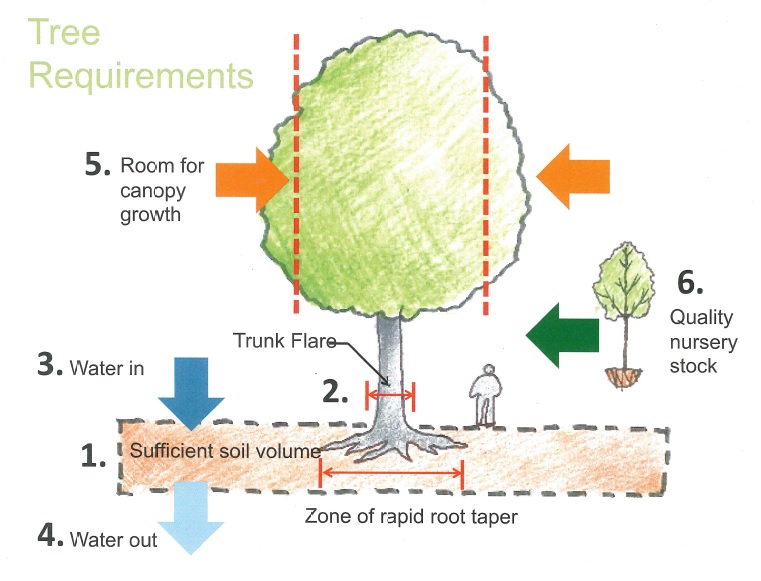 Drawing used courtesy of Jim Urban
Considerations Prior to Tree Planting
Before planting a tree, decide first what you want from this tree. Then, investigate what type of tree(s) would help you achieve these purposes. Give some consideration as to the specific needs of the kinds of trees you might plant. This is important so that you can provide your tree with what it requires to grow healthy and strong:
Planting Location

Is there enough room for the roots?

What about for the crown?
Type of Tree

Is this the right site for this type of tree?

Will it receive enough sun?

Does it match with the local USDA Plant Hardiness Zone?
Soil and Moisture

Does this kind of tree like this kind of soil?

What kind of soil is this?

Is there enough, not enough or too much moisture at this site?

Will I need to fertilize this tree?
Utilities and Other Potential Conflicts with Infrastructure

When the tree grows to full size, are there wires or other objects such as buildings or street signs that it may interfere with?

To learn more, see Trees and Utilities.
Benefits

Why is this tree being planted?

Will it achieve the purpose that you have in mind?

i-Tree Design (free software) can help answer these questions
The Right Tree Right Place concept encourages proper tree selection and planting. The Arbor Day Foundation explains what to consider during site selection and how to pick the right tree. Eversource provides guidelines for planting the right tree in the proper zone, along with a list of 30 recommended trees under 30 feet.
UConn's Plant Database is an excellent tree selection guide, specific to Connecticut's landscape.
Soil quality is important to tree growth. The Morton Arboretum has a publication on how to determine if the soil in a location is capable of sustaining a new tree.
To have your soil tested (always a good idea), you may use the services of the Connecticut Agricultural Experiment Station or the UConn Coop Extension Service.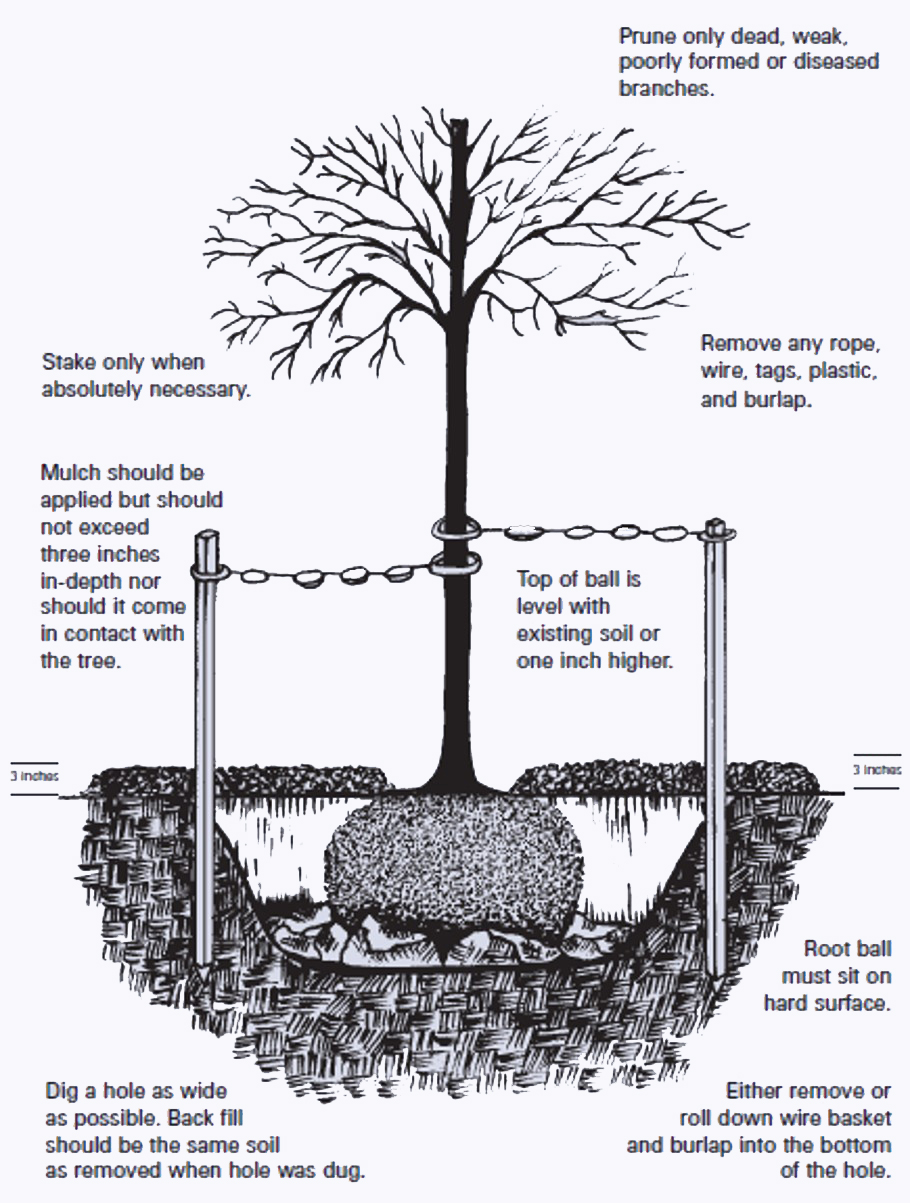 Tree Planting Detail - courtesy of UConn Cooperative Extension
How to Plant a Tree
It does no good to select the proper tree if it is not planted correctly. Important items to consider in proper tree planting: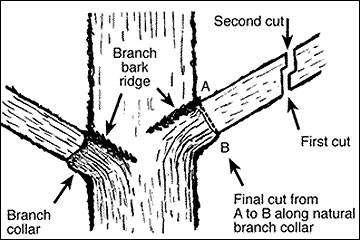 Three Step Pruning Method - image courtesy of U of Missouri Extension
Young Tree Maintenance
The last section of the CT Tree Owner's Manual outlines the basics of young tree maintenance. Aspects of maintenance to consider are:
Mulching: When properly applied, mulch greatly helps a young tree by:

retaining moisture in the soil,

reducing weed growth,

nourishing the soil, and

regulating soil temperature.
Watering: Trees need water, especially young trees. Until the roots of young trees have grown out of the root ball, they are not able to draw water from the surrounding soil. A typical 2" tree should receive at least 10 gallons of water at planting and will require about another 10 gallons of water per week during the growing season for the next few years, until established. Be sure the water gets into the root ball.
Pruning: In general, trees should not be pruned after planting until they have become established. Exceptions can be made for diseased, damaged or dead branches. After they are established, young trees should be pruned into the basic form needed for good growth. This includes the removal of:

rubbing and crossing branches,

branches that will interfere with pedestrians or vehicles, and

on taller growing trees, leaders that will compete with the selected main leader.
Canopy is a California-based non-profit that has produced an excellent video outlining the 5 steps in the proper pruning of young trees.
Trees are Good is an educational website created by the International Society of Arboriculture (ISA). This website contains a library of short brochures on many tree health care topics.
As trees grow older, the need for maintenance may decrease, but it never goes away completely. Yearly growth, the shedding of branches and environmental factors make pruning a key aspect of tree maintenance. The USDA Forest Service has produced a guide for tree owners called How to Prune Trees. The guide applies to the pruning of both young trees and mature trees.
There may be times in a tree's lifespan when a professional is required. In Connecticut, arborists are the class of professionals licensed by the State of Connecticut to perform arboriculture. In any situation involving commercial arboriculture, the individual contracting to do the work must be a licensed arborist.
To learn more about arboriculture or to find an arborist, visit the Connecticut Tree Protective Association's arborist directory.
For more information, please contact the Division of Forestry at 860-424-3630 or deep.forestry@ct.gov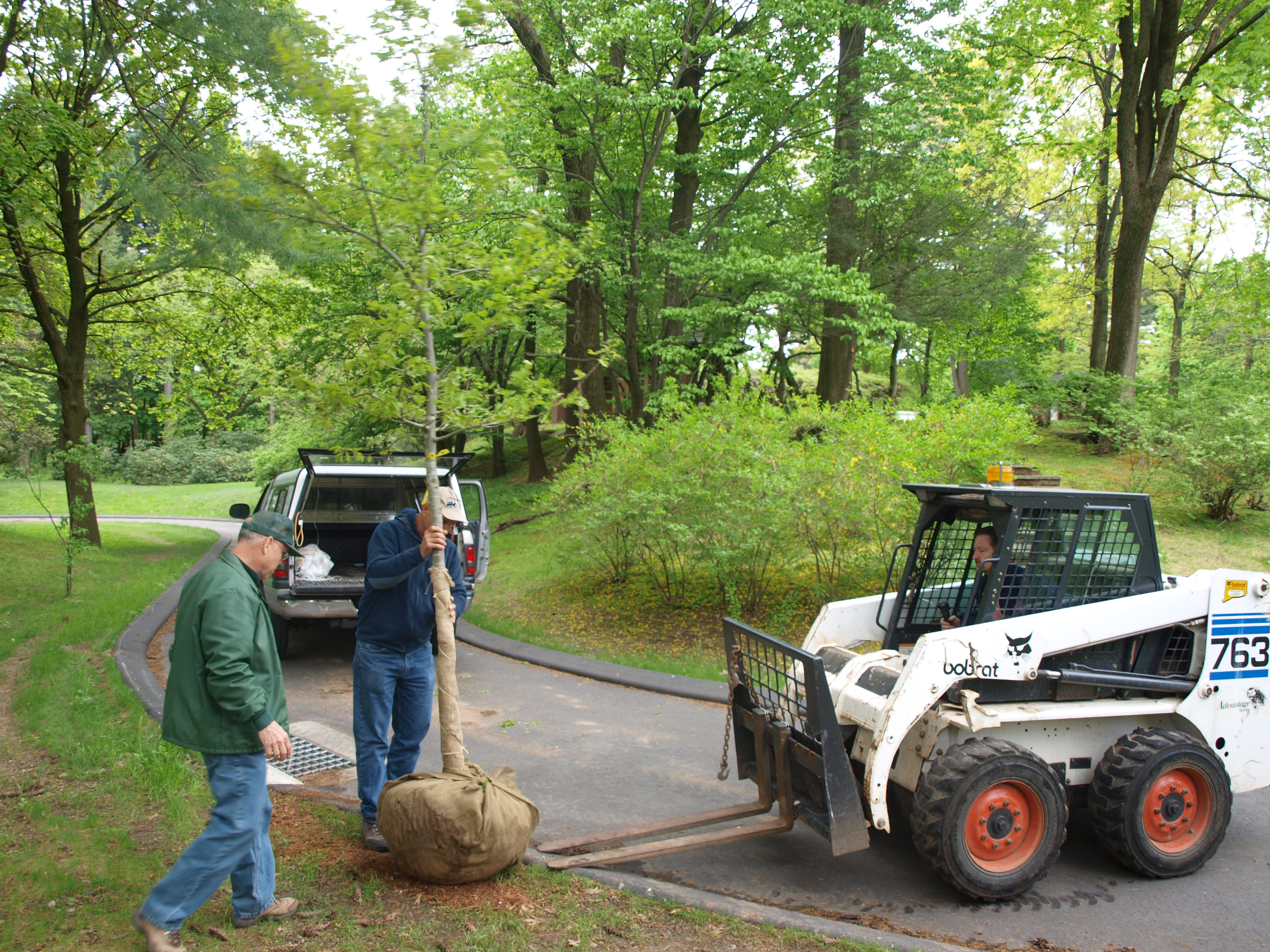 Trees and Urban Forests: Learn More | Forestry Main Page
Content last updated August 2019