Urban Wood Utilization in Connecticut: Benefits of Urban Wood Utilization
Economic Benefits:
Recovering the costs of removing damaged trees.
Reducing costs derived from tree waste disposal and the avoidance of tipping fees.
Source of income for the community.
Environmental Benefits:
Reducing harvesting pressure on natural forests.

The utilization (recycling) of municipal trees can contribute to the conservation of forestland resources by generating wood products from trees that need to be removed anyway.

Reducing the volume of waste disposal and wood in landfills.
The sequestering of carbon.

Urban wood that stays as wood, such as in high-end furniture, stores carbon for an extended period of time.

Reduced carbon emissions.

Because urban wood originates in population centers close to processors and end users, transportation distances and associated emissions are minimized.

Contributions to global and local community sustainability.
Social Benefits:
Education of the public about the value of their trees.
Education of the public about responsible management of the urban forest.
Better connecting people to the natural world by encouraging them to see where products made of wood come from.
Providing support for local economies.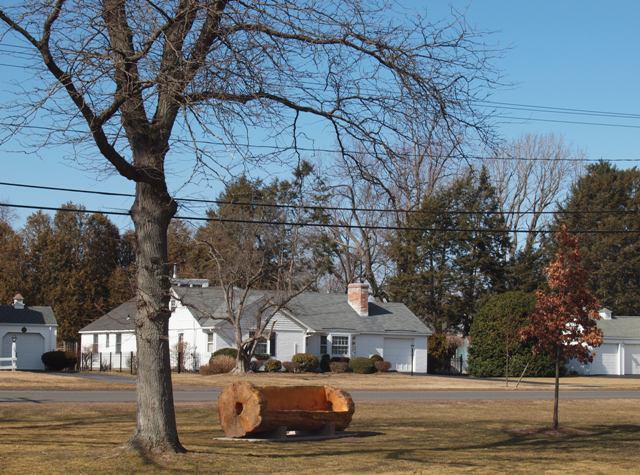 This bench on the Broad Street Green in Wethersfield was carved from the trunk of a pin oak that fell down during the 2009 tornado. The tree on the right has been planted as a replacement for the one that fell.
Resource:
The Delta Institute (2014) - Urban Wood Best Management Practices
Urban Wood Utilization - Introduction and Table of Contents
Content last updated November 2020