Forestry – Looking Beyond the Trees
Letterboxing in Connecticut's State Forests
Questions about letterboxing? | Go right to the clues!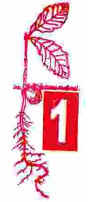 Letterbox stamp for Meshomasic State Forest -
Connecticut's first State Forest!
On January 23, 1903, Connecticut purchased the first tract of land of what was to become Connecticut's State Forest System. In 2003, in honor of the Centennial of the State Forest System, Connecticut DEEP's Division of Forestry invited the public to visit these State Forests, by placing a series of letterboxes throughout the State Forests.
In 2005, due to strong public support for this first set of letterboxes, Forestry initiated a second series of letterboxes on the State Forests. Many of the second set of letterboxes have been maintained and are available for discovery. The first Series has been retired.
We hope people will use these letterboxes as a reason to come out to the State Forests and learn what a valuable resource the State Forests are!
What Is Letterboxing?
Letterboxing is fun and exciting. It is about the adventure of finding your way through the woods, and the thrill of reaching your goal. In letterboxing, you visit interesting locations and collect unique stamps to mark your visit. The letterboxes that DEEP's Division of Forestry is placing in Connecticut's State Forests provide the means and inspiration for you to visit the State Forests and learn something about the state's history, wildlife, trees and, of course, the forests!
Letterboxing involves a plastic container hidden in some specific location out in nature, along with a set of clues as to how to find that container. Inside the container is a stamp and a stamp pad. The visitor uses this stamp to mark his or her visit to this letterbox site into the visitor's own, personal record book – which you bring with you. Additionally, there is a record book in the letterbox container. The visitor uses his or her own stamp – again, also brought with you - to mark this record book, leaving a record of your visit to this letterbox.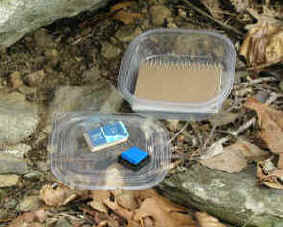 A typical letterbox includes a stamp, stamp pad and record book, which are left at the letterbox site. When you visit, you bring your own personal record book and stamp, so that you can mark the book left on site and use the stamp on site to mark your book. These supplies will be hidden - behind a rock, inside a hollow tree, or wherever else the clues describe.

So, to begin letterboxing, all that you need is a unique personal stamp (which you can either purchase or make for yourself), a record book to record your visits, and a set of clues. As the letterboxes in the State Forests are located along trails within the forests, you should also have a good pair of walking shoes and be dressed appropriately for the weather. Otherwise, the only other thing you need is your enthusiasm!
What Is So Special About the State Forests?
We could give a long, drawn-out answer to this question, but we would rather not. We would much prefer you visit the Forests and experience this for yourself. But, before you go, here are some quick facts on these forests to get you started:
There are 32 State Forests, comprising nearly 170,000 acres of state land.
While the oldest State Forest is over 100 years old, the youngest (Centennial Forest) is less than 10 years old.
State Forests include a variety of vegetation types. All State Forests are managed for a wide range of goals.
As a result, on Connecticut's State Forests, you can see everything from maintained wildlife meadows to mature hardwood forest. One benefit of getting out into the State Forests is to see the results of these various management activities.
Connecticut's State Forests are located throughout the state, with Forests in each of the eight counties. This makes these Forests accessible to just about everyone in the state.
The clues will tell you more about what you can expect at each site. Not only will they help guide you to the letterboxes in the forests, they will also provide some interesting facts about the land around you.
What's In It for You?
Quite simply, we feel that you will find that the experience itself is reward enough. But, if seeing some the nicest countryside in Connecticut, learning more about our State Forests and how they are managed, and discovering the opportunity for even more great adventures along the way is not enough, you may also earn a patch.
Numerous State Forests have official letterboxes hidden in them. If you visit at least five of these letterboxes you can earn a custom designed Connecticut State Forests Centennial Patch. Proof of your visit will be verified by the stamp record you leave, as well as through your own record book.
When you have visited five or more forests, contact us. We will verify your visits and send you a patch. If you visit an letterbox from each of the State Forests currently available, let us know and we will send you a walking stick!
So, how does one join the letterboxing adventure occurring in Connecticut's State Forests?
Listed in a table are the names of the State Forests in Connecticut. Follow the link for any individual forest and you will find the letterbox clues for that forest. Simply print out those clues and off you go!
Links to these clues will be placed on one of the popular letterboxing web sites. You may wish to visit this web site to learn about other letterboxes placed by other groups in the vicinity of the State Forest letterboxes. If you are interested in placing a letterbox or geocache in a State Forest or State Park, please review our policies and submit an application (Word, PDF).
Content last updated November 8, 2021