About My Woods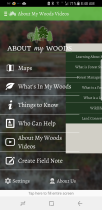 Do you know what's in your woods?

There's an app for that. About My Woods is a free mobile app that provides location-specific information about the forest and connects users to professional resources.
Woodland owners in Connecticut, Massachusetts, and Rhode Island, as well as northern New England, now have a new tool to help learn about their woods. Foresters, loggers, and others who work in the woods will find it useful too. The app is full of maps, photos, brand new videos, and information and connections to professional resources.
About My Woods is available for free in the Apple App Store, the Google Play Store, or at www.aboutmywoods.org.
About My Woods was developed by the North East State Foresters Association (NEFA).