Osborne Homestead Museum
School Programs and Field Trips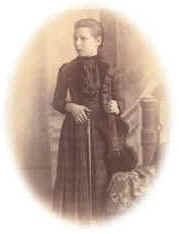 In the Osborne Homestead Museum, students step back in time and experience what life was like over a century ago in Connecticut.
In this fully furnished historical house, students examine interesting artifacts from our past. By using the museum as a center to explore diverse themes, students are inspired to learn about history and see how the past affects the present and future.
Frances Osborne Kellogg
The following school programs include a special tour of the Osborne Homestead Museum. Listed on the National Register of Historic Sites, this elegant home depicts life in the Victorian age and early 20th century. After a museum tour, the students will travel to the adjacent Kellogg Environmental Center for related hands-on activities.
Resources of Then, Now and Tomorrow
How large is our environmental footprint and how does it affect our future?
Explore how technology and needs have changed the use of resources over time. Students compare 19th century resources and recycling techniques to those of today and then project how we may alter uses for the future. Students use analytical skills to gain understanding of how consumption rates affect our resources for tomorrow.
Watershed Investigation
While waterways have shaped civilization, what impacts do people have on water and watersheds?
Investigate local watersheds to see how water use and health issues changed from the 1800's to today. Hands-on and critical thinking activities allow students to track water as it moves through the environment, our homes and living systems.
---
On-Site Programs
$50 per hour per class of 25 students
School Visit Programs
$70 per class of 25 students
45-60 minute hands-on program
Scheduling a Program
Please call (203) 734-2513 or email us to arrange a group visit. Programs can be scheduled throughout the year.

One chaperone is required for every 8 students.

Groups can picnic on our grounds after the program.

The Kellogg Environmental Center, adjacent to the Osborne Homestead Museum, offers a wide range of environmental field studies for students in grades fourth through twelfth. We can coordinate programs at the Museum and the Center during the same visit.
Content Last Updated October 2019