Environmental Curriculum Topics:
Connecticut Wildlife
The DEEP Office of Education and Outreach offers a series of educator workshops throughout the year, with some that focus on wildlife. Go to the DEEP Calendar of Events and search using the key word "workshop", or call the DEEP's Kellogg Environmental Center at (203) 734-2513.
The DEEP Wildlife Division also offers educator workshops on wildlife topics. Go to the DEEP Calendar of Events and search using the key word "Sessions", or call the DEEP's Sessions Woods Conservation Center at (860) 675-8130.
Environmental Curricula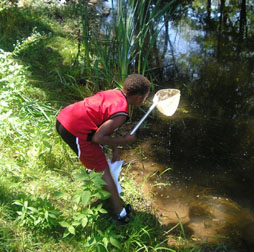 Project WILD
The DEEP is the state sponsor of the Project WILD, a national K-12 curriculum focused on examining environmental issues related to wildlife. The curriculum guide provides numerous interactive, well-balanced activities. The curriculum guide is distributed at Project WILD workshops. To schedule a workshop and receive the curriculum, please call the DEEP's Kellogg Environmental Center at (203) 734-2513.
Additional Resources
The DEEP following sites may be useful for teachers, educators and students studying Connecticut wildlife.
Connecticut Wildlife Fact Sheets
Includes links to a series of facts sheets about Endangered Species, Common Connecticut Animals, Wildlife Habitats and more.
Just for Kids
Written just for kids, these pages provide fun facts about Connecticut's animals as well as coloring pages for younger children.
Connecticut Wildlife Slide Shows
Links to an interesting slide show about endangered species in Connecticut and another slide show focused on peregrine falcons.
Linking Wildlife to the Classroom Curriculum:
State of Connecticut Science Curriculum Framework
The topic of animals is important in many grades levels as an area of scientific study. Here are some topic suggested grade levels for studying wildlife as identified by the State Curriculum Framework.
Grade K - Many different kinds of living things inhabit the Earth.
Grade 1 - Living things have different structures and behaviors that allow them to meet their basic needs.
Grade 1 - Organisms change in form and behavior as part of their life cycles.
Grade 3 - Organisms can survive and reproduce only in environments that meet their basic needs.
Grade 4 - All organisms depend on the living and non-living features of the environment for survival.
Grade 5 - Perceiving and responding to information about the environment is critical to the survival of organisms.
Grade 6 - An ecosystem is composed of all the populations that are living in a certain space and the physical factors with which they interact.
Grade 8 - Reproduction is a characteristic of living systems and it is essential for the continuation of every species.
Grade 10 - Evolution and biodiversity are the result of genetic changes that occur over time in constantly changing environments.
Grade 10 - Living organisms have the capability of producing populations of unlimited size, but the environment can support only a limited number of individuals from each species.
Content last updated December 2017