Anti-Idling Outreach and Education
Connecticut continues its effort to reduce unnecessary idling and increase awareness of the adverse effects of idling on public health and the environment.
Idling exhaust affects everyone; however, people with heart or lung disease, asthma or other respiratory problems, and vulnerable populations such as the young and elderly are most sensitive.
Reminders, such as anti-idling signs and other outreach materials, have been shown to significantly improve compliance rates with idling restrictions.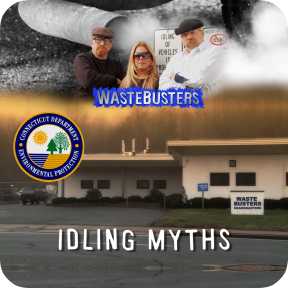 To help separate idling fact from legend, the Connecticut Department of Energy and Environmental Protection (DEEP) commissioned its own "mythbusting" team and is showcasing the findings in a video parody of the popular television show, "Mythbusters."
Like their Discovery Channel counterparts, the "scientists" at work in the DEEP production, "Wastebusters - Idling Myths" conduct rigorous experiments and analysis to definitively prove that idling vehicles do waste gas and unnecessarily pollute the air.
The four-minute "Wastebusters - Idling Myths" show was produced by DEEP in cooperation with the Corporate Media Center at Middlesex Community College (MXCC).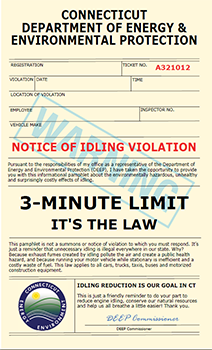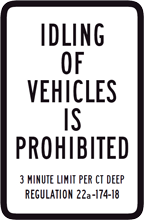 DEEP produced an Idling "Ticket" Brochure which upon closer inspection is "just a friendly reminder to do your part to reduce engine idling, conserve our natural resources and help us all breathe a little easier." It is used by field staff to help them relay the message that "Idling is Fuelish."
DEEP continues its effort to reduce unnecessary idling and increase awareness of the environmental and health effects of idling on schoolchildren, by providing free anti-idling signs to Connecticut public schools that agree to post them. Anti-idling signs measure 12" x 18" and may also be purchased directly through the DEEP Store.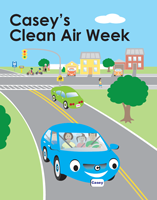 DEEP also partnered with the Connecticut Department of Transportation to develop and post anti-idling signs at Connecticut rest areas to help increase awareness and compliance rates among truck drivers and the general public who visit these facilities.
DEEP, along with the University of Connecticut Healthy Environments for Children Initiative, has developed a children's book on air quality, titled Casey's Clean Air Week.
The purpose of this book is to teach young children about the importance of clean air to protect both human health and the environment. The book advises children and adults of simple steps they can take to help prevent or reduce air pollution when using cars.
Content Last Updated: January 28, 2020