Farmington Regional Office
270 Farmington Avenue
Suite 245 The Exchange
Farmington, CT 06032
Telephone: (860) 679-7000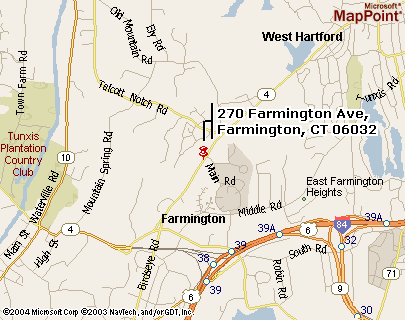 From Hartford area: Take I-84 West to Exit 39 (Route 4-Farmington Avenue)
From Waterbury area: Take I-84 East to Exit 39 (Route 4-Farmington Avenue)
From 91 South: get on to Route 9 (New Britain) follow to end (approximately 7 miles) , road forks go left West onto 1-84. Exit 39 (Farmington Avenue, Route 4) Follow directions below.
At the traffic light at the end of the exit, take a right onto Farmington Avenue (Route 4 East). Continue on Farmington Avenue to the third traffic light. Take a left at the light into The Exchange. Continue straight and go left at the second stop sign around to the other side of the building to the MAIN parking area. Enter the lobby through the doors marked "Main Entrance - Building Three". Take the elevator on the left past the security guard's desk to the second floor. Suite 245 - DMR North Region - is immediately on your left as you leave the elevator. Regional Director's Office is located in Suite 245.
Human Resources office is located in Suite 236 down the hall on your right.